Retail sales fall for thirteenth month
Updated: Jun 24, 2019 06:24 PM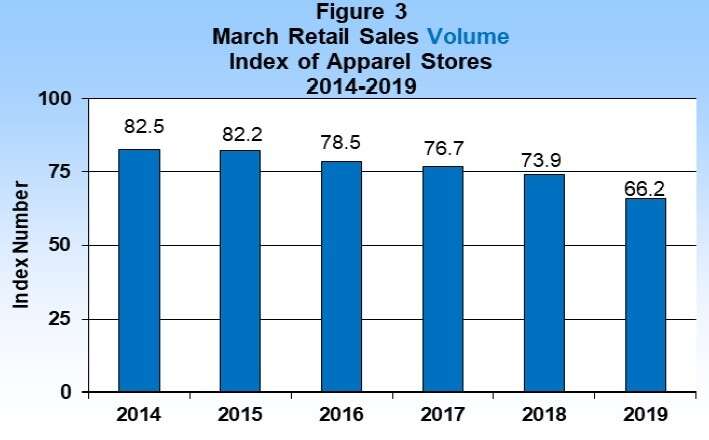 A hefty drop in sales at apparel stores in March contributed to a thirteenth consecutive month of declining retail sales for Bermuda.
The latest figures show a 3.9 per cent fall in total retail sales volume after being adjusted for inflation.
Inflation in March was 1.9 per cent. Six of the seven retail sectors recorded declining sales volume, with the biggest fall of 10.4 per cent hitting apparel stores.
A snapshot of sales for that segment shows five consecutive year-on-year declines in March, with the most dramatic fall coming this year when the volume index for apparel stores tumbled from 73.9 to 66.2 — it was 82.5 in 2014.
Overall, the value of retail sales for all sectors in March was $91 million, down 2.1 per cent year-on-year.
This is the longest continuous spell of month-on-month retail sales declines since a near four-year-long period from May 2008 until February 2012.
The single retail sector that showed a year-on-year improvement was motor vehicle stores, where sales volume was up 7.9 per cent.
Liquor store sales and food store sales were down 7.2 per cent and 4.3 per cent respectively, with retailers attributing the decrease to the Easter holiday falling in April rather than March, as it did last year.
In the all other stores sectors volume was down 5.4 per cent. In value terms, the fall was 4.4 per cent. The value of sales of miscellaneous goods slipped 18.4 per cent, and was down 4.3 per cent for pharmacies. The value of sales for furniture, appliances and electronics was 2.8 per cent lower.
Sales value for marine and boat suppliers jumped 35 per cent.
The volume of sales at gas stations was down 4.6 per cent, while the value was down 2.8 per cent, reflecting a 2 per cent increase in the price of fuel during March.
Building materials stores saw little change in terms of sales volume, with a 0.1 per cent decrease, while in dollar terms sales increased 1.8 per cent.
Higher valued vehicle sales in March contributed to a 7.9 per cent increase in sales volume for motor vehicle stores.
Selected overseas declarations showed imports through couriers increased $300,000 to $11.8 million, while declarations by returning residents through the airport were up $300,000 to $3.7 million. Imports via the post office increased $100,000 to $500,000, while imports by households via sea were down $200,000 at $500,000.
The Retail Sales Index figures were released by the Department of Statistics.