Market is uniquely Bermudian– warm, authentic and inviting
Updated: Nov 15, 2011 07:49 AM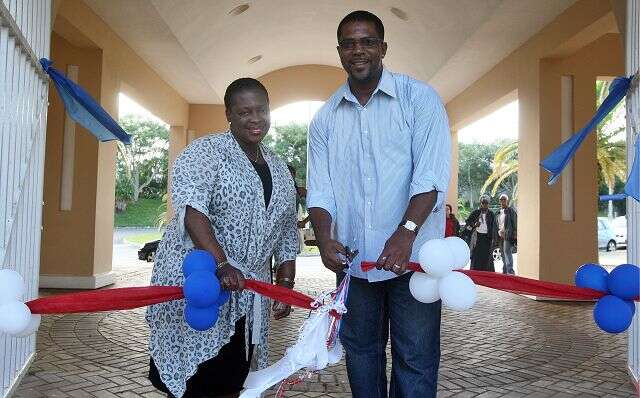 Saturday marked the start of something brilliant at CedarBridge Academy. The grand opening of Bermuda's newest vendor's market in the South Court of the CBA campus was met with great fanfare and the prestige befitting a superbly positive event.
Minister of Community Development Michael Weeks was on hand to cut the ribbon and officially open the market, while Premier Paula Cox was also in attendance to support Bermuda's artisans, craftsmen, and entrepreneurs in this exciting new initiative.
The atmosphere was light and airy, evoking memories of the Bermuda that became renowned for her friendly people and warm disposition. Welcoming, inviting, and family friendly, this new space, aptly titled The People's Market is much more than just an outdoor shopping mall; it's a community event that offers something for everyone.
All manner of local wares were available for purchase, including art, clothes, foodstuffs, and handmade Bermuda cedar crafts. Bermudian artisans like Leslie Tucker, Gina James, and Deborah Rhoda peddled their handmade wares alongside culinary artists like Carolann Baily, Michelle Ming and Lucinda Worrell-Stowe at this delightful venue.
Every vendor I spoke to said that they will be back for as long as the market remains open, and encouraged all of Bermuda to come up and see what all the fuss is about maybe even pick up a few uniquely Bermudian Christmas presents.
Mr Tucker specialises in jewellery boxes, mailboxes, stools, picture frames and various custom pieces made by hand from authentic Bermuda cedar. He takes orders if you can't find the exact piece you are looking for on his table, and he will be at The People's Market every week going forward.
Ms James, of Gina's Hand Crafts, is a veteran vendor. She creates stunning statuettes from ceramic and plaster of Paris and can be found at CBA every Saturday from 9am until.
Ms Rhoda offers beautiful handmade placemats. She also has handmade throw pillows, table runners, cloth bags and gift baskets available at her Baskets for You table.
In addition to artisans selling their original handmade items, there were several Bermudian entrepreneurs peddling exclusive wares. Vendors like Donika York of Basic Beauty Studio and Sam and Lucinda Hall of Voluptuosity fall into this category.
Mrs York offers high quality cosmetics for fashion conscious women at very reasonable prices. She offers an extensive catalogue of NYX brand cosmetics out of Los Angeles, USA, and can also give you a celebrity makeover if you want to get that particular look to make the paparazzi puff and pant.
Next to Mrs York you'll find the Halls under the red tent. They offer lingerie for the plus-size woman. They are relatively new to the vending game, but they are determined to offer unique wares and quality items that will have their customers coming back again and again.
For the cutest little baby clothes, you should visit Delarie Outerbridge at the Binky's Baby and Kids Wear table. She stocks clothes from size 0 to 20, shoes, underwear, and a few early development games and puzzles.
The third general category of vendors present on Saturday was the food peddlers. Ms Bailey was in attendance to provide authentic home cooked cuisine at CB's Homestyle Cooking. She offered homemade beef and chicken pies, macaroni and cheese, peas and rice, soup and Johnny bread, and various other items you remember mom making. Very nice! I have to add that St David's Seafood was also on hand, selling tasty conch fritters and the customary fish and such.
Ms Ming impressed with her handmade candy as well. Her table, Michie's Niche was practically aglow with delightful treats like peanut, almond, and cashew brittle, sea glass candy in piña colada, watermelon, and tropical flavours, ginger, mango and coconut infused concoctions and various other handmade confectionary masterpieces.
Lastly there was the legendary bread and baked treats of Ms Worrell-Stowe. There's an old nursery rhyme that talks about a village with a butcher, a baker, and a candlestick maker; if I was building my ideal village, she would occupy at least two of those positions. She is hands down the best baker and candlestick maker I know. For the moment she is only selling baked goods at her Positive Energy table, but you still owe it to yourself to get up to CBA on Saturday to get some of that fabulous bread she makes. Worth the price of admission alone!
I spent the better part of three hours at The People's Market on Saturday, and not a moment was dull. The atmosphere was buzzing, the wares were exciting, and the vibes were extremely positive. Then there was the Seniors' Tea Room; a space where the seniors were provided with ample room to rest, enjoy a complimentary sandwich and bowl of fish chowder, and just enjoy this warmly positive community event. Let's hope this continues to grow and prosper.