Kick-start your way to fitness
Updated: Feb 21, 2012 08:11 AM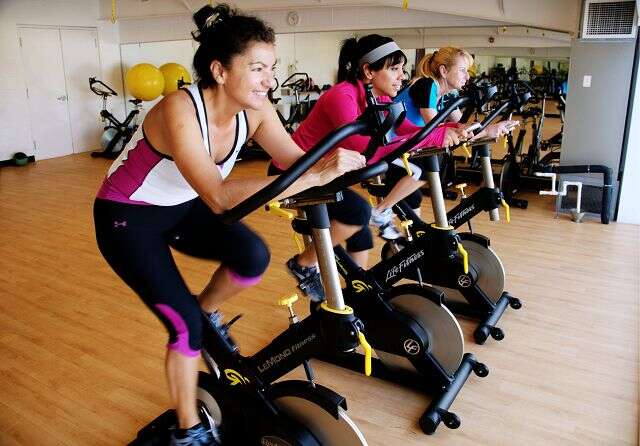 A half-hour into her new fitness programme, Sylvia Hayward-Harris was questioning her sanity.
She and her friend Sita Stirling had seen Cambridge Beaches' advertisements depicting happy people working out on beautiful beaches they thought it was a great idea at the time.
"It was intense," Ms Hayward-Harris said of their weekend at the Sandys hotel. "I am not a particularly fit person, although I thought I was fitter than I was.
"We hit Horseshoe Bay for a hike at 8.15am. By 8.30am I was asking myself if I was out of my mind."
The Fitness Bay Resort programme was created by Norma Thompson.
Participants spend five hours a day exercising, hiking around Bermuda and learning about better nutrition. Two certified personal trainers work with them.
"If you are not really fit, they modify the programme to your level," said Mrs Stirling. "You don't have to be an athlete to be a part of it.
"What is good is that they keep you busy. It is not a spa vacation. If you want to go there and see results and get a kick start to keep you motivated, it is great.
"Going to this weekend resort changed everything. The whole weekend is still in my mind. I have kept it up. I go walking and I see my personal trainer once a week."
Ms Hayward-Harris said that although the programme was difficult for her, in the end, it was well-worth it.
She lost 5lbs in two-and-a-half days; Mrs Stirling lost 3lbs. Ms Hayward-Harris was very pleased to see the fruits of her labour she's about 80lbs overweight.
"My doctor tells me to walk all the time," she said, "but I am indolent. I like to go home, and once I get in my house I like to stay there.
"I am on mild blood pressure medication for a slight blood pressure problem. I sell paint for cars, and do various accounting functions, so I am seated most of the day."
The programme has inspired her to get out and make changes to the way she has been living. She has rejoined the gym, and she goes walking regularly, and she has also joined the Weight Watchers' website.
Ms Thompson said she started the Fitness Bay Resort programme because she wanted to motivate people to get fit. She has been involved in other fitness programmes such as the 100-Day Challenge, here and abroad.
"I thought I could motivate people because I am passionate about it," she said. "I had done weeklong camps, once in Utah and once in Malibu, California.
"I thought Bermuda was the most ideal location for losing weight. We have clean air, beautiful beaches and a year round good climate.
"It snows in November and December in Utah. In fact, it was freezing when we did the programme there. I played with the idea, and then last year I decided it was time to do it."
There are no crazy diets involved with the Fitness Bay Resort scheme. Clients eat 1,200 calorie meals prepared by chefs at Cambridge Beaches. They drink only green tea and water during their stay.
"They eat fresh fruits, vegetables and lean meats," said Ms Thompson. "They are allowed two fruits per day or two snacks, but I will never let anyone starve."
Ms Hayward-Harris and Mrs Stirling both gave the thumbs up to the food, saying it was great and very tasty.
"We did have one class that taught us how to be really aware of your food and the taste and texture," said Ms Hayward-Harris. "I tend to be very much aware of it anyhow.
"I like spices and seasonings. They did an excellent job. I had only one complaint the first morning.
"We had an egg white omelette and the chef hadn't put enough seasoning. I mentioned it and it was really good the next day.
"They gave us salads with every meal and a really nice vinaigrette dressing."
Mrs Stirling, an administrative assistant, said she found the training interesting and enjoyed being outdoors on the hikes around Bermuda.
"We hiked on the beaches and railway trail and did a loop by Horseshoe Bay," she said. "Then that was followed by aqua aerobics at Sandys Sport, Aquatic and Enrichment Centre in Somerset.
"In the afternoon we did one hour of Zumba and one hour of circuit training. Saturday was three hours of power walking from Cambridge Beaches through Somerset to Port Royal Golf Course in Southampton."
They also did belly dancing and weight training. Ms Thompson, 51, said she could understand her clients' struggles as she had also battled her weight as a youngster.
Her interest in fitness and health stemmed from her own problems.
"Since I was young I was overweight," she said. "I always had this complex of being a fat kid. My sisters were all little. I hated it.
"At age 12 I started exercising. I would lose the weight and then gain it back again. I tried every type of fad diet, including the lemonade diet. I didn't have the education behind me to understand what I was doing wrong.
"Through a nutritionist and fitness programmes, I learned that if you stay within your resting metabolic rate and shave a couple of calories and add the exercise, it is a given that you will lose weight."
She said it is possible to have a beautiful body, but you have to work at it. You have to convince your mind that it is possible.
"We sit too long," she said. "Humans weren't conditioned to sit for eight or ten hours a day. We were meant to be out there hunting and working the land.
"Now we sit in front of the computer, or we sit in front of the television. We don't bother to prepare proper food. Now we are putting people on a journey of health and fitness."
Ms Thompson is hoping the Fitness Bay Resort programme will attract more visitors to the Island. She has had 12 clients since the programme started in January.
"It is a good programme," she said. "I really hope that Bermuda embraces it. These days, a lot of people want to go on these fitness holidays.
"They no longer like the cruise ship thing, where you come off 14lbs heavier.
"There is a ridiculous availability of food on cruise ships. A good portion of people like to go hiking or do something active."