Do yourself a flavour: Try The Point's new menu
Created: Jan 11, 2013 08:00 AM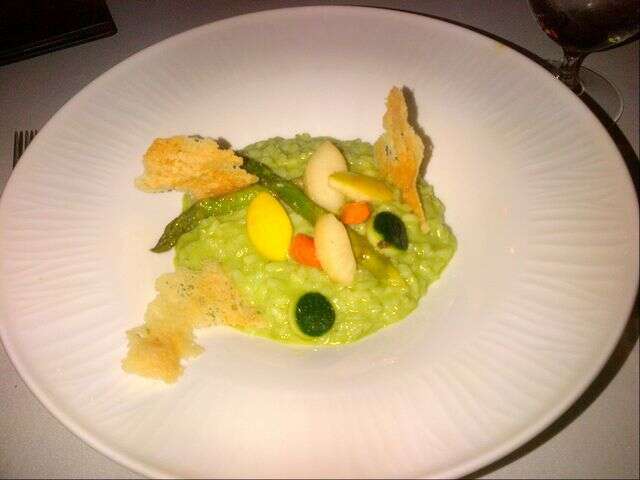 When it comes to dining out, The Point has to be considered one of the crème de la crème of local restaurants.
That's why moments after Rosewood Tucker's Point offered me and a friend the opportunity to sample their new menu, I went from feeling overly excited to a little anxious.
I knew the food would be great and I wasn't disappointed, but when going to such a fancy place there are other questions for a girl to consider, like what in the world does one wear?
After scouring my closet the night before the complementary dinner (and opting to forgo the cheetah and leopard print garments), I settled on a simple black dress. With the first dilemma out of the way, I was feeling a little more confident this wouldn't turn into an episode of Mr Bean, guest starring me.
Arriving at the restaurant right on time for our 7pm reservation, it looked as though my date and I had the place entirely to ourselves. By the time we left for the night, however, it was quite bustling, with several other guests enjoying their meals including at least three or four other couples.
Which leads me to one of my first observations: it would be the perfect spot for an anniversary or for someone looking to pop the question.
Our friendly server Claudiu, from Romania, was quick to put our nerves at ease by offering us drinks. I chose a tasty, traditional rum swizzle, while my date had a Jack Daniels on the rocks. It helped.
We scoured the new menu for close to 15 minutes: the problem being we just couldn't decide (everything sounded so good). There was a 'Point 360 Experience' on offer featuring between five and ten courses from famous Ports of Call around the world — from Caipirinhas and ceviche in Rio de Janeiro, to lamb lollipops from Istanbul.
Claudiu said that option was a timely one and could take between two and three hours to get through. For the sake of seeing a friend who was leaving the Island the next day, we stuck to the regular menu.
Moments later we were given an amouse bouche, consisting of a serving of beef consommé (similar to beef stock) and a crispy bread with egg yolk. It tasted like a fancy grilled cheese bite and shot of warm beef broth.
My date pointed out there was even a bell in the middle of the table to get their attention if need be.
The bell actually turned out to be a fancy tray of butter and not an attention-grabbing device. I learned this the hard way after embarrassingly pointing out there was no butter to go along with the warm bread rolls.
That brings me to my second point: bell or no bell, the servers were extremely attentive, particularly at the start of the night.
Despite the minor hiccups in etiquette, we continued on with our meal. I was served a sweet and nutty ravioli as a starter, with squash, crispy parma ham, walnut pesto, herbs and cinnamon butter.
My date chose the carna salada, a homemade Angus beef bresaola, celery, baby arugula, Manchego cheese and moutard a l'ancienne (mustard). He was expecting more of a green salad, but it was actually slices of hard cheese and tender cut of beefs with a sprinkling of arugula. It was tasty, nonetheless.
At this point in our evening we had a surprise table visit by Guido Brambilla, the restaurant's new executive chef. I would like to think he came out to talk to us specifically, but I saw him making the rounds to at least one or two other guests throughout the night.
Though they just launched a new menu in October, he said they plan to change it again soon to incorporate more local ingredients. The ravioli dish I ordered uses fresh squash from Wadson's Farm, Mr Brambilla explained.
For our main course (and with my New Year's resolutions in mind) I ordered the broccoli risotto, with glazed baby vegetables and Parmesan crisps. It was a flavourful and creamy risotto with really bright colours; definitely a great option for veggie lovers.
My date ordered the Australian lamb rack, with spiced lentils, tempura artichokes and rosemary jus. I didn't sample, but it looked good. I finished the meal on a sweet note by having a mini-sampling of exotic desserts, my favourite was the lychee macaroons, but a sweet mango pannacotta was also a good option.
Following that we were treated to a small tray of speciality chocolates and petit fours.
As we headed to leave, the restaurant was relatively busy and conversations were flowing from all directions.
Which brings me to my last point on the night: nobody really cares if you don't have all the etiquette down, as long as you enjoy the wonderful food and the company you're with.
The price is comparable to other fine dining restaurants on the Island, with appetisers costing around $18 and entrees in the $45 range.
Reservations for The Point can be made by calling (441) 298-4070.