'Best bellman' is still going strong at 75 ... and he does 300 push ups every day to stay in shape
Created: May 02, 2013 09:00 AM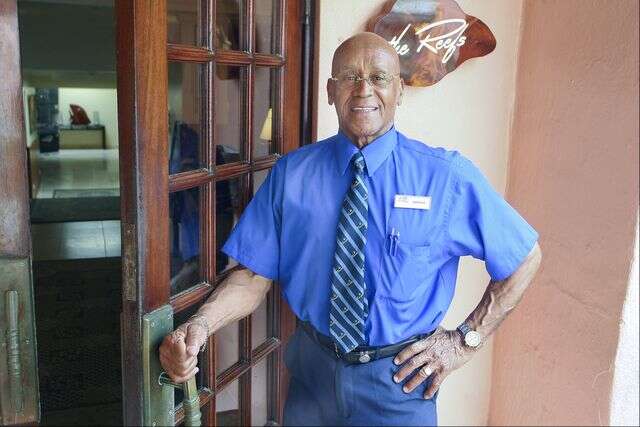 This year's winner of the Visitor Industry Partnership (VIP) award for best bellman/doorman can definitely be called a veteran of the industry as he started off working in a hotel at nine years old.
"I had to leave school early and go to work," said winner Winfield Todd. "My mother had six children at home, and she was separated from my father. When I first started I was working in the staff elevator at the Belmont Hotel with another boy called George Jones. He just retired from Elbow Beach Hotel. I loved it from the get go. There was a handle that you had to turn to make the elevator go up. Elevator buttons came later."
He boarded at the hotel, and the staff looked out for him. He was particularly grateful to one staff member at the Belmont, Nelly Wilkinson.
"I guess she saw where I started to make money," he said. "She took me across from the ferry to join the bank. She got me a savings account. That was just before I was ten years old. At that time I didn't get paid very much, maybe only four or five dollars. Without her I don't know where I would be."
Sixty-six years later he is still in the industry, working as a doorman at the Reefs Hotel in Warwick. Visitors who see him effortlessly opening doors and moving guest baggage might be a little surprised to know he is 75 years old. He does 300 push ups every morning before going to work to stay fit.
His hobby is running and he has taken part in many international 10K races, and the May 24 Half Marathon. He has used his quick feet to raise money for local charities. He estimated he had probably helped to raise about a million dollars for Hope Homes over the years including the down payment on the building in town.
"I actually helped to pay off the building costs, with the help of exempt companies," he said. He also raised money to purchase wheelchairs for the disabled. On one memorable occasion I did the Catlin End to End Walk and pushed one lady in a wheelchair from Smith's to St George," he said. "Another time I pushed a lady all the way to Dockyard in a wheelchair. I would like to run this year, but I haven't had a chance to do any training."
Mr Todd was surprised when he won a VIP award this year.
"I live a very humble life," he said. "I don't even consider this a job. I just love people. I look forward to coming to work every day and making sure I am looking presentable. Back in the day when I worked in Belmont, we would have to come to work and they would check our nails and everything. We would make tips on guests checking in and checking out. If you needed a haircut they would wait until people were leaving and then come to you and say you had to go home and get a haircut. We would have to go home and miss earning tips."
He recalled many of the people who had worked in the industry with him when he first started such as Tommy Williams, bell chief at Belmont and Richard Johnson who was the bellman. He recalled how Joseph "Big Daddy" DeRosa would entertain guests at the Castle Harbour Hotel with card tricks.
"My advice to young people coming into the industry would be, if you just come in the industry have an open mind," he said. "Please don't look at the wages. You can make a decent living with your gratuities. You have to be very crafty with your budget. The season is only eight months long and you have to make your money last the whole year."
Over the years he worked in many different places including Bacardi International, and as an ambulance driver. He has been at the Reefs for the last four years. He was the first doorman at the Tucker's Point Club in Hamilton Parish.
"I really want thank Mr David Dodwell Sr," he said. "He made it all possible. He saw me working at the Tucker's Point Club and asked me to come and work at the Reefs and I have been here ever since. I really love it."