Deandra's cashing in on her natural assets
Updated: Jul 30, 2013 09:37 AM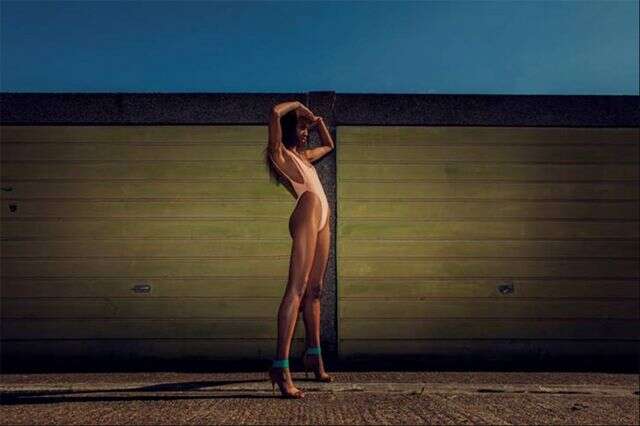 Deandra Brangman used to hate being the tallest and skinniest girl in her class growing up, but these days the budding model is cashing in on her beauty and thin physique with a wave of high profile jobs in London.
She has recently been able to strut her stuff for designers like Jeffrey Michaels, and fashion label Tata Naka, in this year's London Fashion Week. She has also been featured in British magazines such as Pride, KTW, Salon Business and Tony & Guy.
Ms Brangman, who is currently on Island for the Cup Match holiday, stopped by
The Royal Gazette to update us on her life and modelling career with one of the UK's leading boutique model agencies, Body London.
Since winning the Top Model Worldwide competition in 2011, she said she has been lucky to find work on a consistent basis.
A slow week might involve going on two or three castings and doing a photo shoot to build her resume. While a busy week might involve as many as ten casting calls and waking up at 5am to make an early shoot in the city, before heading to another job in the afternoon.
She doesn't anticipate her career will slow down any time soon and admits there's a lot she wants to accomplish in the modelling industry.
"You can never have just one goal, because once you reach it there's a new goal," she said. "For me I look at it like a building process. I would like to do it all really, but my ultimate goal is to continue to grow and develop myself, my career and my brand.
"I would like to see myself signed to an agency in each country, from Sao Paulo, New York, California, Miami, Paris, Milan, South Africa, Australia and Japan."
Ms Brangman said her interest in modelling was peaked at age 11, when her mother, Sandra Ming, gave her a book about former supermodel Tyra Banks.
She said: "[Tyra] was one of the first great supermodels and when I was younger I had seen her ads and billboards and shows all over and I was like 'Look mom, that could be me one day' and slowly but surely, it's becoming true."
At 16-years-old, when she was still a student at Berkeley Institute, she auditioned with Bermuda's JaKoMa agency, and joined its first course for training models.
Then after her 'killer walk' helped to win her the top spot in the Top Model Worldwide competition, she was thrust into the global spotlight. She said that experience was both "overwhelming" and "rewarding".
"It was a lot of fun being in the limelight and in demand and I enjoyed it," she explained. "Top Model opened up a lot of opportunities, especially here in Bermuda, to model and represent Daisy's, who sponsored my outfits for events and other appearances."
Ms Brangman also credits much of her success to God. She said she goes into castings with a positive attitude and the belief that she has already secured the job in Jesus' name.
"I feel there is a force behind me pushing me, Father God, of course," she said. "I would say my faith is everything because without God I would be nothing.
"God to me is my backbone, my stronghold and outside of that of course my family comes first."
She said the modelling industry could be a tough one — she has seen girls shunned by designers or crying outside a casting call.
She has also seen agents take a model's card and throw it directly into the trash. "You have to have a thick skin or you will get eaten alive," she said.
The local beauty said she has had to learn the importance of keeping her family close, loving herself and to be careful who she trusts.
But she manages to get through thanks to prayer and constant communication with her family, as well as encouragement from her church at 'Catch The Fire' in London.
Her advice to anyone looking to pursue modelling as a career is to understand that perfection doesn't exist. Instead women should just focus on "being the best 'you' and the rest will follow," she said.
It's also important for young people to research the industry and educate themselves about different designers and trends in the business.
"The lack of knowledge is death, that's the truth," Ms Brangman explained. "I still find myself researching various designers, locations etc and I'm continuously growing and learning more about it. It's a very dynamic industry at large.
"If you want it you are going to want to need it. You can't just wake up one day and say 'I am tall and skinny, I can do it', because it's not that easy.
"You have to focus, learn and educate yourself, and even then more research is necessary."
She wanted to thank the local public for their support, especially those who have kept her in their prayers.
To receive regular updates and highlights on Ms Brangman's progress, visit her Instagram page: Eliteginger, or Twitter account: Eeliteginger.
Useful website: www.bodylondon.com