What the litter-ati are wearing
Created: Sep 10, 2013 09:00 AM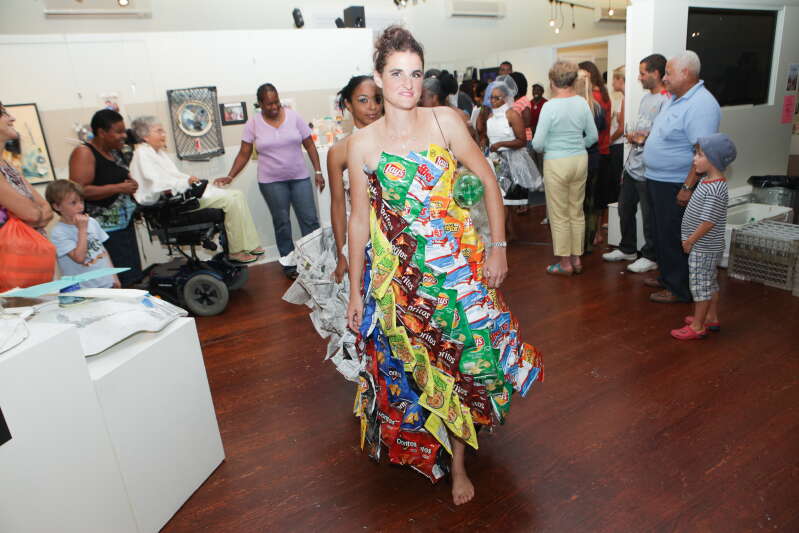 After blowing away the audience at the Bermuda Society of Arts (BSOA) Trash Art: Litter Arti show on now at City Hall with her trash based fashions
Deondre Cumberbatch is taking her work on the road.
Ms Cumberbatch will be showing her fashion made from used chip bags, plastic utensils, newspapers, old shower curtains and black trash bags at the biennial Art and Entertainment Conference in Atlanta, Georgia this week.
"The clothes that you saw at the BSOA Trash Art Show were prepared for Rip the Runway, a feature at the conference," she said.
The conference is meant to be a celebration of the many forms that art takes and the collaboration between art and God.
"My intentions for this year's designs, visually and conceptually, was to show the amount that we consume and throw away and I also wanted to show just what we can do with the trash we rarely think about," she said.
If there is such a thing as going above and beyond the call of duty for art, Ms Cumberbatch doesn't feel she has reached that mark yet, even though she literally went through stinky bags of garbage to collect materials.
Last year she entered five outfits in the BSOA Trash Art show; this year she entered 14.
"It took about two weeks to make the outfits," she said. "Some days I would do three dresses in a day."
Ms Cumberbatch did not sew her creations, but used hot glue, spray adhesive, and sometimes duct tape to hold everything together.
"This year I ended up having to buy some chip bags, but last year I had loads and loads," she said. "This year I collected some but it wasn't enough for that dress. Last year I had big ideas but no way to execute them. So this year I used the same ideas, but executed them better this time around."
Thankfully, she didn't actually eat all the chips from the chip bags she used. She taught summer camp and encouraged the children to give her their used snack bags.
"I would always say, 'hey, you got some trash for me?'. Sometimes I would be throwing something away and see a chip bag in the trash tin and I would take it out of the trash. People would sometimes ask me what I was doing. I would say, making dresses out of trash and then they would be fine with it."
She also collected used plastic forks, spoons and knives. At home, everything had to be washed and disinfected.
"I used the spoons for an elaborate dress belt. From a distance it looks like a design, but when you look at it closely you see it is spoons."
She collected bags of trash from places like the Matilda Smith Williams rest home and gas stations, and even the roadside in the City of Hamilton.
"This sounds gross, but this is what I had to do," she said.
Her worst moment came when she got a bag of trash home from the gas station and it broke open over her living room carpet spilling sour milk everywhere.
"I had to empty out the trash into another bag then use the big black trash bag," she said. "I found some really good stuff in the trash. I made a couple of purses out of what I found from trash bags at Buzz."
When asked if it wasn't all a bit disgusting, she said "absolutely".
"I had to put a cover over my car seat because the bags from the gas station were dripping coffee," she said. "It was absolutely gross, but that was the point. That was the awesomeness. Out of that came these beautiful, unique dresses."
Now that the project is over she is left with piles of newspaper in her house.
"I didn't know how much I would need so I collected like it was the end of the world," she said. "Last year, when I did this, my family was absolutely annoyed. I live in a big house, so two bedrooms were full up with materials plus one bathroom. The bathroom had all the sanitiser in it. There was always stuff being washed. Everything was meticulously placed, but people would still come in and say 'what IS this?'."
Through the project she learned a lot about people and their habits.
"I learned that people waste a lot of stuff," she said. "I remember opening up a trash bag and there was a bottle almost full with apple juice still in it. It wasn't bad or anything."
She said she did it all because she wanted to help KBB bring about greater awareness of Bermuda's trash problem. She already has ideas for next year.
"Next year I might use materials from thrown away chairs and mattresses," she said. "I would love to work with the foam from mattresses."
She was the only designer in the BSOA show. However, a little girl also made a dress for the exhibition.
Ms Cumberbatch is currently a student at the Bermuda College. She is collecting prerequisites so that she can pursue a second degree abroad in art therapy. Her first degree was in broadcasting and journalism.
"I did not qualify for the art therapy programme right away," she said. "I needed to start all over again. It took me a minute to figure out what it was I wanted to do. I used to be on the radio in Liverpool, England. I even thought I wanted to be a dietitian."
Art therapy combines her love with art and helping people.
"As long as they coexist with each other, I am happy," she said. "I love what art allows me to do. With people, I love giving something back. Within the degree you get to choose a concentration to focus on. Autism and behavioural in kids. Doesn't limit me to only children but I will have a concentration in that particular area."
She firmly believes that art can heal the world.
"My philosophy is that art is love and love is art," she said.
The Trash Art: Litter Arti show will be on at the BSOA at City Hall until September 18.