Celebrating 100 years of serving God and family
Created: Sep 21, 2013 09:00 AM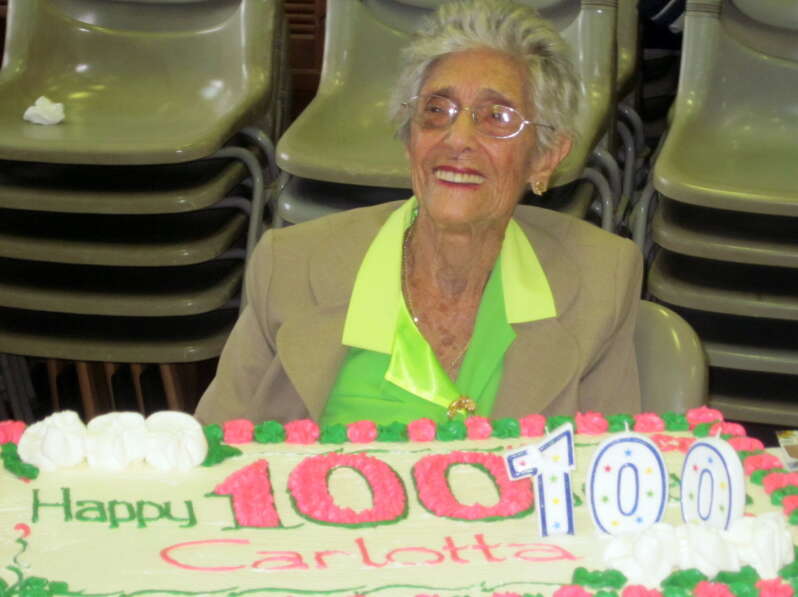 Scores of people from all parts of Bermuda on Sunday joined in singing and giving three rousing cheers to Carlotta Marguerite Wilkinson of Dudley Hill, Paget in celebration of her 100th birthday.
Carlotta smiled broadly and waved as first one then another relative and friend hailed her as an extra ordinary, great and phenomenal, Godly woman.
She received with a good spirit and even pointed her finger as one or two of her second generation grands 'told her off' with wit and humour about her efforts to keep them on the 'straight and narrow', particularly regarding their eating habits, dress codes and hair styles.
Not surprisingly, the food and fellowship was just super at Paget Church Hall, where Carlotta's only daughter Janet along with brother Irving, Jr, and a host of friends had set everything to perfection.
Janet is the wife of Nelson Hunt, the well-known entrepreneur, whose enterprises that bear his name are leading producers of party favours and flavours.
Carlotta was joined at the head table by her sister Myrtle Seaman. Personally, this writer got to know Myrtle from my earliest days as a Bermuda Recorder journalist and later News Director at Monty Sheppard's ZFB Radio and Television Stations.
Myrtle was a legal secretary in an office next to mine in Court Street; and moreover she was one of the keenest player, star in a variety of ladies sports back in the day.
So far as Carlotta is concerned, I got to know and admire her more through her late husband Irving Wilkinson who frequently made the headlines as one of the country's keenest yachtsmen and one of the initiators of the West End Sail Boat Club's annual long distance comet race.
It was against that background I was totally absorbed by the fluent tribute paid to Carlotta by her great niece Brenda Simmons.
Brenda is now retired. She was for 25 years executive administrative assistant to former Premier Sir John Swan, and likewise to the late Arnold Francis at his law firm.
Describing Carlotta as a unique and amazing woman, the matriarch of the Wilkinson and Seaman family, Brenda began her tribute by declaring it was a beautiful sunrise 100 yeas ago on September 16, 1913 when Alfred and Catherine Seaman gave birth to their precious seventh child Carlotta Marguerite.
Her father was from London, England and mother Catherine was Bermudian.
Carlotta had seven siblings, Alfred, Percy, Eugene, Miriam, Winifred, Violet and Myrtle. Believe it or not, Carlotta and her sisters Miriam and Winifred married three Wilkinson brothers, Benny, George and Irving.
Brenda said her aunt chuckled and chuckled when she asked them how they pulled off that marriage coup.
She explained the Seaman's lived on the North Shore in Pembroke and the Wilkinson at Dudley Hill, Paget.
The two families became very close, with the mothers attending the same 'Mothers Union' meetings while the children played together.
As the sisters grew into womanhood they always had eyes for Wilkinson brothers.
The Seaman girls were very beautiful and the Wilkinson guys were handsome, Brenda quoted Aunt Carlotta as saying: "Winnifred swept George off his feet and were first to marry. Miriam and Benny followed, and before you knew it Irving and I began courting and in no time he proposed marriage to me."
Carlotta and Irving were married 80 years ago, October 10, 1933, and "had a wonderful and eventful life together cruising in and around Bermuda and many countries abroad".
Irving passed away seven years ago.
"Aunt Carlotta told me she had only two jobs, one as a waitress at Beuna Vista Hotel in Paget, when her son was a baby, and later in her sister Violet's variety store.
"Then she became a full-time home maker for her husband and pets. She had an unconditional love for animals; and remembered their names, such as goat Baby Nanny, dogs Nikie and Pepper, Freeway, Sally and Dottie, and even a pet frog named Anthony.
"Growing up on Dudley Hill with Aunt Carlotta was absolutely amazing and exciting. She would have a gift under her tree not only for her family, but for all the Dudley Hill children.
"No child was left out. Each gift was either wrapped with green or red cellophane paper and tied with a bow. Uncle Irving acted as Santa Claus. She made the best ever coconut layer cake with a seven minute frosting. Not to mention her baked bread and rolls every Saturday.
"She made the most delicious hot cross buns brushed with a light egg white and icing sugar," Brenda remembered along with loquat, cherry and Seville orange marmalades, much of which she grew in her own garden, and shared with others.
Brenda recalled how her aunt and uncle Irving would take the grands on their boat X"Our Joy"X during their summer holidays, leaving on a Friday evening and returning late Sunday.
"We always moored at Paradise Lake or Hawkins Island. We would cruise to the Inverurie Hotel watch the stage show from the water and return to the anchorage to swim until midnight.
"Aunt Carlotta is an excellent seamstress, and I remember her sewing my wedding dress on me in her bedroom 50 years ago," Brenda related.
Two of her hobbies were gardening and playing card at her kitchen table. She kept her flower gardens beautiful and well manicured.
She potted plants and enjoyed selling them at St Paul's' Church white elephant sales. She even grew her own fresh herbs, fruit trees, avocado and banana trees.
The Wilkinson home and doors are always open to family and friends who are graciously welcomed.
She is a Godly, praying woman who loves the Lord, boldly speaking of her salvation. She has been a member of St Paul's Anglican Church and is an honorary member of the Church Guild.
When I asked Aunt Carlotta the secret of her longevity, she answered saying her Lord and Saviour, eating fresh vegetable, fish medium rare beef and drinking a glass of wine daily with her dinner meal.
Brenda concluded, telling her Aunt and the applauding congregation: "I appreciate and thank you from the depth of my heard for your love, teaching, mentoring and overall being the exceptional model you were when we were growing up."