Celebrating Lois in music, dialogue and dance
Created: Dec 27, 2014 08:00 AM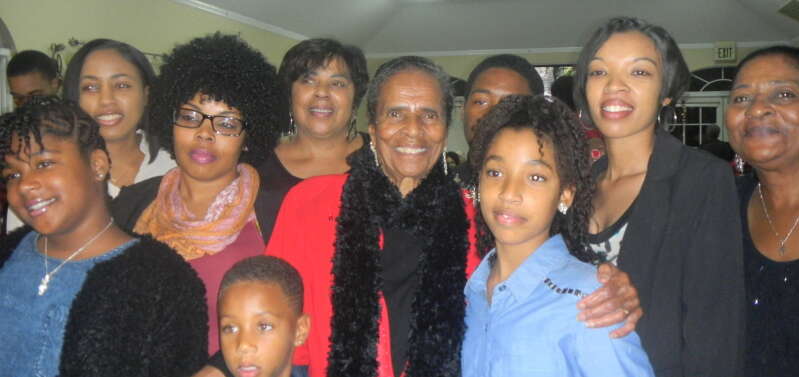 The Ocean View Golf Club in Devonshire rocked like never before when the family of Mrs Lois L Weeks took it over on Sunday in celebration of her 90th birthday.
For the purposes of this feature, yours truly, this columnist is taking the liberty to refer to her simply as 'Lois'.
It was an out of the ordinary celebration and we fear that Lois is probably going to need another 90 years to absorb the fantastic tributes paid to her in music, dialogue, dance and song, mostly by talented family members.
If such a celebration could be duplicated, we want to be around for it!
Twice married and mother of 12 children (son Collin passed in December 2000) I would venture to say it was a wonder she survived the nearly four-hour Sunday event. It was catered, food and drink for 200. But daughter Jolene Lindsay (Government's Tax Examiner) with good perception called around to her sisters to prepare backup dishes.
It was a good thing she did, as there were more than 100 family and friends on the outside not allowed in for fear of overcrowding. They were served nonetheless.
Mistress of Ceremonies was the vibrant Judith Hall Bean, a daughter of brother Llewellyn Sinclair Dill. She had her hands full keeping everyone on line.
The pace was set when the Blues Beat Band band in their distinctive black broad brim southern hats and garb arrived on the scene. Its leader trumpeter, Barrett Dill, apologised for having been double-booked. He made up for it with the half-dozen or more variations his band led the gathering singing Happy Birthday Aunt Lois.
Next the band Euphonics took over. They dealt with what was in fact a generational clash accommodating requests from the youngest grands and the elders wanting to make way for the Place Gombeys to do their thing. Everybody sensed the Gombeys would mark the end of the show. But it was prolonged when the crowd kept tossing their dollars and cents in the ring for the Gombeys to stay.
One of the highlights was when soloist John Dale got a standing ovation singing two love songs to Lois. He is married to her niece.
Son Michael Weeks, the Member of Parliament who is the Shadow Minister of Community and Cultural Affairs, popped in, explaining he was the midst of distributing more than a 100 plus turkeys for families in his Constituency 13. When mother Lois graciously asked him where was her turkey, he diplomatically reminded her she was not one of her constituents.
Also on the scale was the Rev Nicholas Tweed, pastor of St Paul AME Church, Hamilton, where Lois for decades has been among other things its Senior Usher; a relief Sunday School teacher and co-Treasurer.
The blessing on the food was invoked by the Rev Judith Gardner. who is on the Ministerial Board at St Paul.
Yours truly is constrained to mention he was one of those paying tribute to Lois. I was not challenged when claiming no one in the gathering had known Lois longer that myself. We entered the Berkeley Institute as innocents the same time. In fact, I sat directly behind her; we have had a continuing friendship, which seemed to have lasted 100 years.
Our paths crossed in many ways down through the years. She was in her mid to late teens becoming an expert linotypist at the Hamilton Press. I was in the next block functioning at the now extinct Bermuda Recorder Newspaper. Yours truly related how she was the personification of what youngsters "back in the day" were urged to do: "put your best foot forward". She was one of the first black women to be hired as a teller at the Bank of Butterfield, when racial barriers broke down.
She worked at the bank days, and part-time nights at Hamilton Press.
During all the years while being married and raising children, she also was dedicated hosting events for her extended family embracing charitable and volunteer bodies such as Parents Anonymous; Physical Abuse Centre; Age Concern; and most significantly, the Orchid Charity Club, where she is corresponding secretary.