Senior showers pet with puppy love
Created: Jun 07, 2016 09:00 AM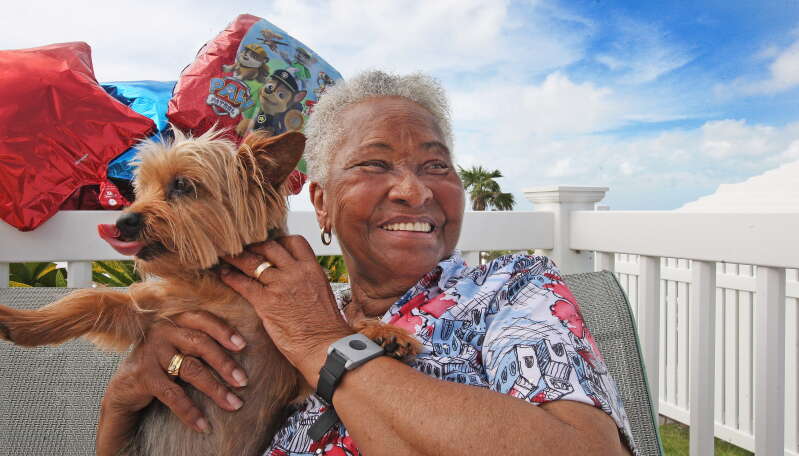 It was a birthday party to remember: 18 dogs dressed to the nines, in bow ties and outfits. Everyone had cake and the birthday boy, Casey the Yorkshire terrier, got lots of presents. His owner, 85-year-old Lola Beane, decided to hold the party last month to thank the ten-year-old pooch for all he does for her.
"He is always here with me," she said. "He's such a good dog and I worry that he gets lonely as he doesn't get to see other dogs very often."
All the guests were well-behaved, except for one that got rowdy and had to be tied to a tree.
It was Mrs Beane's first canine event; she's more accustomed to catering to two-legged clients.
"Until three years ago, I worked for Flying Chef, serving lunch to schools like the Bermuda High School, Gilbert Institute and Somersfield Academy," she said. "Then it closed and I retired."
She loved serving the schoolchildren.
"They were good to me," she said. "They probably looked at the grey hair and said, 'Let me behave myself'.
"My three daughters all work in the school system, two as paraeducators and one as an administrator. They say kids today are a lot different than when they were young."
Teachers gave "cracks" to naughty children when she was a student at Paget Glebe School. She said: "It was a lovely school. There were just a few girls and boys. It was always pleasant."
She was born on Ord Road in Paget but later moved to Warwick with her six siblings and her mother, Eunice Wilkinson.
Her parents split up when she was young. Her father, Stanley Wilkinson, was a carpenter who made coffins.
Mrs Beane left school at 13. She started working in a candy store the following year.
"It was located next to the Paraquet restaurant in Paget," she said. "A Mr Tucker ran the store but I don't remember what it was called now."
At 15, she was hired as a nanny by the Byrer family, who managed the Inverurie Hotel.
"I looked after three children, David, Susan and Jeffery Byrer," she said. "Their father was David Byrer and their grandfather managed the Belmont Hotel.
"They eventually left the island. I'd love to know what happened to them. I guess the children would be in their sixties now."
She married and had four children of her own: Melvin, who is now deceased, Patricia Lee, Heather Stevens and Christine Place.
She divorced and met her second husband, Cleveland Beane, through her daughter, Christine.
"He worked at the airport driving limousines and buses," Mrs Beane said. "Christine was working there then. She said to him, 'Why don't you take my mother out sometime?'. We went out one night and just talked."
They courted for a few years and then married in 1979 when she was 48.
"I never expected to marry again in my forties," she said. "I never thought I'd marry again at all.
"We were married on December 10, the same day that Gina Swainson returned to Bermuda from winning the Miss World competition.
"My second marriage was a lot happier than my first. Cleveland was such a nice person. He didn't need to go anywhere when he knocked off at night.
"He would come home, park the bus in the yard and he was content. I used to laugh because he would brush his hair every night before he went to bed.
"The secret to a happy marriage is don't be arguing all the time. It's also important to say your prayers."
Mr Beane died in 1997. Now Mrs Beane has Casey for company. She said she's always loved dogs and has had many over the years. One family pet was called Git.
"I said I would name it after whatever the first thing my granddaughter said when she saw it," said Mrs Beane. "She saw it, she said 'git', shooing it away. So that's what we called it."
Another dog Max, used to go with them to church.
"As soon as he knew we were leaving, he'd run down the hill to the church," she said. "Max would be there when we got there and would lay at the feet of people.
"Nobody seemed to mind. Sometimes he would lay in front of the pulpit. When church was over he'd beat us home."
Now, she loves spending time with her five grandchildren and five great-grandchildren.
"Children are lovely — if they behave," she said.
Lifestyle profiles senior citizens in the community every Tuesday. To suggest an outstanding senior contact Jessie Moniz Hardy on 278-0150 or jmhardy@royalgazette.com. Have the senior's full name, contact details and the reason you are suggesting them