Caesar appointed new principal
Created: Aug 20, 2016 09:00 AM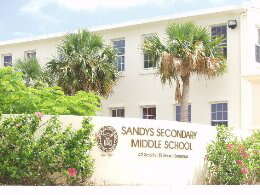 Kenneth Caesar has been appointed the new principal of Sandys Secondary Middle School.
Mr Caesar, who served as deputy principal at the school for the last two years, shall assume his new post as of September 1, 2016.
The former principal, Timothy Jackson, retired this year after serving for ten years.
The trustees of the school held a luncheon in his honour at the Fourways Inn in Paget this summer. Sandys Secondary Middle School, which was formally known as Sandys Secondary School, has been in continuous operation since 1927, and shall celebrate its 90th anniversary in 2017.
Since its inception, the school played an instrumental role in providing a comprehensive education for residents of Sandys Parish.
Prior to its operation, there was no educational facility available to fulfil this void.
In a somewhat extraordinary feat, Sandys Secondary School operated initially as a private institution for a period of 36 years, and against all odds, without the assistance of financial aid from the Bermuda Government. Coupled with a degree of vision, faith and foresight, there were a host of residents that lived in Sandys Parish that felt it incumbent to remedy this breach. Some of the initial trustees included Richmond Simmons, former prominent entrepreneur William Robinson, Florence Smith, Samuel Swan, Thomas Durrant and nurse Alice Scott.
Other prominent residents of Sandys Parish that were appointed as trustees, and both of whom served as chairman of the Board of Trustees, included former Members of Parliament representing the constituency in which the school in physically located, included the late Eustace Cann and the late Minister of Finance, Eugene Cox.
In 1963 the school subsequently became a government-aided school when it was placed under the auspices of the Bermuda Government via the Department of Education. Subject to a new policy adopted by the Bermuda Government in 1997, the school subsequently became a middle school with a current population of some two hundred students.
There have been a host of distinguished educators whom have served as principal of the school.
That list includes the late Dame Marjorie Bean, Mansfield H. Brock, Joseph Christopher, Melvin Bassett, and recently retired, Timothy Jackson.
A list of scholars and graduates of Sandys Secondary that excelled in their chosen professions include the late Bishop Vinton Anderson, former prelate of the AME Church, the former Minister of Education, the late Stanley Ratteray, former Director of Public Prosecutions, and past chairman of the Board of Trustees, Khamisi Tokunbo, two former Members of Parliament and Senate respectively, Edward Bailey and Larry Scott, and former Bermudian Olympian Gregory Simons.