Hoping to be Miss Junior Teen Great Britain
Created: Nov 02, 2017 09:00 AM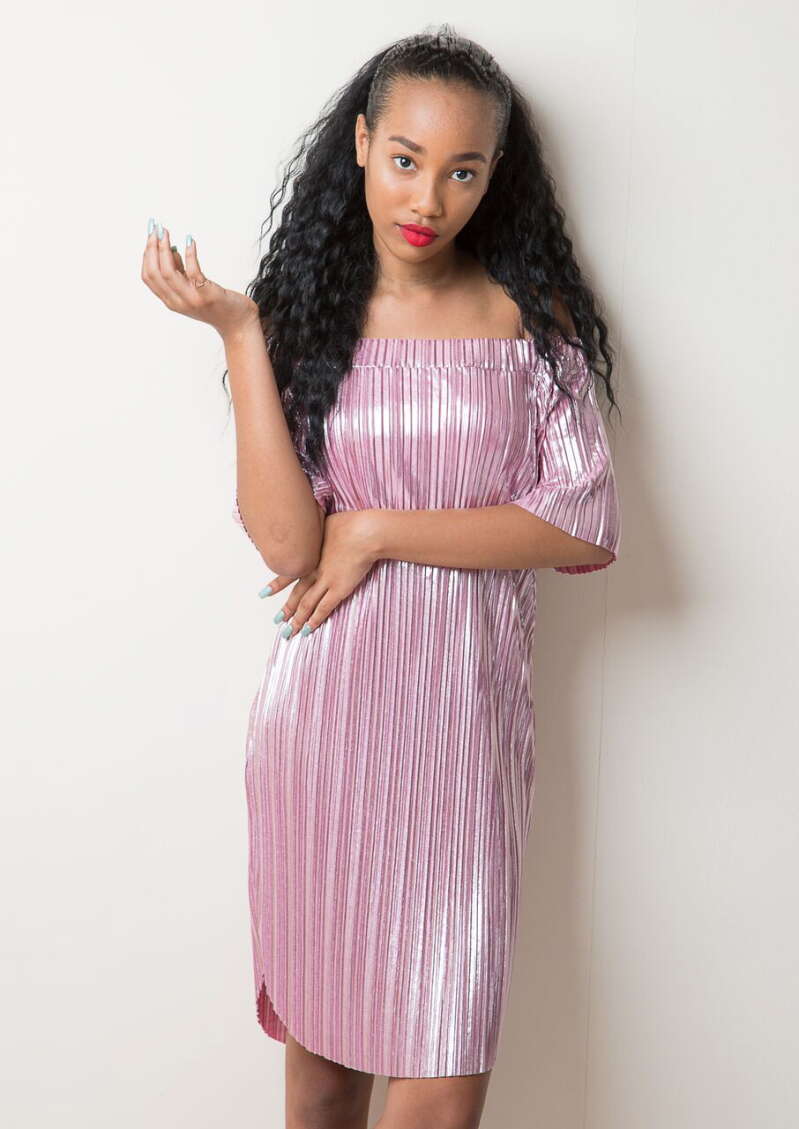 The next Miss Junior Teen Great Britain might just have a Bermudian accent, and a passion for bright colours.
Ziye Burgess is hoping a win will kick-start her modelling career.
It's one of the opportunities the 14-year-old has enjoyed since she made the move to Leicester, England last year with her mother Angel and sister Zoya.
"When I found out, I was excited, but not as excited as my mother," said Ziye, who learnt in September that she'd made it to the semi-finals.
"My mother was screaming and jumping up and down when we got the news."
Miss Junior Teen is for girls across Great Britain between the ages of 13 and 15, with organisers claiming the emphasis is on character rather than beauty.
Ziye won't learn if she's made the finals until the spring; the winner will be named in October.
"We don't know how many girls entered this stage of the competition but we were told they were flooded with applications," said Mrs Burgess. "Forty are chosen as finalists."
A questionnaire helps determine who gets to the next stage. Finalists travel to Blackpool for two weeks of photoshoots, challenges and charity work.
The winner gets £500 and a possible modelling contract.
"I think they are really looking for someone who is motivated," Ziye said.
"They asked questions like, 'What would you do if you won?' I said I want to inspire other girls to be more confident in themselves and believe in themselves. They asked what I wanted to do as a career.
"I decided I wanted to be an occupational therapist this summer when my friend Shachkeil Burrows lost his leg in a bike accident. He had a major recovery and made me want to help people like him."
Mrs Burgess decided to move to England after Zoya was accepted into the University of Leicester.
"At times it's really hard being away from my husband, Jason, my family and my dog," said the owner of A2Z Apparel in St George's.
"But I do have some really good friends here and we all help each other through those hard times.
"There is no place like home but I just wanted to show my kids that there is a huge world out there and that you should never be afraid to try something new."
Ziye initially struggled to adjust to the new culture but has since made friends.
"No one could understand me, and I like to wear bright colours while people here seemed to be wearing darker colours," she said.
Discovering she had a passion for modelling also helped ease her into her new home.
"My school wanted us to choose an extra curricular," she said.
"I couldn't decide between modelling and art. I'd done a bit of modelling for my mother's boutique back in Bermuda.
"Then we went to see Alize Bailey on the runway in London.
"She was in Next Top Model UK. It was exciting and inspiring to see a Bermudian in the show. I saw her on the runway and I wondered if I would also be good on the catwalk. I wondered if I could model like she did. I wanted to do it and see where it took me."
Her mother signed her up for modelling lessons, but she wasn't sure about attending.
"When I found out I'd have to take the classes on Saturday afternoons, I almost gave up on the idea," she said.
"The classes were a half an hour away so the day was almost done when I finished.
"I like to have fun on the weekends and go out with my friends. But it was a matter of priority. I had to decide if I really wanted to model. I decided I did."
The course lasted six weeks. Now she's preparing for another.
"PK Models & School is awesome," she said.
"They not only teach you how to model but they also teach the fundamentals and the business side of it. They prepare you for life as a model and for any competition you might enter."
For more information about the contest, visit www.missteengreatbritain.co.uk.