Island-inspired jewellery collection
Updated: Nov 26, 2017 11:51 PM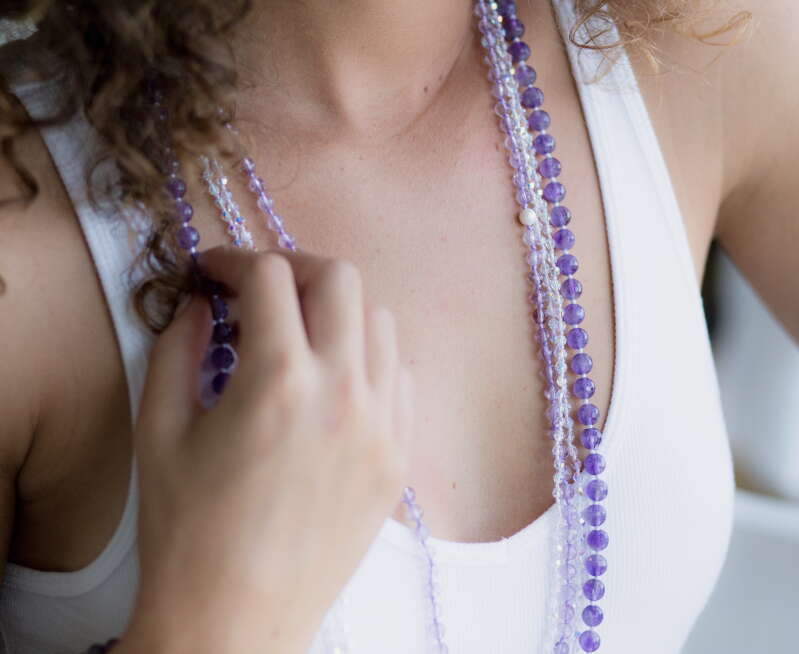 Classic, simple, chic.
Those are the three key words Kim Lefebvre keeps in mind when designing her eponymous jewellery collection.
But aesthetics aren't everything. The Canadian designer also looks for meaning in everything she does.
"Of course it's great when something looks good [but] I love that all these gemstones that I've selected have meaning behind them," Mrs Lefebvre said of the 22 rocks in her collection.
"A stone is a stone. Unless you know what it means it doesn't really touch you. That connection is important."
Mrs Lefebvre moved to the island 12 years ago. Then a reinsurance broker, when she had her first child her focus shifted.
"As soon as I had Alex I knew that I wanted to focus on raising my son and enjoying motherhood," she said.
"The reinsurance business was wonderful, but once I was home with my son, I wanted to have some flexibility. I wanted to focus on the children, which is 100 per cent my priority."
The family moved to England where she had her second son, Jude. It cemented in her the need to carve out a new career.
"You can't take that time back," she said of staying at home with her children.
"But it's also great to have something for yourself. For years you're putting all your time and effort and love into your children which is so rewarding, but you need to find that time for yourself.
"It takes a leap of faith. It takes some courage to put yourself out there because you never know what the response will be.
"Promoting a brand in this highly competitive e-commerce universe is my biggest challenge right now.
"But if you're passionate and you love what you do, you can only try."
She started going to London's jewellery shows and collaborated on a collection of gold bracelets with Hong Kong designer Daisy Chow.
"My passion is jewellery — it's something I've been passionate and interested in since I was a young girl," she said.
She recalls joining forces with two of her best friends at 14, selling their bracelets at local craft fairs.
"We had a company called Kilexea, which is our names combined — Kim, Alex and Anea," she said.
"Alex's mom was a jewellery designer. We would take some of the extra supplies and create our own things to sell."
When she returned to Bermuda five years ago, it all came together.
Her husband, Claude Lefebvre, cofounded Bermuda reinsurer Hamilton Re. With the children in school, she wanted to do more with her new-found time. "When I came back it was all very clear to me," she said.
"Bermuda's an incredibly beautiful place and my true inspiration. I fell in love with the island again.
"Between the turquoise ocean, the pink sandy beaches, the greenery, the sunshine — it's uplifting. It's all reflected in my collection."
She launched the company last year. Everything is made in Toronto, and then shipped worldwide. Her sister, Sue Chan, runs operations from Oakville, the company's headquarters.
But she insists the company is "Bermuda-inspired".
"I started with a great foundation. I had a neutral base of colours that is reflective of my style — greys, whites, pale pinks — colours that can be worn with anything," she said.
"That was the original idea and when I came to Bermuda, the myriad of colours, the natural forms, gave me that inspiration to bring more colour into the collection."
Each piece harbours a freshwater pearl between the stones. Rose quartz is a favourite; it symbolises love. Moonstone brings calm.
"We all need a little bit of calm in our busy lives," she laughed.
"I wanted to create jewellery that's beautiful and meaningful and versatile. I wear them all the time — every day. They're always in my stack."
This criteria is wholly essential for pieces made to be worn all the time.
"You can wear it day and night, to the beach, to the gym — anywhere you want," she said. "The bracelets and necklaces were produced to be worn alone but also as a layering set. I wanted women to be able to reflect their own personal style. The consumer can select [what] they like and create their own story."
Kim Lefebvre Designs are available in all four Luxury Gifts Bermuda stores. She will debut her men's collection in February.
• Visit kimlefebvredesigns.com
<p>Show time</p>
Check out Kim Lefebvre's Bermuda-inspired palette at a trunk show on Wednesday.
She's partnered with Michi activewear designer Michelle Watson for the 6pm-8.30pm event at Hamilton Princess's FH Boutique.
The two are former roommates.
"Sixteen years ago I lived with Michelle in Toronto," said Mrs Lefebvre.
"I was in insurance and she was at Scotia Bank and, quite frankly, we were not in love with our jobs.
"She took a complete risk and left her job. She studied at Parson's [School of Design] and has a company now called Michi, a workout line."
RSVP: info@luxurygiftsbermuda.com