Modelling the dream in her fabulous forties
Created: Oct 19, 2018 09:00 AM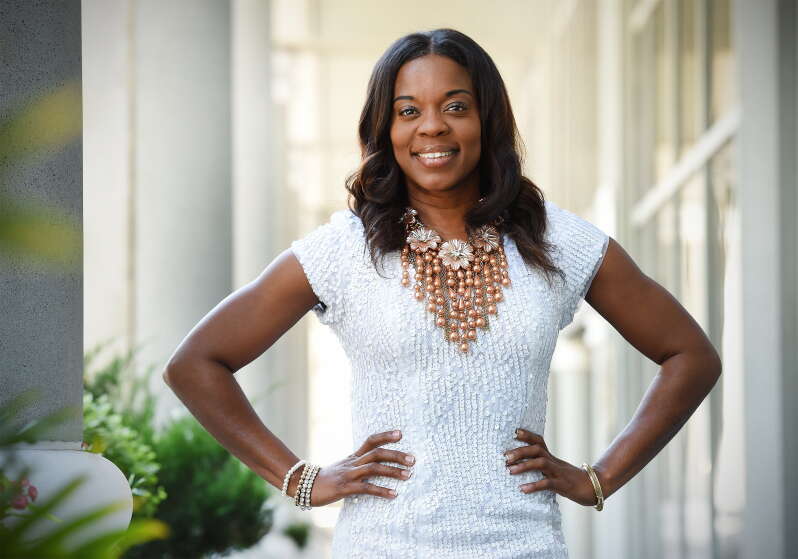 The energy level was high when Juliette Rewan stepped out on the Plitzs New York City Fashion Week runway last month.
The black lace, see-through number she wore was covered in sparkles; equally shiny was the glitter painted on her lips.
She'd dreamt of walking a professional runway since she was a teenager, and was finally realising it at 42.
"I thought for years that 40 was old for a model, until now," she said. "The age factor is dying out. If you have the look, they want you."
She started modelling in Bermuda at 14, posing for the late photographer Ibrahim "Abes" Muhammad and then Ras Mykkal.
At 16, she put her dreams on hold with the birth of her first child. Two more followed soon after.
"I had to focus on raising them," she said.
"I feel that my story can inspire others in many ways. The word 'inspiration' is a very strong word because sometimes it can take a lot to really inspire someone — it could be a struggle that you've come through that has allowed you to make an impact in someone's life; some people are just born to inspire others with their kind words or just something as simple as a good character.
"In my younger years, being a parent, it was easy to forget. I went from a teen mom to a wife to working two jobs to support my children.
"I had the opportunity to go to college like many others, but I chose to raise my sons the way I wanted them raised. I didn't just raise them to say 'They are grown, [let] society take them', I raised them so that they can one day be great husbands, fathers and good citizens and I think I have done a pretty awesome job."
Despite those efforts, she didn't entirely forget about modelling. She hit the Bermuda runway walking first in the Corporation of Hamilton's 2011 Evolution Fashion Show, and then several others.
However in April of 2017 she fell ill.
"One day I was walking down the corridors at work then suddenly, without warning I blacked out," said Ms Rewan, an assistant underwriter at XL Catlin.
She found herself on the ground, looking up at everyone. She could see them but couldn't talk. Once at King Edward VII Memorial Hospital, doctors found she had severe anaemia.
Her red blood cell count was so low it was off the charts.
Concerned that the necessary medication would weaken her heart, Ms Rewan was instructed to eat a lot of iron rich leafy greens to raise her red blood cell count.
Doctors said it was fortunate she was fit. "I am a runner, and I ran May 24th for 13 years," she said. "My doctor said if I hadn't been so strong it might have been much worse for me."
As it was, it took her nine months to get back on track.
"It was a really dark time for me," she said. "I didn't know what was going to happen. My children were grown by that point, but I still wanted to be there for them."
The illness caused her to reassess her life goals.
"Even if modelling didn't work out, I just wanted to say I did it and tried," she said.
She filled out application forms for two modelling agencies; both invited her to come to New York to audition in February.
"Then fear set in," she said. "I was thinking I was 42 and I'd be up against 21-year-olds. Why was I doing this?"
She talked herself out of it. And then at 3am on the day of the auditions, she changed her mind.
"I decided I was going to do it," she said. "I called my parents at 5am and said they needed to take me to the airport — I hadn't even booked my ticket. All I had with me was hand luggage."
At LF Wade International Airport there was only one seat left, in first class. She took it.
The flight got in too late for the first audition but she was able to make it to the second, which offered entry into the Plitzs Fashion Model of the Year competition.
It was only as she waited to walk in front of the judges that she learnt there was an age limit of 35.
She didn't let anyone know how old she was until after she'd demonstrated her modelling walk.
"I could feel all the models' jaws drop behind me," she said.
She didn't hear anything from the judges until the next morning, when her phone pinged at 12.30am. She'd gotten into the "Petite" category of Plitzs Fashion Marketing's July competition.
"I think I cried," said Ms Rewan, who measures 5ft 6in. "Then I was sitting there laughing. Then I was texting people saying, 'You won't believe it but I actually made it!'
"In the end, she didn't place but Plitzs agreed to represent her and invited her to walk with them at New York Fashion Week.
"I have a big photoshoot planned in a couple of weeks," said Ms Rewan, who plans to continue her dream through weekend trips to the Big Apple. "Plitzs is looking at getting me into magazines or onto the runway.
"I feel like it was a blessing to actually be in Fashion Week. That was something I always wanted to aspire to. People may not think it is huge, but for me it was awesome.
"At 22 it was all a dream for me, and now it has become a reality even if I haven't made it 'big time'. I am not trying to be famous. I am trying to make a contribution to the world. If I am out there, I can tell my story. I can help guys and girls who have been through different things — there is always light at the end of the tunnel if you are above ground.
"Always go after what your heart beats for. Never let obstacles get in your way. Live, don't just exist."
• Follow Juliette Rewan on Instagram: @jules_cojunel; @julietterewan