Do you know this woman?
Updated: Apr 23, 2020 12:01 PM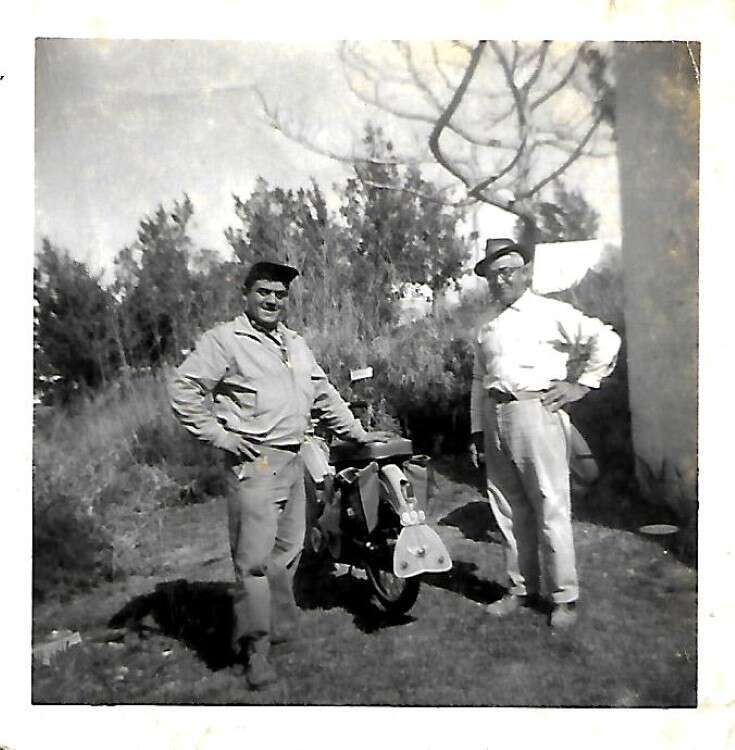 An Azorean woman is asking for help finding a woman in Bermuda that she believes is her long lost aunt.
The trouble is, she doesn't know her name or age, all she has to go on is a blurry photo of a female in uniform.
Sãozinha Carvalho thinks that her grandfather, Jose Carreiro Rego, secretly fathered a child while working here between 1940 and 1970.
"He was about 45 when he left the Azores," said Ms Carvalho, who lives in São Vicente Ferreira in São Miguel, Azores. "He had a wife and four children. My mother, Maria Germana, was about ten years old when he emigrated to Bermuda."
In the 30 years he lived here, he never returned home for a visit.
"He didn't come home when his wife died and he didn't come home when his daughters got married," Ms Carvalho said.
Mr Rego returned to the Azores when he left Bermuda and died in February 1981, age 86.
Nine years ago, family members started talking about the secret child he'd fathered here.
"My mother's older sister gave this picture, of a woman dressed as a policeman, to my mother and said she was [their] father's daughter," said Ms Carvalho, who does not speak English, but agreed to do the interview using Google Translate.
"At first, I felt revolted that no one had ever said anything about it. But I always think about it and I would love to know, even though there is no one from the family who can confirm anything. What I have now are just photos."
She thinks her grandfather kept quiet about his daughter out of shame.
"My grandfather was Catholic and a very respected person," Ms Carvalho said. "At that time if it was known, it would have been a scandal. That's why there is this whole secret."
Weeks ago, she reached out on Facebook to members of Portuguese Bermudian History for help.
Several retired police officers responded, but the quality of the photo she showed them was so poor, no one was able to identify the woman in the picture.
Ms Carvalho then decided to escalate her search, contacting The Royal Gazette with additional photographs and information about her family in hopes it would trigger someone's memory.
"I think she would be about 70," she said.
Her grandfather's sons, Manuel and Jose, got jobs "in the government gardens" and joined him here in the 1960s.
They had been toddlers when their father left home.
Ms Carvalho is fairly certain, from things said in the family, that her uncles knew their Bermudian sister.
A letter left over from that time reveals the brothers were living at 19 Vesey Street in Devonshire.
"I remember one of my uncles saying that they frequented a Portuguese club a lot," Ms Carvalho said. "One was a carpenter and built small, remote-controlled aeroplanes. My grandfather played the violin and had many books."
In 1966, a Bermuda Sun Weekly article profiled Ms Carvalho's grandfather and another Portuguese man, John Pedro.
At the time, they were employed by the Public Works Department and building a stone wall outside Clifton, a Devonshire property that is now the official residence of the Premier.
They had caught the journalist's attention because they were using traditional Portuguese building methods.
Mr Rego told the reporter he had learnt the skills as a young boy in the Azores, and taught them to Mr Pedro in Bermuda. He said in the article that he was planning to return home in a few years.
"I was 11 years old when he died and I don't remember him well," Ms Carvalho said. "Apparently, he told my mother's older sister about my aunt in Bermuda, but never told us anything."
Ms Carvalho would like to make contact with her Bermudian aunt for the sake of her mother, who is elderly and whose three other siblings have all since died.
"My mother would like to know if she has a sister in Bermuda," she said. "That's why I'm investigating. If it is true, it would be a huge joy for her."
Even if the woman believed to be her mother's long lost sister is found, Ms Carvalho doesn't plan to come to visit.
"It's too expensive," she said. "I just want her to know that she has family in the Azores."
• Contact Sãozinha Carvalho at scarvalho2008@live.com.pt