It's 'powerful stuff' as St Baldrick's Day head shaves bring in $421,000
Created: Mar 22, 2011 09:56 AM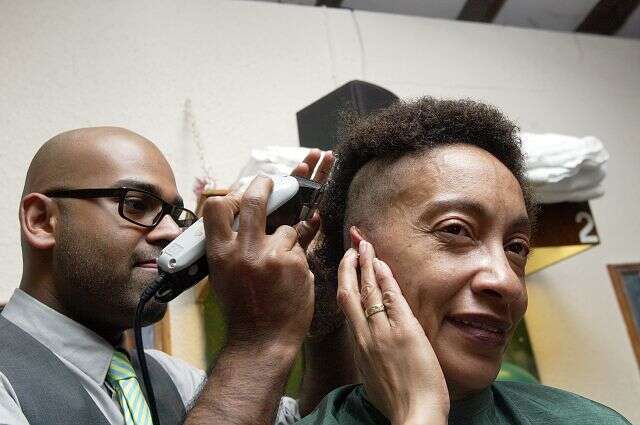 As hair of all lengths, textures and colours fell to the ground, the money poured in for an "inspirational" St Baldrick's Day event. She said there were 49 official shavees at the event and about 3 or 4 "walk-ins" who volunteered to shave themselves.
Nearly 50 people shaved off their locks and raised more than $421,000 for cancer research.
Bermuda was, once again, the top fundraiser beating the largest event in the United States by more than $100,000.
The main event on Friday at Bermuda Athletic Association raised $391,522 through online donations and T-shirt sales; a separate event at Saltus Grammar School collected $30,267.
Event spokeswoman Marcia Breen said more money was expected to trickle in during the coming weeks. Corporations have also agreed to match donations and some money was donated directly towards cancer charity PALS.
"We estimate the total will be somewhere around 25 to 50 percent higher than that. So, it's still not clear if we beat last year's total.
"But what we do know is making that much money in this economy is a great success. We're forever grateful for the generosity of the people on this Island.
"Bermuda was once again the top fundraiser. The next largest event was in Las Vegas and they earned $280,457."
Mrs Breen said: "The mood in the room was electric. There was laughter, there were tears, there were goosebumps it was really inspirational.
"We had dads shaving with their young children looking on, moms shaving with their families watching, men shaving their heads, beards, even chests while people laughed and cheered.
"People oohhhed and aahhhed as women had their long locks cut off. One woman teared up as she was getting shaved thinking of her mother who died of cancer, her inspiration for shaving this year.
"It was a really powerful scene; a very moving evening. I'd say if you've never been to a St Baldrick's event, you need to go next year. It's powerful stuff!"
One of the night's highlights was when Bill Gerber spoke about his son Teddy. The nine-year-old lost his fight with a rare and aggressive cancer called undifferentiated sarcoma last August.
Mr Gerber spoke about how important the event was to him and his wife, not only because of the money raised in hopes of finding a cure, but because of his son's love for the event.
Mrs Breen said: "Just before he died, Teddy took part in a St Baldrick's event and his father said it was the first time Teddy felt comfortable taking off his hoodie and showing his bald head.
"Teddy's cancer was so rare and so aggressive that traditional chemotherapy had little effect on it. Our hope is that thanks to St Baldrick's money raised, doctors and researchers will be able to pinpoint new, more effective targeted therapies so that no child has to endure what Teddy did and so that every child with cancer no matter how rare has a better chance of surviving and leading a long and meaningful life."
The Island doesn't yet have an official total on funds raised but Mrs Breen said it was definitely over half a million.
"Not $1 million like we dreamed, but there's always next year!"
l Donations are still being acceptedonline at this site: www.stbaldricks.org/events/mypage/eventid/961/eventyear/2011