Hinson's Island residents fear ferry service cut
Created: Mar 29, 2011 10:14 AM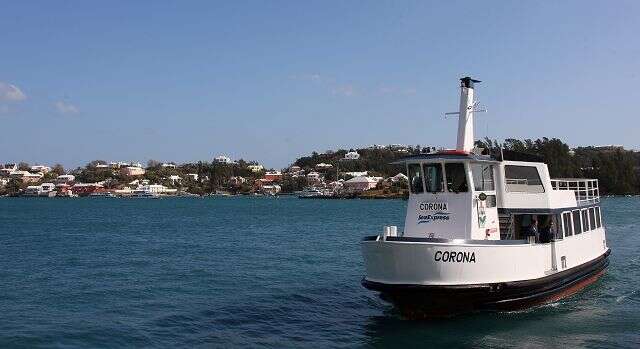 Hinson's Island residents fear they are going to be "left stranded" if Government goes ahead with plans to cut the ferry service they rely on.
About 30 residents have come together to fight proposals to axe some of the weekend ferry journeys on the Hamilton to Paget and Warwick Pink Route.
Families on the island have hit out at Government for "trying to take away our lifeline" as it tries to tighten its purse strings. Residents feel they are being "punished" by the Department of Marine and Ports which has had its budget slashed from $9.9 million in 2010-2011 to $7.6 million this financial year.
Some Hinson's Island residents, including several seniors, don't own a boat and rely on the ferry to get them to Hamilton to buy groceries. While those who do own boats say they still rely on public transport as they are limited to where they can to moor their vessels.
Just two weeks ago it was announced in the House of Assembly that the East End morning commuter ferry was being cancelled. But Government insists negotiations into the pink ferry route are ongoing and no final decision has been made.
PLP MP Dale Butler said: "The residents have some very legitimate concerns. Without this ferry service they would be tremendously handicapped living on that island. They pay taxes but don't get as much as most other people, they don't get trash pick-up or street lights. They rely on this ferry service."
Members of the Hinson's Island Club have held a meeting, which Mr Butler attended, and written to the Department of Marine and Ports to ask them to reconsider.
The ferry route's current winter schedule runs about 12 times a day on Saturdays and Sundays. Weekday services are not believed to be under threat.
But residents say cutting the weekend timetable "doesn't even make any real savings" claiming the ferry used on that route is only filled with diesel about once a week.
Residents believe the changes are more to do with the added expense of paying ferry staff for weekend and holiday overtime.
Mr Butler hopes a compromise can be reached between the residents and Government, which could be for the Dockyard ferry to stop at Hinson's Island for pick-ups and drop-offs.
Mr Butler said: "I really don't think these residents are asking for much.
"No-one is being unreasonable, as taxpayers they simply feel they should be considered.
"The Minister (of Transport, Terry Lister) is aware of my concerns and the residents' concerns. We hope he takes his time to try to get this right and come up with a suitable solution."
A spokesman for the Department of Marine and Ports said: "We have proposed a reduced service on the Warwick/Paget Pink Route that will negatively impact the residents of Hinson's Island.
"The department and the Ministry of Transport is fully aware of the Hinson's Island residents' concerns having received letters and had meetings with [the] president of Hinson's Island Club.
"Taking their concerns into consideration, the department is continuing to review the proposal and explore alternative methods of providing weekend and public holiday service on this route. At this stage it would be inappropriate to provide further comments."
Hinson's Island residents did not want to speak directly to
The Royal Gazette.