Bermudians in the US cope with killer storm
Created: Aug 29, 2011 10:56 AM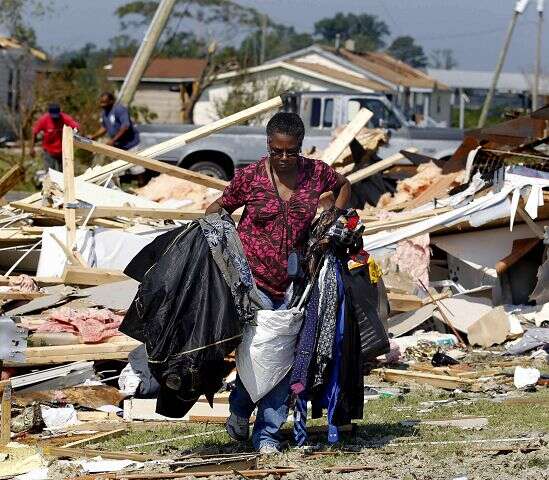 Bermudians living on the storm-battered east coast of America suffered power outages, flooding and transport nightmares as a result of Hurricane Irene.
At least 11 deaths have been linked to the powerful storm, which destroyed buildings in North Carolina and Virginia, and left millions without power. Around 370,000 New Yorkers were ordered to evacuate their homes, and the city's transport network shut down completely.
However, Bermudians living in affected areas generally took the storm in their stride, reporting they had seen worse weather affect their Island home.
Karen Peralta, 54, moved to New Jersey 18 years ago. She lives in Bloomfield, about 14 miles outside of New York City, and said last night: "I am thankful that I took the precautions such as checking gutters, securing garbage cans etc as the wind certainly picked up. However I did not endure any damage aside from some water in my basement; too little to complain about.
"The winds have picked up this afternoon. I did not hear the howling winds normally associated with a hurricane [but] it was enough to unnerve me."
She added: "I have seen worse growing up in Bermuda and I am grateful we did not have a large number of fatalities."
Arnette Mendes, who lives in Virginia, reported: "There is lots of damage here in Virginia Beach but I was one of the fortunate ones with no damage, nor did my lights go out. A few of my friends did not have it that easy; I am on my way to take ice now and see what I can do to help them."
Shomeiko Ingham, who hails from Pembroke in Bermuda, currently lives in Harlem, New York. She said: "The storm wasn't so bad in my area. Just some wind and rain. The city was very prepared for it. Better safe than sorry."
Tracey White Bacon, who lives in New Hampshire, said: "The power went out at 11.30am and is still out. There is widespread flooding from continuous rain. It's a bit windy but nothing like many of the storms we have weathered in Bermuda."
Clare O'Connor, a staff writer for Forbes magazine, lives in Manhattan. She said: "New York was so well prepared for Irene from Mayor Bloomberg to local TV stations to Twitter, there was no shortage of information on who needed to evacuate, where they could go, what subways were closed, etc.
"I live in the East Village, on the edge of the flood zone, but not in any immediate danger. My roommate and I took our patio furniture and plants in but that's about all the preparation we did."
However, trying to leave town for a story proved to be "a nightmare" for Ms O'Connor. She was supposed to fly from LaGuardia to Milwaukee for work on Saturday morning but her flight got cancelled on Friday afternoon.
"I couldn't get on any flight or train out of the city they were all full to capacity on Friday night, with everyone desperate to get out, and the airports closed on Saturday," she said. "I ended up on an overnight bus to Ohio, then a plane, a car and a train. Inevitably, Irene wasn't as bad as we'd been warned, but better safe than sorry. My apartment is fine. The shops and restaurants are opening back up and it's business as usual."
l
More on Page 10 & 35