Eager shoppers line up for Black Friday bargains
Updated: Nov 25, 2011 07:51 AM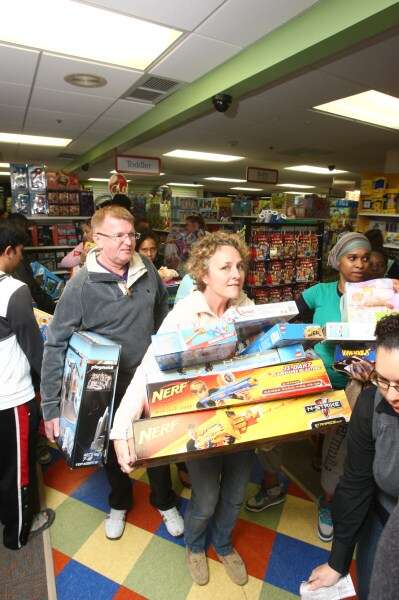 Black Friday exceeded expectations this morning, with hundreds lining the streets outside a handful of Hamilton stores.
Well before the Phoenix Centre and Brown and Co opened their doors at 5.30am, orderly but anxious queues extended down the block from each shop.
Brown and Co General Manager Nicole Warren said shoppers had begun to arrive at 2.30am.
"I've been here hours already," said eager shopper Angela Bean, who was able to see, through the doors of Brown and Co, the massage kit she had picked out to buy.
"I've been having a great time, listening to the music, eating a little snack, talking to all the people."
Carmen Waldorff said: "I'm not shopping per se, just getting some home decor for the holidays. There's a vase, a tall vase, that I want to get. I just hope somebody doesn't grab it."
Many were surprised with the turnout. Phoenix CEO George Grundmuller said roughly 600 people entered the two stores within the first five minutes of doors opening.
Women comprised the majority of people waiting. Most were shopping for toys.
With 40 percent discounts between 5.30am and 6.30am, followed by 30 percent at 6.31am to 8am, and 20 percent from 8.01am to 9pm, most of the shopping was finished before sunrise. At a casual estimate, tens of thousands of dollars in purchases were rang up at the Reid Street stores before 5.45am.
"This is new for Bermuda and it's going smoothly," said a woman babysitting for a friend outside the Phoenix Centre, as the crowd surged into the store. "You can see how Bermudians have got class. There's nobody pushing."
Not quite — but shoppers eyed one another closely, and once inside, some proceeded directly to the items they had put aside yesterday, stashed in corners of the shop.
Security guards kept a close watch on numbers, and closed the Phoenix doors at regular intervals.
"Toys," said shopper Twiggy Dill, when asked why she was there. "I've been here since 3am. Forty percent off is a bargain. I'm getting all my Christmas shopping done. I can't wait for them to unlock and let us in."
Ms Dill waited alongside Beverley Pitcher, Shandora Burrows and Chrislyn Dill. All were waiting to buy toys.
Other, quieter sales are taking place around the Island for Black Friday, such as at Gorham's hardware store.
Around the corner on Church Street, more men were in evidence outside cellular phone stores Digicel and CellOne.
"Most people are shopping for their children, but here we're all upgrading our phones," said Kenneth Simmons, waiting to buy a new BlackBerry Curve 8500.
At 6am, Calvin Burgess was waiting with about 50 other people for the 7am opening of CellOne, to buy a $9 BlackBerry.
"This is the same one I got at Black Friday last year for $89," Mr Burgess said. "So I'm saving a ton of money this time, and getting an upgrade as well."
Digicel, meanwhile, opened its doors at 6am, with deals such as the $499 BlackBerry Curve 9300.
Fresh from her purchases at Brown and Co, proud shopper Ms Bean arrived at the CellOne queue.
"I got what I wanted," she said. "Now I'm here to see what else is going."
Watching the last of the queue heading into Phoenix at 6am, Mr Grundmuller called today's turnout "tremendous".
"I didn't think there would be that many," he admitted, guessing that the first half-hour of business drew over 1,000 to his store.
"People are having a good time, which is good to see. One lady just told me this has brought out her hunter-gatherer instinct."