Tough laws could bring lasting ceasefire between gangs, claims lawyer
Created: Feb 08, 2012 09:12 AM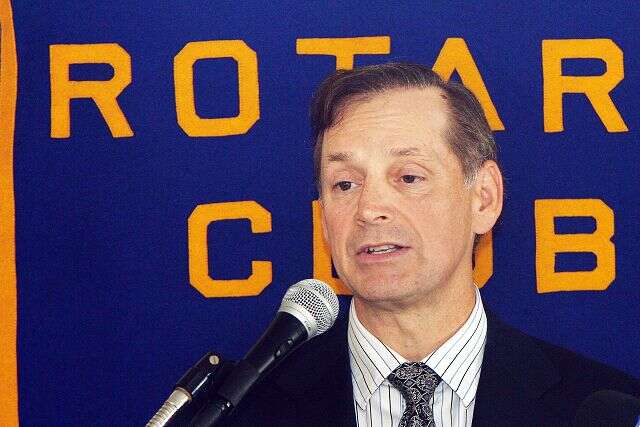 Aspects of Canada's "criminal organisation" laws would be even more effective in reducing gang violence here than it has been in Canada, it has been claimed.
The legislation takes into account distinctions in gang activity based upon level of involvement and seriousness of crimes committed, lawyer and social policy analyst Kevin Comeau told the Rotary Club yesterday.
And it contains measures which, if implemented here, could be used to quickly implement a lasting ceasefire between warring gangs.
"The legislation makes it a criminal offence, punishable for up to life in prison, for a member of a criminal gang to instruct another person to commit a criminal offence for the benefit of, or in association with that gang, ie, the boss who gives orders to commit a crime such as selling drugs or shooting someone," Mr Comeau told the audience.
"This is where the legislation is at its toughest, but it is much more than simply a deterrent. By creating a new criminal offence giving a fellow gang member an order to commit a crime the legislation has created a direct threat against every gang leader in Bermuda, which can be used to create and enforce a lasting ceasefire.
"Just think the government's negotiating power when it tells these gang leaders that we are going to have a lasting ceasefire in Bermuda and if any gang breaches that ceasefire, the police are going to offer a deal to the next gang underling they catch committing a crime the criminal enters a witness protection programme in the UK in exchange for testimony against the gang leader, putting him away for life. That is the kind of ceasefire that a gang leader will honour as if his life depends on it because it will."
Gang members who commit no crimes or do not provide support to commit crimes will be unaffected by the law.
"This deference to fairness in respect of these young men on the periphery will allow them the chance to give up the gang culture for alternative lifestyles without being saddled with the burden of a criminal record," said Mr Comeau.
But the law will also make it an offence to play a supporting role in the criminal activities of a gang, punishable by up to five years in prison.
"The variance in sentencing (from zero to five years) provides a deterrent while allowing judges to fit the sentence to the degree of criminal involvement.
"This judicial discretion in sentencing allows the legislation to meet all of its goals: fairness, toughness and deterrence."
And those who do commit an indictable offence "for the benefit of or in association" with a criminal gang could end up in prison for up to 14 years "and such sentence shall be served consecutively to any other sentence".
"This is where the legislation shifts its emphasis from fairness to toughness, and in doing so, it does something very creative it converts what at present is one indictable offence into two," said Mr Comeau.
"For example, if a person hides the guns for a gang until they need them for the next shooting, that person would at present be charged with the indictable offence of illegal possession of a firearm and be sentenced accordingly. But that all changes after the legislation is enacted. Because he has hidden the guns for the benefit of a criminal gang, he faces an additional sentence of up to 14 years and that sentence only begins to run after he has served his time for the original gun possession offence.
"This not only provides a major deterrent to gang crime, but it gives the Director of Public Prosecutions significantly more power and flexibility to enter into plea bargains with these gang members in exchange for their testimony against the top gang leaders who are responsible for the gang violence that is plaguing Bermuda."
At question time, Mr Comeau said that his research had included a review of legislation from 60 different jurisdictions, and he found that the Canadian model was the best for Bermuda.
"We came to the conclusion that it would work even better in Bermuda than it would in Canada and it's worked very well in Canada."
He said: "What is lovely about the Canadian legislation is two fold. First of all, Canada is widely recognised as one of the strongest proponents of human rights in the world," he said.
"All of their legislation is very much emphasises human rights and that's why they came up with the principle of fairness as a core part of the criminal legislation.
"At the same time, Canada's legislation has been found to be constitutionally enforceable in Canada over and over again. Which means that we already have the case law that the judges can look at and say this is enforceable."
He noted that a number of jurisdictions had anti-gang laws that had been found to be unconstitutional.
"What you want is legislation that is fair and tough and constitutionally enforceable. And most importantly it can give us the leverage that will allow the Government to negotiate a long term ceasefire.
"And once you have that in place then you can start putting in the social policies such as job creation policies that can help these gang members leave the gangs and freely practice those trades that they have learned around the Island."
Asked whether he favoured the death penalty, Mr Comeau said that instituting the death penalty would not stop gang violence and that human rights had to be fundamental.
"I think the death penalty is wrong. I think it sends out the wrong message to society," he said.
"We have to be constantly looking at human rights and as soon as we move away from that concept, I think we've lost part of our soul."