Yoko Ono to sing on Bermuda tribute CD to Lennon
Created: Feb 20, 2012 08:50 AM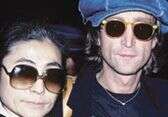 Yoko Ono has agreed to appear on a Bermuda tribute CD to John Lennon, according to the man behind the project.
Tony Brannon told
The Royal Gazette yesterday that Lennon's widow was providing vocals of her song 'Walking on Thin Ice' which would be remixed for the CD. He said she'd also shared pictures to be included in the box set.
Producer and musician Mr Brannon appeared on BBC Radio Merseyside to promote Bermuda and his Lennon project on Saturday night.
He was interviewed for more than 40 minutes by presenter Spencer Leigh about the late Beatles member's links to the Island.
Mr Brannon said: "It was to talk about the whole project and it was a really good interview. He gave us 42 minutes, which I thought was excellent. They did a worldwide premiere of Heather Nova's [version of] 'Norwegian Wood'.
"So it was played for the first time anywhere in the world in Liverpool on Saturday night."
Lennon stayed in Bermuda in June and July of 1980, renting a house in Fairylands and naming his final solo album 'Double Fantasy' after a flower he viewed in the Botanical Gardens.
The CD, featuring Lennon songs covered by Bermudian and international artists, will be released on June 21.
The same day, a sculpture of John Lennon by local artist Graham Foster will be unveiled at the Masterworks Museum at the Botanical Gardens and a tribute garden, featuring 4,000 Double Fantasy freesias, will be opened.
Mr Brannon said: "Things are really coming together with this whole tribute. The sculpture is being made in the States. Yoko Ono got hold of me. We have been talking a lot about this.
"She is the one who approved of Graham Foster's drawing. She's giving me pictures to include in this box set that I'm doing of Lennon in Bermuda.
"Yoko has given us her vocal of 'Walking on Thin Ice'. That's her song and the song they [her and Lennon] were working on when he got shot. It's very cool that she's given us that to work with. It's going to be a dance remix."
Mr Brannon praised the Department of Tourism for working with him on the project. "They have been doing a lot of promoting this John Lennon thing with us. They have been fantastic."
He said the Department's agency in London had arranged newspaper coverage in the UK and a press lunch with British journalists.
Mr Brannon's interview on BBC Radio Merseyside can be heard at www.bbc.co.uk/iplayer/console/p00ntqdd. It starts 33 minutes and 50 seconds into the show.
Useful website: www.doublefantasybermuda.com.