Bermuda to honour The Queen with 'warmly personal' gift
Updated: Mar 22, 2012 09:27 AM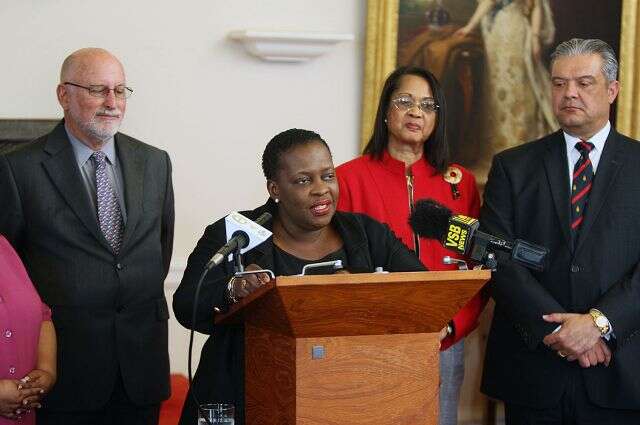 Bermuda is to send The Queen a "warmly personal" gift to mark Her Majesty's 60th anniversary on the throne.
A book of photographs commemorating The Queen's visits to the Island and a Bermuda cedar chest will be sent to mark the monarch's Diamond Jubilee.
And Premier Paul Cox wants everyone to get involved in sending a gift she believes 'truly represents the faces of Bermuda'.
"Bermuda is a British Overseas Territory and we recognise that the United Kingdom has suggested a number of celebratory events marking Her Majesty's Queen Elizabeth's Diamond Jubilee," Ms Cox said.
"His Excellency the Governor, Sir Richard Gozney, asked me to consider approving a gift to commemorate Her Majesty's Diamond Jubilee. I believe that our gift will be warmly personal and truly represents the faces of Bermuda."
The book, 'Bermuda: A Diamond Jubilee History and a Jubilee Celebration' and a Bermuda cedar chest, will be presented to the Queen, and the Premier called upon all residents to contribute.
"We encourage residents to provide the National Library and the National Museum of Bermuda with any photographs, personal or commercial, of Her Majesty's visits," she said.
"The photographs will be registered, duplicated for possible publication selection and returned to the owners. Photographs used in the publication will receive prominent mention and those donating their pictures will receive a disc of their images. We would like to thank those who have already donated pictures and look forward to receiving many more.
"Created in Bermuda, the Diamond Jubilee book is intended to be an attractive, signature commemorative volume which will serve as an educational tool with pictorial history.
"This commemorative volume will include text material, paintings and illustrations from all the British monarchs back to the beginnings of the settlement of Bermuda and photographs that will chronicle Her Majesty's relationship with Bermuda from her first visit in November of 1953 to her last visit 56 years later."
A six-member committee chaired by National Museum director Ed Harris, has been formed to lead the project.
The Premier said that a Bermudian carpenter/carver will be commissioned to create the chest which will be filled with small gifts from Bermudian groups and charities with a unique connection to the Queen.
The cost of the book and chest will be covered by sales of the book with any profit going to The National Library, the Archives, the National Museum of Bermuda and organisations representing the Island's war veterans.
"The work of the Cabinet Commemorative Book Committee will run concurrently to the work being done by the Queen's Jubilee Celebration Committee at Government House and that committee will report on events connected to our celebration of Her Majesty's Diamond Jubilee in due course."
Dr Harris said the book will be written and designed in Bermuda, but the printing was yet to be decided.
It is scheduled to be published in November.