Hundreds turn out for 11th Home Show
Created: Feb 16, 2013 08:00 AM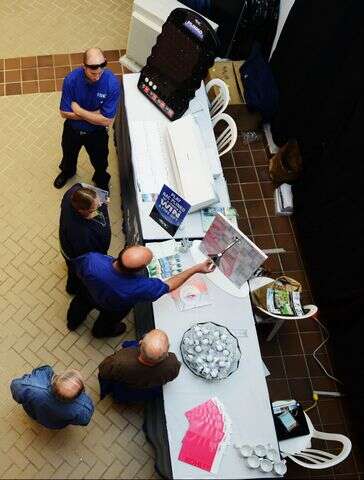 The 11th Coldwell Banker Bermuda Realty Home Show drew hundreds of people yesterday as the first day got underway.
Residents were through the doors at CedarBridge Academy as soon as they opened, lured by the many exhibitors, booth freebies, and big prizes this year like a smartphone, free internet, an a/c unit and outdoor furniture.
Some 60 exhibitors are taking part this year, including tech companies, the banks, insurance companies, designers, home/outdoor goods and appliance sellers.
Some of the new products and vendors featured this year include the Bermuda Police on home safety, Encon owner Michael Swan's latest offering Rubaroc non-mildew rubber surfacing, Karl Sternath's Elite Crete concrete and epoxy flooring, and Planning and Energy Department representatives, who have a quiz to test your energy saving knowledge.
For example, did you know air-conditioning accounts for 40 to 50 percent of your electricity bill?
"A lot of people were here early!" said Coldwell Banker Bermuda Realty's Susan Thompson. "The weather does not seem to be deterring anyone, and we are indoors anyway. And a lot more people know about the show now I think."
She said the show usually draws more than 3,000. The show runs today (Saturday) as well.
* Don't forget to stop by
The Royal Gazette's booth for a newspaper and ten to 22 percent off discount coupons to advertise in the paper and its new Homefinder section.