Sunshine and smiles at the Bermuda Highland Games
Created: Jun 18, 2013 09:00 AM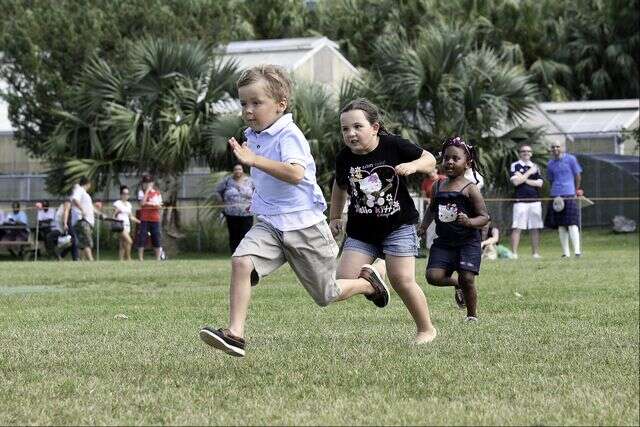 Kilts replaced Bermuda shorts on the Saltus Grammar school field at the weekend when the second annual Bermuda Highland Games brought a taste of Scotland to the Island.
The event, organised by the Caledonian Society of Bermuda, drew thousands of spectators on Saturday, who were able to enjoying Scottish dancing, music, games and food.
Bermuda Governor George Fergusson also joined in on the festivities, donning a kilt and Batman t-shirt to join the tug o' war team 'The Justice League'.
And a new team unexpectedly took home the tug-of-war title — the Royal Canadian Mounted Police Dancers — who defeated both Government House and the Bermuda Regiment. However, the all-woman team did have a numbers advantage with 16 women taking on the other teams made up of eight men.
In the Link Bermuda Highland Dancing Competition, Kristen Shea of the Royal Canadian Mounted Police Pipe Band won the Judge's Choice for her 'Seann Truibhas', while Cerra Simmons and Amara Richards of the Bermuda Islands Pipe Band won Most Promising Bermudian Dancer and Happiest Dancer respectively.
Sean Kelly meanwhile took home the first prize in the eFit Highland Run competition.
Ian Hind' of the Caledonian Society' called the event was a roaring success saying: "It was a stunning day.
"We were terrified and gutted with the weather in the morning and the possibility of cancelling. Just before the march to the field the sun came out. We were amazed and delighted and the weather for the rest of the day turned out to be wonderful."
He said the organisers and the vendors were thrilled by the turnout, and that the event would only get better. He said they are working on bringing the Greater Glasgow Police Pipe Band to Bermuda next year. And they also hope to bring more Scottish staples to the vendor's tables next year, including Irn-Bru and a variety of Scottish beers.
"You can see already that this is an event that has legs by the way the people are responding, and I think it can only get better," Mr Hind said.
Ian Anderson said he had been looking forward to watching the games with his family, and was pleased the sun was shining.
"I don't think the rain would have stopped anything, just made it more Scottish," he joked. "We're really looking forward to the caber toss.
"It's an interesting cultural experience for Bermuda. Not the everyday."
Jennifer Trott, meanwhile, said the music and events reminded her of her experience in the Canadian maritimes.
"It's just a good time," she said. "The atmosphere is welcoming, everybody has a smile on their face. Everyone's a little bit Irish on St Patrick's Day, and it looks like today everyone's a bit Scottish."
And Dorcas Roberts said that while she was pleased stalls were selling haggis and fried Mars bars, she was disappointed by the lack of Scottish pies.