A joy to know, and a pleasure to coach, life won't be the same without him
Updated: Aug 09, 2013 09:32 AM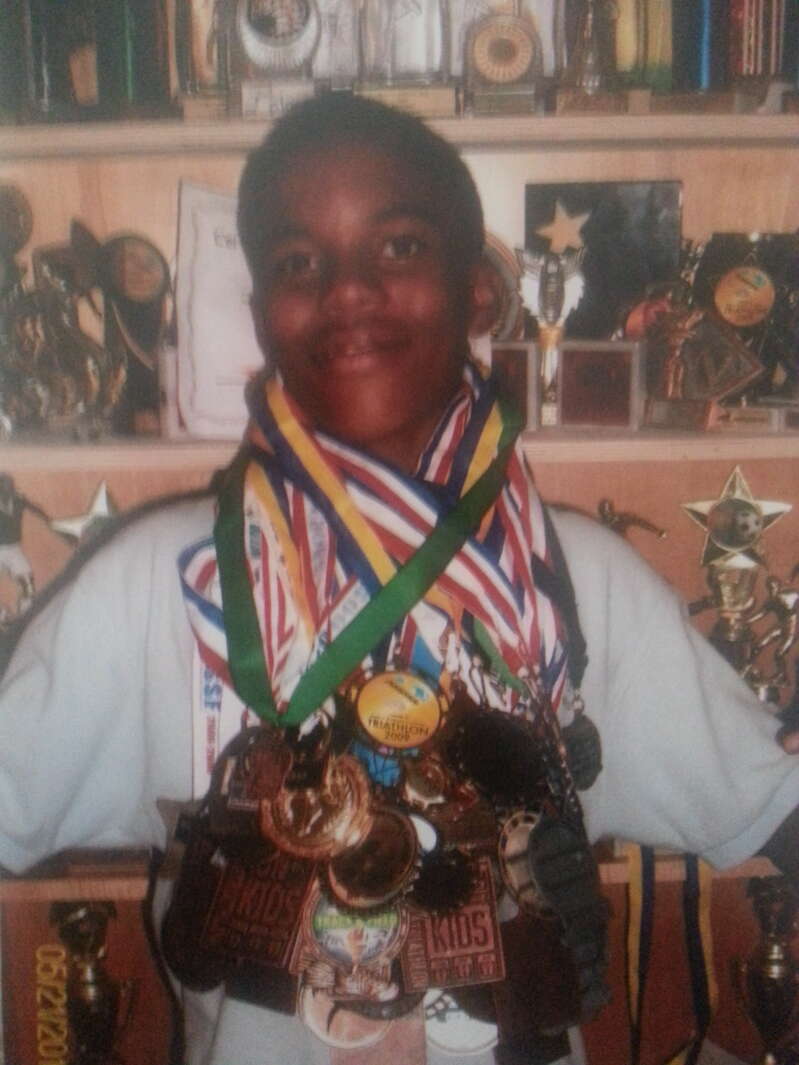 An all-round athlete who challenged for top honours in a host of disciplines, Nakeno Creighton was a rising star who lived for sport.
The 17-year-old excelled at running and also represented his country at Under-16 level in rugby.
And yesterday tributes were paid to the "exceptional" middle distance runner.
Bermuda National Athletics Association President Donna Watson was in Russia attending the IAAF World Athletics Championships when she heard the devastating news.
"I was so saddened to hear the news this morning," Ms Watson said.
"Nakeno was one of our promising young athletes. Unfortunately he stopped running track a few years ago, but every now and then he would come out and run in either one of our cross country races, or a track meet. Nakeno was one of our top middle distance runners, and we in the BNAA thought he was going to have a very bright future in athletics.
"As Bermuda is known for its distance runners, Nakeno was one of them, and we always hoped he would come back to the sport, and were always very excited when we saw him entered in a race, be it on the road, cross country or the track.
"He was also one of our top runners in the Front Street Mile. He was so talented, a tough competitor and a mild personality. Our hearts go out to his mom, as we know he was the joy of her life."
It was only a year ago that Ms Watson publicly urged young athletes to be careful riding bikes after a couple of runners were involved in crashes.
"We continually talk to our athletes about being careful on their motor bikes as we have had so many of them, especially the boys, get in very bad bike accidents, and see them knocked out of competition for the season," said the BNAA President.
"Yes, we keep talking to our athletes, especially our boys, about being careful riding those bikes. We have had Kyle Webb, Bruce Degrilla, and a few others get in bad accidents just before a major International event. Fortunately for them, and their parents, they just ended broken up a bit.
"We will truly miss seeing Nakeno's bright smile. He reminded us of Kip Keino, the African distance runner, as he had very long legs, and always had a smile on his face, but was a very tough runner. May he Rest In Peace.
Top sprinter Tre Houston also paid his respects, telling The Royal Gazette: "My memories of Nakeno all started from Bermuda Pacers Track Club. I'll never forget the first day I met him through my coach Cal Simons.
"He started to get close with me because I always talked to him before training. I mean so close he called me 'big brother'. From then on his mama wanted to look after him on trips and also in Bermuda. He was an exceptional 800 and 1500 metres runner. It just saddens me to know he was gone. I send out my condolences to his whole family."
Patrick Calow, the Rugby Youth Development Officer for the Bermuda Rugby Football Union, described Nakeno as a natural athlete who strived to contribute to the team.
"On the field he was a talented, passionate and committed rugby player," Mr Callow said "He was fast, selfless and incredibly coachable. His commitment and hard work earned him a position on the Under 16 National Team earlier this year.
"Over the last two years I have had the pleasure of coaching him, and getting to know him as a person. I am a better person for knowing him, and life won't be the same without him. "
Beyond Rugby Bermuda head John Layfield added: "We were so honoured to work with this fine young man. He is the perfect example of the great young men that our programme is honoured to serve.
"Nakeno naturally embodied the core values of Beyond Rugby. His athleticism and attitude, on and off the field, enabled him to represent his country proudly in Toronto earlier this year. There is a hole in our programme that will never be filled, and Bermuda has lost a bright part of its future. Nakeno will be sorely missed."
And Darren Woods of the Family Centre Community said: "NaKeno was full of life. He was competitive, funny, and went out of his way to make others smile. Without trying, and often without knowing, Keno brightened the lives of those around him; his friends, his teammates and his coaches. It was a pleasure to work with Keno, and he will truly be missed."