Black Friday gets off to a quiet start
Created: Nov 29, 2013 08:00 AM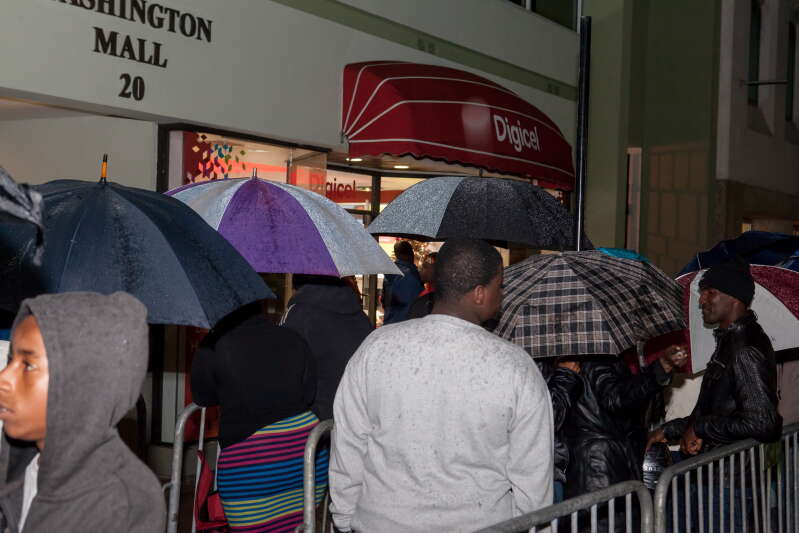 The first wave of Black Friday started quietly last night on Church Street, as crowds gathered outside Digicel and CellOne for deals at their 9pm and midnight openings.
On Reid Street, a lone shopper staked out her place at the door to P-Tech in anticipation of the throng expected for the 4am opening.
"This is my third year doing this," said Angie B., who's cashed in on Black Friday bargains since the US retail fixture became part of Bermuda's calendar in 2011.
"In the week leading up, I check for the item I've got my eyes on, and today I have my sights on a computer — there's only three of the type I want," she said. "It's a $749 Samsung. That's a very, very good deal."
She listed her schedule for today: jewellers ER Aubrey at 6am for a watch, followed by Masters at 8am, before later heading out to businesses in the Mills Creek area.
With some Johnny Bread to snack on, and a chair to mark her place on the pavement, the first shopper in line sheltered from the damp in her car.
For shoppers like Angie, who was one of just five to get a $9 phone at Digicel earlier this week, Black Friday bargains are serious business.
"I'm paying attention," she told The Royal Gazette. "In times like these, we're all saving that dollar. Even if it means waiting. And it helps us to shop Bermuda too."
Staking out CellOne were schoolgirls Jasmine and T'Yanna, both 16, from CedarBridge Academy and The Berkeley Institute — and both waiting for iPhones since 3.30pm.
"It rained earlier — I wouldn't do it again," admitted T'Yanna.
Behind her, Sara Joseph said she'd queued since 6.30pm for the iPhone 5C.
"People have been saying we're crazy, taking pictures," she shrugged. "It's been fun waiting here." She expected to spend $200 on a phone that normally retails for around $600.
"It's cold, but I've been enjoying it very much, and the conversations make the time go by," added another shopper, waiting on the iPhone 5X.
Across the road, Ashley's Lemonade Stand set up for business, with Waymond Hill selling hot lemonade to shoppers.
"We're kind of winging it, seeing what the hours bring," Mr Hill said. "It depends on how long the lines get. I've had my fun here already."
Berkeley Institute students Diesha Tucker, 16, and Victoria Lindsay, 15, took advantage of their school's half-day yesterday to secure places in front of Digicel. Both wanted iPhones.
Behind them, 14-year-old Seth Burt said: "Some people saw me waiting and said I was crazy. I was like, I don't care — I'm getting my phone."
Rosita Bassett waited on a gold iPhone 5S as "a Christmas gift for myself".
"I've met friends, and made new friends," she said. "There's been a lot of laughing, and taking turns sitting. There's no craziness — everybody's here for a purpose."
Cars slowed, and some honked, as the queue slowly moved toward Digicel at the 9pm opening of the doors, but none of the mayhem that attends Black Friday in other countries seemed to be in evidence.
"That's the Bermuda way," commented Mr Hill, watching from his stand across the road. "We're laid back."