AC35: Welcome to Bermuda, 'Auld' friend
Updated: Dec 03, 2014 08:04 PM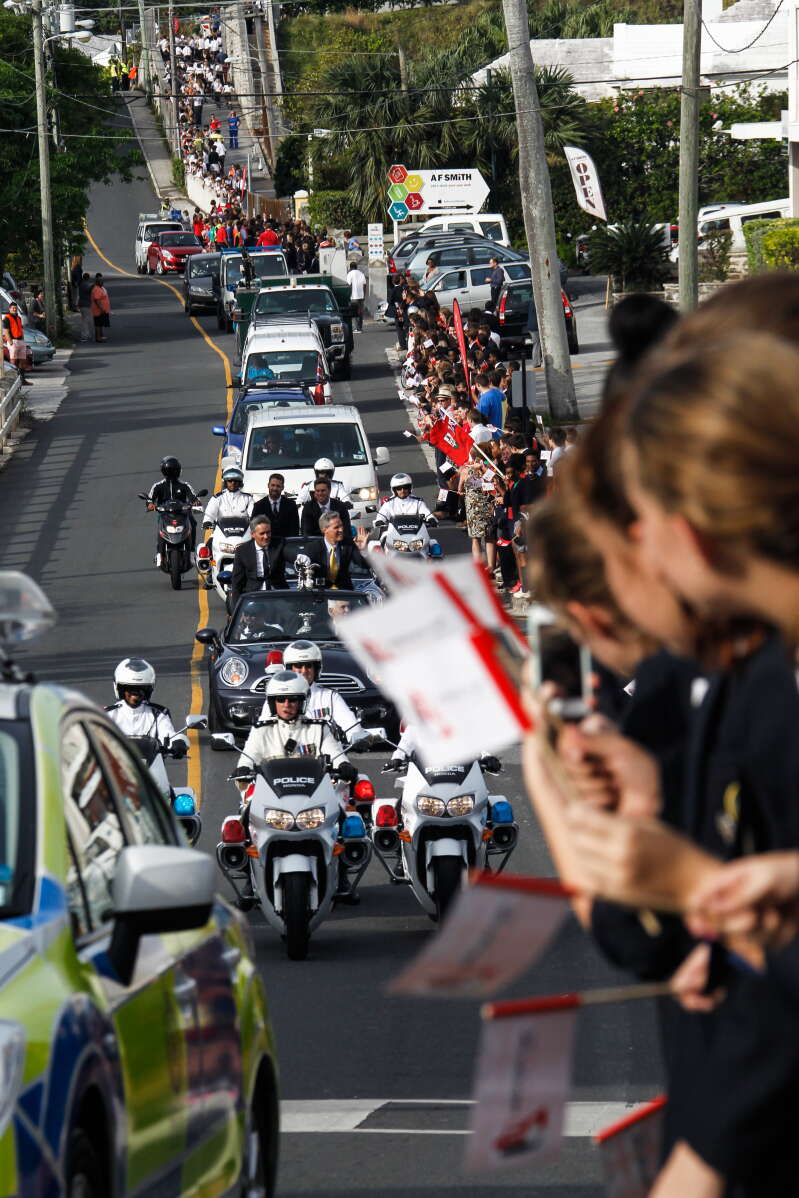 The Auld Mug officially touched down in Bermuda on a private jet shortly before 2pm today.
Before being greeted by local dignitaries, the plane received a water salute from fire trucks flanking each wing.
After receiving a watery greeting, the plane made a short taxi to the main terminal where Government ministers Dr Grant Gibbons and Shawn Crockwell, along with a host of other dignitaries were on hand to receive the Cup and exchange greetings with America's Cup officials and two members of Oracle Team USA, the cup-holders.
With a Scottish bagpiper playing outside of the jet, the Cup emerged from the cabin and presented to all those gathered for the momentous occasion.
After exchanging handshakes and posing for the media, the Cup was carefully carried to an awaiting police motorcade to begin its journey to the Cabinet Building, stopping at a few schools along the way.
Michael Dunkley has urged all of Bermuda to join in tonight's America's Cup celebration party at the Flag Pole on Front Street.
"We are going to have an America's Cup party that we are putting on where Sir Russell Coutts, myself and few other people will give short speeches and talk about what the America's Cup and what's going to take place going forward," the Premier said.
"There will also be entertainment and fireworks and it will be a great show."
Mr Dunkley added: "The America's Cup Event Authority are always keen to get the cup assimilated into the community, so no matter where they race, they want to become a part of that community and they are starting out in Bermuda to make sure we understand it. We are very excited about the next three years.
"We started putting together plans last week when we knew there was real potential that we would win the America's Cup. We have arranged for an escort from the airport along the North Shore, stopping at a lot of our schools along the way to show the cup to our young people. Eventually, it will make its way to Cabinet where I will receive them and welcome the Cup to Bermuda."