America's Cup vox pop: East End
Updated: Dec 03, 2014 08:09 AM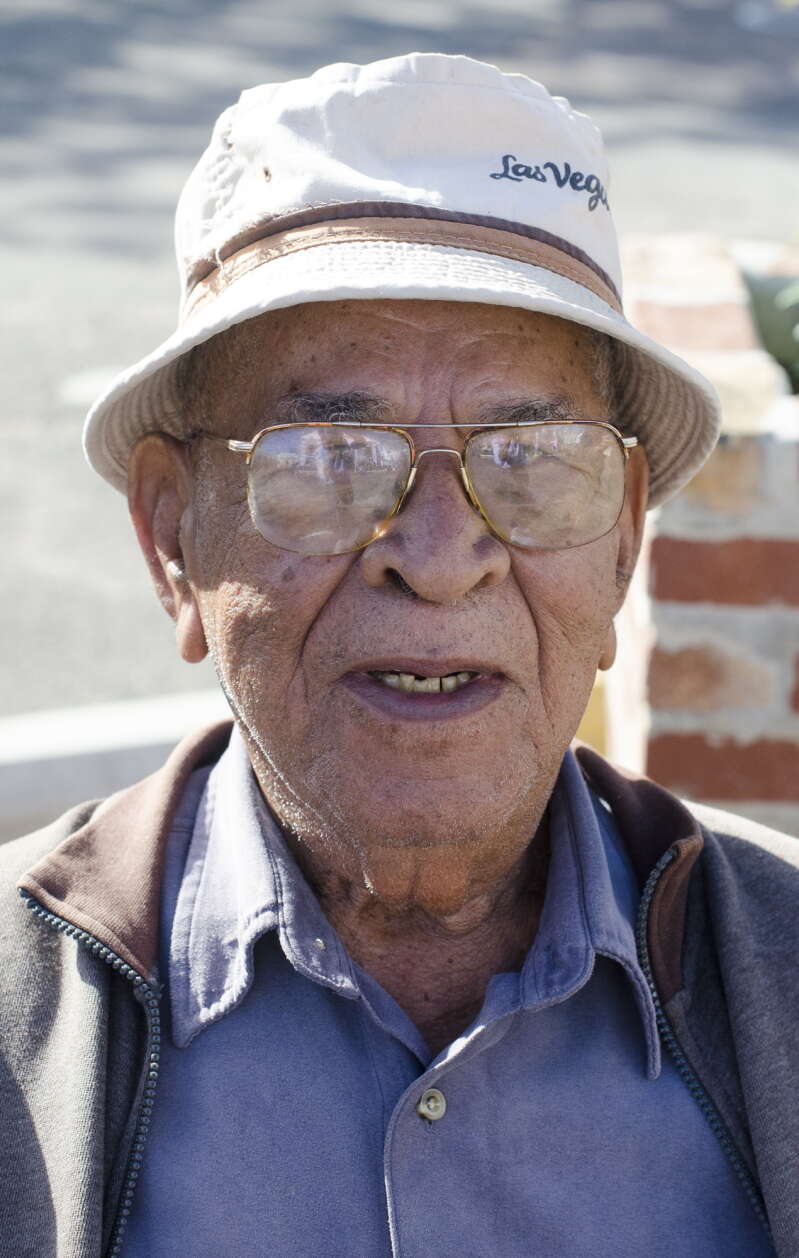 Even though St George's is the farthest point away from the planned America's Cup centre at the West End, there was unanimous excitement and enthusiasm in the Olde Towne for the decision to hold the event in Bermuda, among the people to whom The Royal Gazette spoke yesterday.
Charles Swainson, a St George's Mini Yacht Club sailor who was enjoying the sunshine yesterday afternoon in King's Square, had not heard the news and smiled broadly on learning Bermuda had won the bid.
He said: "I think it's a good thing on behalf of the people who will be racing. My concern is, can Bermuda handle it?" he said, pointing to the number of hotel rooms that will be needed to accommodate the influx of people. "Especially after San Francisco, which had more than 700,000 visitors," he pointed out.
Mr Swainson also noted the event itself will be held over a comparatively short period of time, and so he does not see it as a long-term solution to Bermuda's economic decline.
"But the race itself is perfect," the keen sailor and yacht racing enthusiast said.
His cousin Michael Swainson, sitting with him yesterday afternoon, added: "This is one of the best things that has ever happened," while their friend, St George's resident Louis "Red" DeSilva called it "Economically fantastic," and said: "I'm not a sailor, but it's got my interest too — it's gained my interest."
Somers Supermarket employee Melanie Bean noted the event is meant to be economically beneficial. "It's supposed to bring a lot of revenue to Bermuda. Anything that brings in revenue and tourists to the island — there's nothing wrong with that.
"Hopefully the hotels and restaurants will get revenue — and my grocery store will benefit," she said.
Another enthusiast sitting in King's Square yesterday afternoon was 84-year-old Jim Godwin.
He said: "I'm very happy about it. It seemed impossible for Bermuda to get the America's Cup because of our (small) size. It's such a great thing — it's a great tribute to Bermuda and will put the island on the map," he said.
John Edmead, who is 90 and said he had worked for 40 years at the American military base as a sheet metal worker, said: "I'm very happy to see it in my lifetime — I will be there to watch it!"
Philip Busby, who at 84 is a retired carpenter and cabinet maker, also believes it will be a financial boon for the island.
"It is very good for Bermuda and for the economy," and said the potential for bad weather did not concern him. "You can't predict the weather, but Bermuda is small and you've really got to aim for us!"
American sailor Malcolm Boyd, in St George's yesterday having sailed here from Tisbury, Massachusetts aboard the Charlotte, a 50 foot schooner carrying supplies for an orphanage in Haiti, was on his seventh trip to the island.
"There are good reasons to come to Bermuda," he said. "It is a mid-Atlantic central location for everyone in the world. Real yachtsmen will come here.
At the East End Mini Yacht Club, bar tender Karen Okoro said: "I"m totally for it — it's going to restart the whole island."
The 54-year-old said she does have concerns about Bermuda's limited bed numbers.
Sandra Moniz, 71, a nurse's aide speaking in Kings Square: "I'm really pleased as this will mean a lot of jobs for people. It'll be great to have more visitors to St George's and it would be nice if we could get the golf course ready for them."
Helen Fabian, 69, cook at the Soccer and Friends Deli in Kings Square: "It will be a good boost for the Island including here in St George's. When people come to the Island they always come to visit St George's because it has so much history. It will be buzzing."
Dennis Bean, owner of Soccer and Friends Restaurant in Kings Square: "This is fantastic, one of the best things to happen to Bermuda. It will help boost the economy, it's a significant employment opportunity. I hope the business of the America's Cup will be handled with integrity by everyone. We will do our part in St George's — we will go the whole nine yards to make this a fantastic area for people to visit, and then they will want to come back."
Wayne Cornwall, visiting chef at the Soccer and Friends Restaurant in Kings Square: "This will put Bermuda on the map, and more people will be able to recognise Bermuda as a beautiful place for people to come and visit."
Phillip Anderson, 54, Councillor for St George's Corporation and manager of the Visitors' Information Centre in Kings Square: "Now we need to up our game here in tourism infrastructure, go the whole way.
"We have got to be ready. Our next goal should not just be to the get America's Cup, it should be how we can keep the America's Cup."
Grant Linford, 53, painter speaking in Kings Square: "Oh boy, that's great. It will be nice for St George's because a lot of people need business down here. It will be very, very exciting to have all these people come to town."
Mikhaela Konrad, 24, bar tender at Wahoo's restaurant in Water Street: "St George's has a whole lot of history with the yachts. With the exposure from the America's Cup, lots of people will hear about St George's and will want to visit here. This is good for everyone."
Deedee Simmons, 71, maitre d'hotel at Wahoo's restaurant in Water Street: "Feel them sails! We've got some great sailors here on this Island and it's wonderful for them to be able to host a race like this. This is showing us what this country can really do."
Michael Smith, 56, sous chef at Wahoo's restaurant in Water Street: "The calibre of that type of sport is great for Bermuda, and this is a wonderful opportunity. The exposure will be great for us."
Faith Bridges, owner of Just Add Water in Water Street: "It's awesome for Bermuda and awesome for St George's because all areas will benefit from this. The yachts will head down this way so we will all feel some benefit."
Kelli Thompson, owner of Saltwater Jewellery Design in Water Street: "It's great for St George's because it is the quintessential destination at the heart of Bermuda.
"When people come down here, and they immerse themselves in the people, they find they end up coming back."
Dana Masters, avid sailor, speaking at St George's Dinghy and Sports Club: "I'm thrilled, of course I'm thrilled, but I guess now it's just a question of how we are going to pull it off."