Bringing Dockyard back to life
Updated: Jan 27, 2015 07:01 AM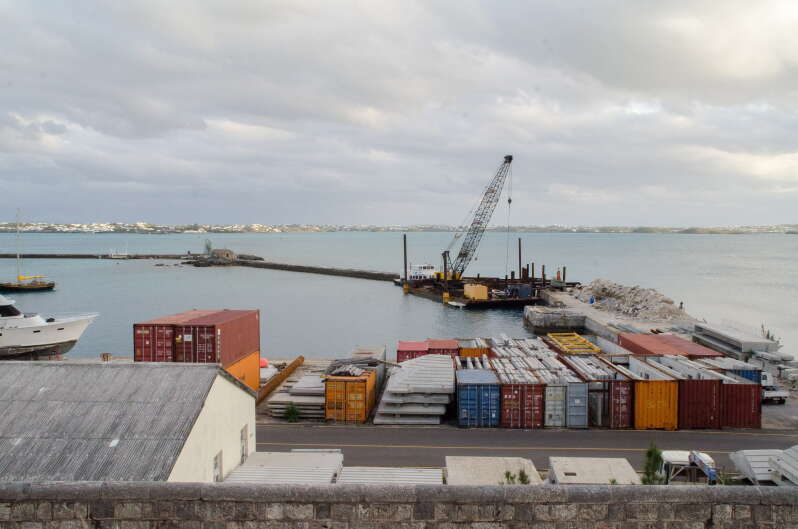 A total of three buildings at historic Dockyard are being restored to their former glory as part of the drive to be ready for the 2017 America's Cup.
And Dockyard owners Wedco are pushing ahead to revamp three more buildings which were part of the former HMS Malabar shore station.
Wedco general manager Andrew Dias said: "We are bringing it all back to life."
He added: "The America's Cup provides us with the opportunity to not only build new structures, but to repurpose existing structures at an accelerated pace."
Mr Dias said that many of the plans predate the America's Cup and the successful bid has allowed Wedco to focus on several additional projects.
Instead of restoring one building behind the Clocktower Mall, Wedco is now working on three.
All three buildings have been gutted, and are being made wind and water tight.
In addition to work on three buildings behind the Clocktower Mall, Wedco has also submitted planning applications to renovate a further three buildings on the HMS Malabar property, near the entrance to Moresby House. Dockyard's Building Four, where the wooden schooner Chicane was restored, will be turned over to the Government-controlled ACBDA company for the America's Cup.
Building six, which has already had all the asbestos removed and is due to be completed by the end of February, will house the tenants from the warehouses in the South Basin.
The warehouses will be the base for Team Oracle.
Building Nine, which was used for storage and by the Wedco maintenance team, will also be repurposed for the America's Cup, after which it will be used to expand the commercial market in Dockyard.
Mr Dias said that any significant historical features, such as the crane lift in Building Nine, will be upgraded and maintained as architectural features, and most of the metal work has already been completed.
"One of the things we have been very cognisant on is doing the restoration so we reduce our future maintenance costs," he said.
He added that the new roofs will be built with a membrane that is welded together to make it watertight and has a lifetime guarantee of 30 years. The roofs will not need painting, but can still collect water.
New windows being installed in Building 9 will not need painting either, which can cost anywhere between $500 to $800 per window, as the wood will age to a natural grey colour.
Wedco is also seeking planning permission to restore Moresby House, a Grade II listed building that used to be a Cold War listening station on the Royal Navy supply base HMS Malabar.
Malabar, which has stood empty since 1995, will be redesigned to include a kitchen, meeting rooms, office space, and residential rooms, but the exterior physical features will remain.
It too will be offered up for use during the America's Cup, with a view to creating short term rentals after the event.
The Royal Navy Fleet Club building and a bungalow cottage on the Malabar site will also be restored to avoid further deterioration.
Wedco chairman Raymond Charlton said: "To see Malabar renovated will be amazing. I never had any confidence that we would be able to save this building. I'm just happy to see that persistence has paid off."
Mr Dias said that the four clock faces on the western tower of the Clocktower Mall will also be restored.
The clock, which was made by John Moore of London and installed in the late 1850s, was known as the "four-faced liar", because high winds often altered the hands.
Wedco is asking local companies to provide their credentials and contact information, so that they can send out a national bid for companies to assist with the tendering process for the America's Cup.
"We have a vendor list already, but we would like to provide everyone with the opportunity and update that list," Mr Dias said.
With two years to go before the America's Cup gets into full swing, Mr Charlton said that timelines will be extremely tight, but a lot of progress has been made already.
"As chairman of Wedco I have full confidence in the team. Dockyard will be dressed to the nines," he said.
"This isn't just the event; this is putting Bermuda on the world stage, and I would like to acknowledge Andrew Dias and the team for selling the vision of how the Dockyard can be transformed to host the America's Cup."