'Healthy ageing our challenge'
Updated: Sep 16, 2015 09:06 AM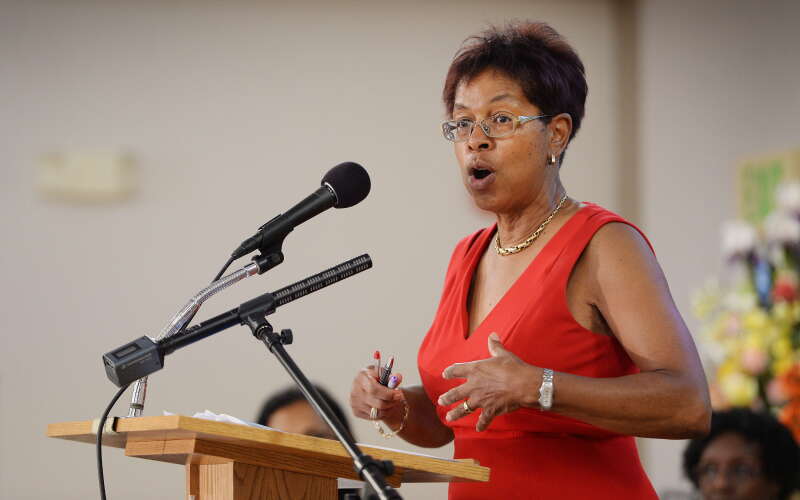 Jeanne Atherden, the Minister of Health, has pledged to make development in the medical workforce a priority.
Bermuda's population pyramid, like many developed nations, is becoming increasingly top heavy due to a growing population of the elderly coupled with a diminishing birthrate as trends show people choosing to have fewer children later in life.
Ms Atherden said at an Age Concern's annual general meeting yesterday that this has put added strain on those that are "sandwiched" between caring for their elderly parents, their children and grandchildren.
"Our challenge," she said, "is healthy ageing and ageing at home."
Statistics released by the Bermuda Hospitals Board showed how people are experiencing on average shorter hospital stays in the new Acute Care Wing. However, Ms Atherden said that while seniors are living longer, with a higher life expectancy, they are experiencing an increasing number of conditions and health concerns. As a consequence we have started to develop some programmes that will enable people to age at home," the minister said.
Ms Atherden then asked: "How can Bermuda provide for the core needs of retirees with a shrinking working population? We need to stay engaged. There's opportunity for a new industry to grow from the rising needs of the elderly."
She added: "Workforce development is really high up on my radar." She also urged seniors to make considered lifestyle choices for "more prevention and less cure".
In her annual report, released yesterday, Executive Director of Age Concern Claudette Fleming said: "Age Concern will maintain a steady but deliberate pace toward improving the impact and quality of our services for older people."
The year ahead will focus on a calendar of information seminars designed to empower and educate members, Ms Fleming said. Topics will include the growing issue of caregiving and how to prepare for it.