'No signs of asbestos' in Front Street fire
Updated: Aug 09, 2016 02:13 PM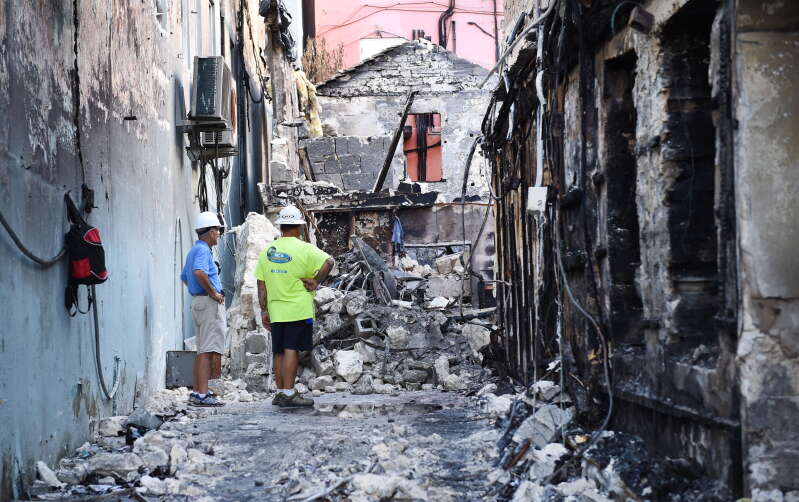 The scene of Front Street's epic fire on July 21 contains "no visible asbestos", according to the Ministry of Health, but an investigation continues.
The elderly building at 77-81 Front Street remains under examination by the Bermuda Fire and Rescue Service, a spokeswoman said — "after which an asbestos assessment must be completed before any demolition begins". Sources close to the incident told The Royal Gazette that asbestos is likely to be present within the shell of the building, which was gutted by the blaze.
While asbestos particles are hazardous if breathed, the material must be reduced to fine airborne pieces before it becomes a threat to health.
Asbestos, a mineral known for its resistance to fire, was once widely used in construction. A survey of neighbouring businesses yesterday heard of no visits from health inspectors in the wake of the fire, which was one of the island's biggest in recent years.
Anchor Investment stands close by in rented premises within the Butterfield Bank headquarters, one of many buildings that picked up ash and dust from the plume of smoke that palled Hamilton until the blaze was brought under control. Tim Brewer of Anchor said the business had been left with a patina of fire residue on its balcony, and had sought independent testing.
"There was a lot of dust from the fire, so that was our concern," Mr Brewer said. "You don't want those particles floating around."
Tests within 48 hours of the fire found nothing hazardous in the air within the building, Mr Brewer added.