We are not a dump, says Barn manager
Updated: Sep 29, 2016 08:00 AM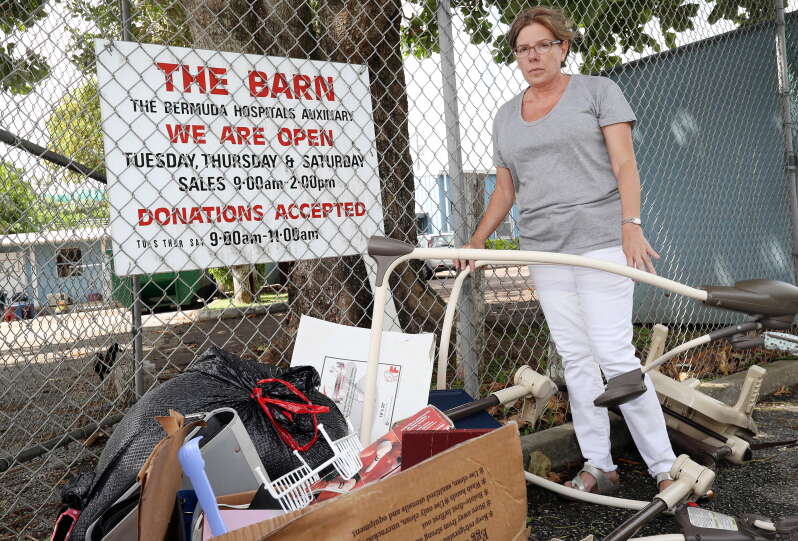 "Please stop using us as a rubbish dump".
That's the plea from staff at The Barn who are regularly forced to spend $200 a week to get rid of broken and unusable items that have been left outside the Devonshire thrift shop.
Manager Barbara Brown told The Royal Gazette that donations dropped off outside the store gates by members of the public on days when it was closed were often ruined by the rain.
"It's important to stress that we really appreciate all the items that people donate to us," she said.
"But the trouble we are increasingly facing now is that people are using us as a dump. The key thing for us is that items are firstly usable and secondly in a decent condition.
"We have had some people literally leave bags of rubbish outside our gates, and some mornings when we arrive we can't open the gate because people have piled up bags, mattresses and all sorts of other things outside."
Mrs Brown added: "People seem to think that they can drop off electronic goods like hoovers and DVD players that do not work, mattresses with springs sticking out of them and dirty underwear.
"But we do not have the time or the expertise to repair these kind of donations. As a result we have to hire trucks to pick up dumpsters to take to Tyne's Bay and also take electronic goods that are beyond repair up to the airport dump.
"It's costing us about $200 a week at the moment."
The Barn on Devon Spring Road is open for donations on Tuesday, Thursday and Saturday mornings between 9am and 11am.
Mrs Brown says that one of the major challenges faced by her team of volunteers is the build-up of donations and bags that are left on days when The Barn is closed.
She urged members of the public to drop off donations on mornings when the store was open.
"We are extremely grateful to people who take the time to drop off items that we can then sell on, we are just asking people be a little understanding," she said.
"Dropping the items outside the gates on days when we are closed just makes even more work for us and the bags are often so heavy we can't even pick them up."