New magazine celebrates Bermuda and the sea
Created: May 15, 2017 02:22 PM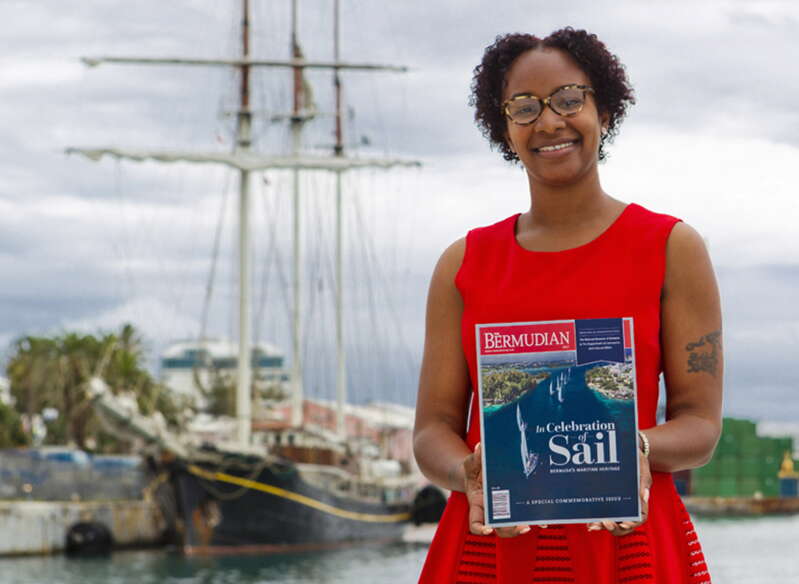 A new, glossy magazine celebrating Bermuda's connection with the sea is out on newsstands this month.
In Celebration of Sail: Bermuda's Maritime Heritage features articles on the Bermuda Sloop, pirates and privateers, the Spirit of Bermuda, the history of shipbuilding in Bermuda, biographies on Charles Roach Ratteray and James Darrell, the 35th America's Cup Endeavour Programme, ship salvage, Bermuda's Olympic sailors, the Bermuda Fitted Dinghy, shark oil barometers, local Bermudian maritime traditions, whaling, piloting and much, much more.
The Department of Community and Cultural Affairs worked in collaboration with The Bermudian magazine and The National Museum of Bermuda to produce this collector's edition magazine to reflect 400 years of sailing innovation in Bermuda.
One excerpt from an article entitled "The Black Seafarer — Mariner, Merchant & Slave" reads: "Black seaman developed an unsurpassed knowledge of the waters around their island ... Their expertise was crucial to the successful completion of the Hurd Survey in 1797.
"The resulting map of Bermuda, encircled by reefs and nestling in the crater of the extinct volcano, was a triumph that has perhaps been matched by high-tech imaging — but not bettered."
Another article, "Maritime Activities", begins: "For centuries Bermudians depended heavily on boats for a variety of marine activities, including transportation between the islands, which were not fully connected by bridges until the twentieth century.
"From the first days of Bermuda's settlement a large percentage of those who were not engaged in ocean-going voyages or shipbuilding were engaged in local seafaring activities — as fishermen, whalers, pilots, ferrymen, waterborne hucksters or freight boat operators."
The magazine includes dozens of historical photographs and drawings as well as primary accounts of life in Bermuda throughout the centuries.
Minister of Social Development and Sports Nandi Outerbridge stated: "From shipbuilding to salvaging, from designing to sailing dinghies to building the innovative and coveted Bermuda sloops, Bermuda's maritime heritage is an inextricable part of our identity and a great source of pride."
Publisher of The Bermudian Tina Stevenson said: "The Bermudian Publishing Company was delighted to partner with the Department of Community and Cultural Affairs and the National Museum of Bermuda on this very special, commemorative issue of The Bermudian.
"With this beautifully designed magazine, we not only wanted to chronicle Bermuda's 400 years of maritime heritage, but also celebrate the seafaring people, traditions, trades, ships and related activities.
"Fittingly we end the magazine with a look towards a bright maritime future: a new generation of sailors and innovators in Bermuda's Team BDA and the America's Cup legacy youth programme, Endeavour."
Elena Strong, deputy director and curator of the National Museum of Bermuda said: "The National Museum is proud to be part of this joint initiative.
"NMB has been researching, collecting, preserving and promoting Bermuda's maritime heritage since 1974 when the Museum was first established as the Bermuda Maritime Museum.
"This special edition brings together fascinating stories and highlights from our maritime past that showcases Bermuda's resilience, adaptability and resourcefulness as an island nation.
"These attributes coupled with mastery of maritime skills and strong local and overseas networks allowed Bermudians to become major players in the Atlantic World Economy."