All-girl team in global robot competition
Updated: Jun 24, 2017 04:53 PM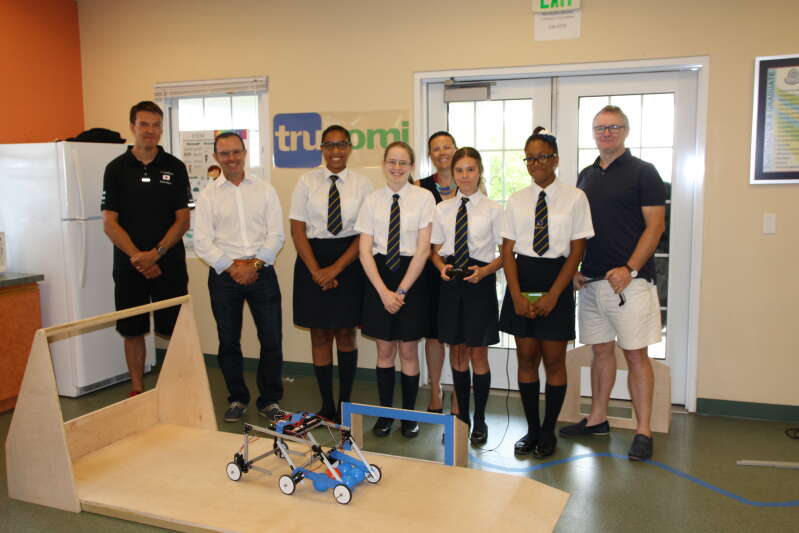 A team of local students is preparing to represent Bermuda at the inaugural First Global robotics competition.
The all-female team of five Bermuda High School students will battle it out Olympics-style against 163 other teams from around the world in Washington DC next month.
The girls have spent the past four weeks designing, programming and building a robot from a standard kit made up of hundreds of individual parts that was sent to all competing teams. And while the parts are all the same, it is up to each team to design their own robot from those parts each with their own special functions.
They have enlisted the technical help of 35th America's Cup Softbank Team Japan's systems and software engineer Pekka Ahthonen, president and CEO of Mallon Associates International Dave Mallon who has a PhD in Computer Science, and self proclaimed "geek", BHS director of advancement Jennifer Burland Adams. Trunomi and Argus, as well as the Ministry of Education and Department of ICT Policy and Innovation, have also lent their support to the project which is expected to branch out to include more local schools next year and beyond.
Bermuda's team is made up of Ashlyn Lee, Nadhiri Simons, Yulia Isaeva, Katie Grainge and Kameron Young.
The common goal of the First Global competition aimed at students between 15 and 18 years of age is to increase their knowledge of science, technology, engineering and mathematics which is fast becoming part and parcel of the forward-looking school curriculum. It is hoped that such initiatives will create the next generation of scientific leaders who will be able to work together to solve some of the world's most pressing problems from food security to access to clean water.
As such, the team's goal in this year's competition is to separate blue plastic balls representing water molecules from orange plastic balls representing contamination.
Mr Mallon said: "Instead of giving you a specification of the robot they have given us the specification of the game that we are playing so we need to build a robot that is suitable to win points in the game.
"The actual space will be five-and-a-half metres by four metres with this river of balls running down it. We collect them — we get one point for putting blue balls in the right place, four points for putting the contaminated balls in the right place which is a little bit more difficult, then we get 20 points if we are able to elevate ourselves off the ground because there will be a 'flood'. We are thinking about a sorting mechanism so when we expel them we can only expel orange balls."
The girls have three weeks to complete their robot before heading to Washington for the competition at Dar Constitution Hall from July 16 to 18.
The team was busy tinkering with their creation at BHS yesterday and described what they were doing.
Ms Lee said: "This is our first robot that will be accredited for the 'Olympics'.
"We did do a practice 'bot to get used to the tools and the programming. We are having some difficulties because we are only able to retrieve the balls but in the near future we are going to be able to sort the balls using a sensor and release them into different areas."
Ms Simons, added: "Each wheel has a motor that we wrote the coding behind. The programme we are using now is specific to pushing.
"It is hard to have the balls not come out of the other side and since we can't turn it is hard to gather the balls."
The main structure of the robot is built from extrusions and there is a control hub and expansion hub and it is controlled by a video game controller, the students explained.
"We are also supposed to be able to grab on to a railing and pull ourselves out of what would be a flood," said Yulia.
Asked what it felt like to be a part of Bermuda's first national robotics team, Yulia said: "Specifically, I am interested in aerospace engineering and this ties in with that. It is a great opportunity and experience for me and it seemed like a lot of fun to try it out."
Ms Burland Adams explained how she hopes the project will develop in the future.
"The idea is that we are incubating this at BHS in year one so we are excited to have an all-girls, all-BHS team representing Bermuda but in the future we anticipate other schools entering students to go to this specific competition. Ideally we would like each school to have their own robotics team which will then compete at a national level and then a team from there can compete internationally."
"We are looking at out curriculum, our extracurricular offerings and we are looking at our facilities as well and that is why we have our Leading the Way campaign.
"We had no idea how we would make this work but we have had great support from Stuart Lacey and his company Trunomi, from Dave with his expertise, Soft Bank's programmer, Argus, the government and the people on staff. Everyone is coming together to make this work not just for BHS but for Bermuda."
Find out more about First Global at www.youtube.com/watch?v=igR409sJly0