Film-maker puts politics, health in focus
Created: Nov 21, 2017 08:00 AM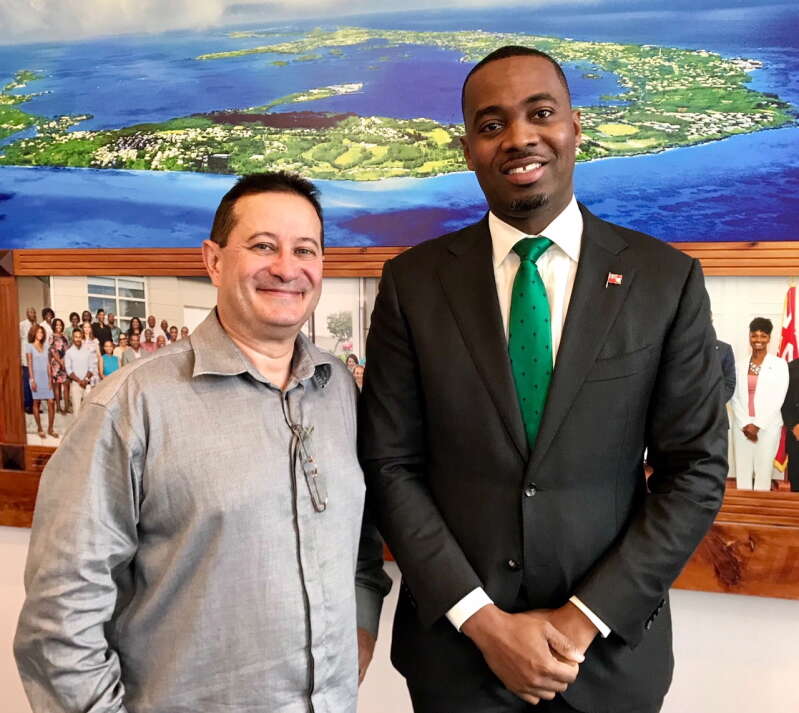 French film-maker Emmanuel Itier has returned to the island to film two new documentaries.
Mr Itier, whose previous films looked at God and women in politics, has now turned his attention to economics and health, interviewing local figures alongside international experts.
"Part of the idea is to give a voice to a country like Bermuda that a lot of people might not know about," he said.
"In a way, it's sort of a business card for Bermuda."
Mr Itier's connection to the island began through the Bermuda International Film Festival, which he got involved with as a journalist and film-maker.
"It all started with a movie called The Invocation, which looked at a small subject — I decided to study God and the idea of God through quantum physics and spirituality," he said.
"I came here because I was invited by the film festival. I met Dawn Zuill, and we started to collaborate on these beautiful movies."
He returned to the island for his next documentary, Femme: Women Healing the World, which focused on women in politics.
Among the range of international figures interviewed for the film were former premiers Dame Pamela Gordon and Dame Jennifer Smith.
"I since decided to double-up on my relationship with Bermuda because I am a selfish Frenchman and I like to enjoy travelling to beautiful destinations with beautiful people," Mr Itier said.
"It's definitely a change of pace from America."
Over the years he said the documentaries — produced by Hollywood actress Sharon Stone — have screened in around 50 different film festivals and events across the globe.
"Everybody who watches them tells me they feel inspired by the movies," he said. "They are a call for action, because we are seven billion people but we don't work enough with each other.
"We need to articulate the relationship better and force each other out of our comfort zones."
For his latest projects, Mr Itier said he wanted to look at two other challenging subjects.
The first, We the People, delves into the world of politics and economics.
The second, The Cure: Healing the Mind, Healing the Body, focuses on health and nutrition.
"I always love to tackle these big subjects," Mr Itier said.
"When you sit down and start to listen to people, you realise everything has a solution."
Joining Mr Itier's film-making efforts for the first time is prospective Bermudian film-maker Bathsheba Jones.
Ms Jones said she became involved in the project after seeing an advertisement for a post online.
"They were asking for film students, so I was a little hesitant, but I thought I have some photography experience, some journalism experience, let me try this out," she said.
"The experience was really good. It was eye-opening, especially looking at some of the political figures who answered questions today and how diverse their answers were.
"They share a lot of similar beliefs, but their answers were very different.
"It opened my eyes to different solutions to the problems we face today."
Ms Jones said she has long been a fan of documentaries, and would love to make her own — once she has a camera.
"My iPhone is definitely failing, but I would love to pursue it," she said.