Docks to shut down for 'critical repairs'
Updated: Mar 01, 2018 01:45 PM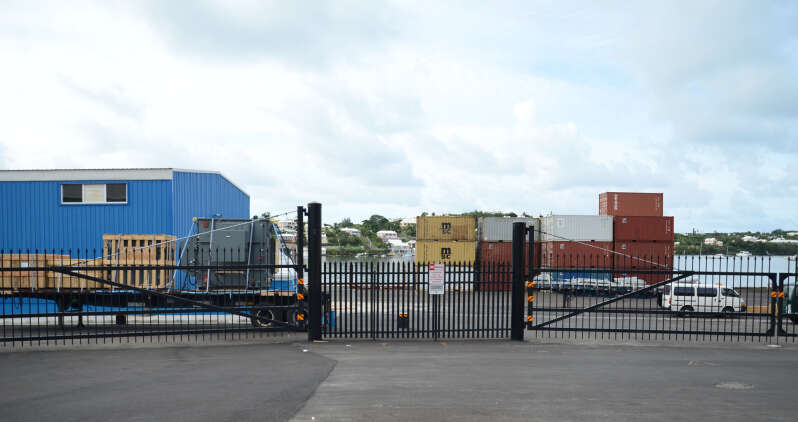 Bermuda's lifeline docks will shut down for a week this month for "critical" repairs.
The impact the closure of the Hamilton docks will have on shipments to Bermuda was unclear last night.
A letter to transport firms, HM Customs and the Corporation of Hamilton from Polaris Holding, the operator of the Front Street cargo terminal, said the closure was caused by "safety and health issues" on the roadway area of the dock used by machines that service ships and tractor trailer trucks.
Warren Jones, the Polaris chief executive, said the "critical nature of the work" meant that repairs would start on March 11.
The Chamber of Commerce responded today by expressing disappointment at the short notice of the closure.
Mr Jones's letter added: "The work is anticipated to take seven days to complete, weather permitting.
"It should also be noted that there is no way to undertake ship or truck operations while the main portion of the work is being done.
"Therefore, the dock will have to close between Sunday, March 11 and Sunday, March 18 for this to occur."
The letter added: "We apologise for any inconvenience this causes to the industry but believe we have no alternative than to take these steps in the interest of the safety of our staff."
Mr Jones told customers that the Corporation of Hamilton had arranged for East End Asphalt to carry out the needed work "as soon as possible".
Mr Jones told The Royal Gazette yesterday that the dock was the island's only cargo port.
He added: "Ninety-eight per cent of everything that comes into Bermuda comes through the dock."
Mr Jones referred further questions to the company's marketing firm, The Brand Lion.
Zina Malcolm, of The Brand Lion, said that "due to the critical nature of this issue", a press conference would be held this afternoon.
Mr Jones added that he would discuss the likely impact of the closure on the island at the conference.
A spokeswoman for the Corporation of Hamilton did not respond to questions on the closure by press time.
Chamber of Commerce president John Wight said today: "It is very regrettable that we are only hearing 12 days in advance of the Hamilton docks closing for a week.
"The Hamilton docks are the lifeline for many Bermuda businesses and we have only to recall the week in 2015 during the turmoil surrounding the Pathway to Status issue when the docks were closed to remember the extensive effects that week had on all of Bermuda.
"Safety and health issues on the docks should be of paramount importance, however it is hard to understand how this issue couldn't have been planned differently to minimise the disruption to the island.
"Many Chamber members' businesses that operate on importing goods on a weekly basis operate on very thin margins and plans for transporting goods to the island on Bermuda's three container vessels for the week would already have been made.
"The inconvenience and additional costs to reschedule the importation of goods during that week for these businesses is concerning to them."