Mystery surrounds teenager's death
Updated: Mar 21, 2018 12:27 PM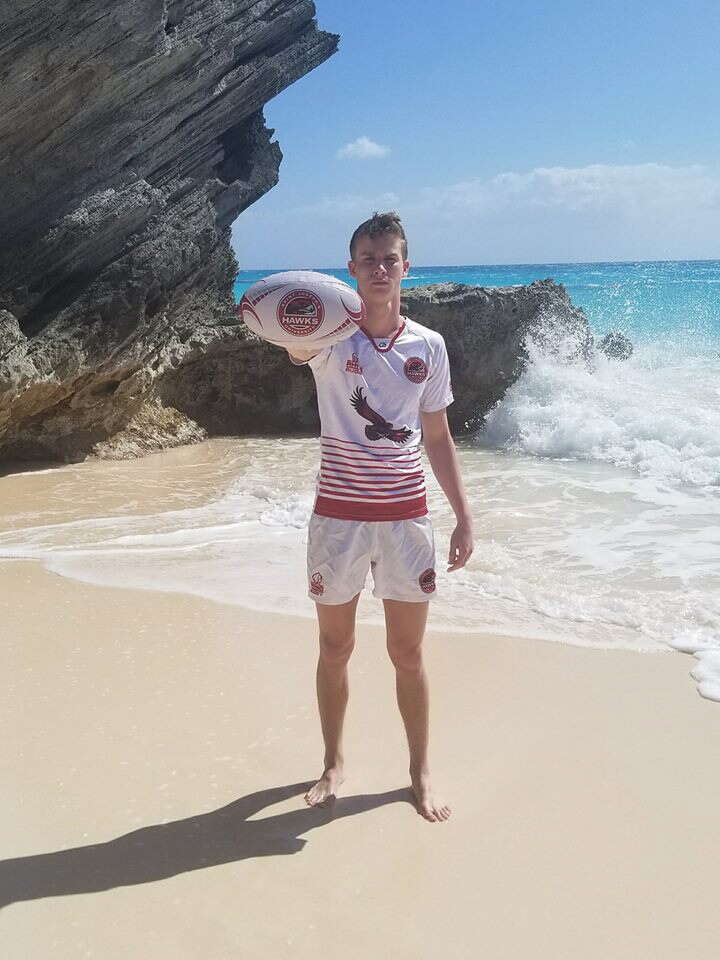 A missing American teenager was found dead at the bottom of a "significant drop", police revealed yesterday.
However, Superintendent Sean Field-Lament dismissed claims that 19-year-old university rugby player Mark Dombroski had been tied up.
Mr Field-Lament said: "Contrary to some social-media posts, Mark's body was not bound."
He said social media was a "double-edged sword" in police investigations.
Mr Field-Lament explained: "It can be a tool that assists us, and it certainly assisted us in the early stage of this investigation, but what can happen is that untruths are spread."
Mr Field-Lament added that Mr Dombroski's wallet and mobile phone were found with him, but he declined to rule out foul play.
Mr Field-Lament said: "We have an open mind. Nothing has been ruled out.
"We work on facts and we are waiting for the forensic pathologist, the highest level of pathologist that we can get, to give insight on injuries that Mark has."
The overseas pathologist is due to arrive in Bermuda today.
Mr Field-Lament also confirmed that the Federal Bureau of Investigation had joined the inquiry.
He said the island's police service were in touch with the US law enforcement agency "very early on" in the investigation,
He said: "They reached out to us and that's part of the protocols that we have in place with US citizens."
Mr Field-Lament said FBI agents were expected to "provide reassurance to the family".
Mr Dombroski, from Pennsylvania, was captured on CCTV as he walked alone on Alexandra Road, Devonshire, at 1.30am on Sunday.
His body was discovered in the dry moat at nearby Fort Prospect at about 4pm on Monday.
Mr Field-Lament said police believed Mr Dombroski ended up in the area after going for a walk.
He added: "I understand that he had gone for a walk the night before around the Warwick Camp area, but we really just don't know why he was walking up there. To say anything otherwise would be speculative." Mr Field-Lament said he could not speculate if Mr Dombroski had intended to meet anyone.
He added: "If people have that information, the onus is on them to phone us."
A CCTV image of Mr Dombroski just after 1am on Front Street appeared to show him making a telephone call on his mobile phone.
Mr Field-Lament also declined to say if they had traced anyone he may have spoken to.
Mr Field-Lament said: "We are not going to release something like that at this stage of the investigation. We're trying to determine what took place."
He said that detectives were keen to speak to residents in the Alexandra Road area who "may have heard or seen anything" between 1am on Sunday and 4pm on Monday.
Mr Field-Lament said that police were "aware that people were in the area when the body was found".
He added: "Whether they saw the body beforehand, or saw the people — they may have been part of the group that was looking.
"We're just saying that if you were up in that area and you saw something, specifically between 1am (Sunday) and 4pm on Monday, come forward."
Mr Dombroski was last seen by friends at the Dog House bar on Hamilton's Front Street just after midnight on Saturday.
It was revealed on Monday that he was spotted on CCTV at the east end of Front Street at about 1am and ten minutes later on Middle Road, Devonshire.
Mr Dombroski was in Bermuda with a team from St Joseph's University in Philadelphia to play in the Ariel Re Bermuda International Sevens tournament over the weekend.
St Joseph's University Rugby posted on Facebook: "Terribly saddened by the loss of our team-mate Mark Dombroski who was our friend, our team-mate, and our brother.
"A true champion of the game. Our sincere condolences to the Dombroski family and friends.
"A huge thanks to the many people of Bermuda for all their help and support over the past couple of days. RIP #7."
The Philadelphia Inquirer reported several hundred St Joseph's students and staff learnt of Mr Dombroski's death at a vigil in the university's chapel.
Mary Brown, a Latin professor, said: "There's deep grief. Everyone's very, very shaken by the loss."
• On occasion The Royal Gazette may decide to not allow comments on a story that we deem might inflame sensitivities. As we are legally liable for any libellous or defamatory comments made on our website, this move is for our protection as well as that of our readers.