No background checks on betting shops
Updated: May 16, 2018 11:14 AM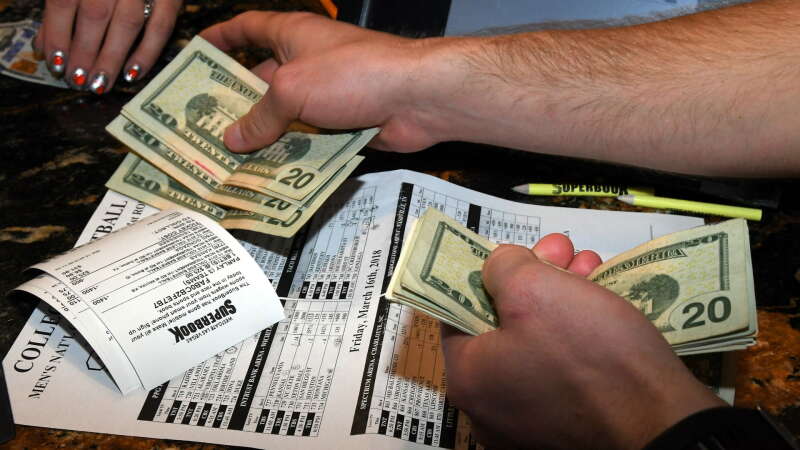 Backgrounds checks are not always being done on those who profit from Bermuda's multimillion-dollar betting shop industry, according to an investigation by The Royal Gazette.
Public records held by the Betting Licensing Authority show that non-Bermudians have held shares in betting shops on the island, as have anonymous trusts, but little to no information appears to have been gathered on them.
A disclosure under public access to information, meanwhile, reveals that bookmaker's and pool betting agent licences have been issued by the licensing authority without due diligence being done on applicants' financial histories by the Ministry of Finance, in potential breach of the law.
Warnings about the absence of controls to prevent "dirty money" transactions within the betting industry have been made repeatedly to the island's leaders, including by former Bermuda Casino Gaming Commission executive director Richard Schuetz.
Mr Schuetz, in his resignation letter, described "glaring deficiencies in the anti-money-laundering regime of this island's betting sector" and suggested there was a "lack of respect in making a reasonable effort to adhere to generally accepted international standards for anti-money-laundering activities within its existing betting products, in particular the betting shops".
The findings of our investigation come as Bermuda awaits a critical review of its money-laundering and terrorism-financing countermeasures by the Caribbean Financial Action Task Force.
There is no suggestion that any of the people involved in the island's betting industry have done anything illegal. But experts, including Mr Schuetz, have said the lack of safeguards could create a loophole for criminals to exploit.
CFATF officials will arrive in September to carry out their assessment. In the meantime, David Burt, the Premier and Minister of Finance, has ordered a review of betting industry regulation to determine if tighter controls are needed.
Mr Burt, who recently shifted responsibility for the industry from the Ministry of Finance to the Ministry of Economic Development and Tourism, said last November: "Bermuda must assess the money-laundering risks within the betting sector to determine if anti-money-laundering/antiterrorism funding laws need to be put in place."
While Opposition leader, he raised concerns about the industry in Parliament, pointing out that the Bahamas had been faulted in 2016 over money-laundering issues with its betting shops, and questioning what measures were under way to protect Bermuda's reputation.
Bob Richards, Minister of Finance at the time, agreed, describing the betting shops as a "significant risk factor" in relation to money-laundering.
The island has six betting shops that are taxed each year by the Government at 20 per cent on the amount they take in bets.
Collectively, the shops paid $1.7 million tax in the financial year 2015-16, suggesting at least $8.5 million was placed in bets. One shop is in tax arrears, according to a government spokeswoman.
Those who apply for a bookmaker's or pool betting agent's licence to the Betting Licensing Authority are required, under the Betting Act 1975, to first get a certificate from the minister responsible for betting, stating he is satisfied with their business reputation and financial stability.
The ministry responsible for betting is supposed to conduct due diligence on an applicant's background before a certificate is issued.
But minutes of a January 2016 licensing authority meeting — when Mr Richards was finance minister — show that has not always happened.
The minutes, released to The Royal Gazette in response to a Pati request, state: "All members shared a common concern that in the past there might have been less scrutiny of the operations of betting-licensed premises, particularly in respect [of] the scope of activity taking place in the betting-licensed premises ...
" ... Having reviewed all of the relevant files, it was discovered that each file did not have (i) a Certificate of the Minister of Finance stating that the minister is satisfied as to the business reputation and financial stability of the betting licence holder ... or (ii) a financial guarantee, as required under section 12 of the Act."
Even when due diligence is conducted on behalf of the minister and a certificate is issued, it often does not involve the actual owner of a betting shop.
The law disqualifies "any person who has been convicted, whether in Bermuda or elsewhere, of an offence of which dishonesty is an element" or an undischarged bankrupt from holding a licence, but it does not refer to betting shop owners.
The legislation, which Mr Burt has described as "outdated", requires scrutiny of the licence applicant only, who may simply be an employee of the owner.
Paperwork seen by The Royal Gazette shows that Gametime Ltd, which has shops in Hamilton, St George's and Somerset, amalgamated with another company, Elite Sport Book, in 2013.
The shareholders of Gametime then became Bermudians John Tartaglia and Rick Olson, along with Dana Holdings BDA Ltd, an unregulated exempted company whose "ultimate beneficial owners" were based overseas, according to a letter from Gametime's lawyer Michael Smith, of Smith & Co law firm.
Mr Tartaglia is one of the owners of MM&I Holdings, the company named in The Royal Gazette's Special Report on casino gaming last October as having lined itself up to land a hugely lucrative government casinos contract.
Mr Olson is the owner of the Bermuda Bistro, on Front Street, and the operator of the concession at Horseshoe Bay.
Dana Holdings BDA held 40 per cent of the shares in Gametime, according to Mr Smith, who was a member of the Betting Licensing Authority at the time he was representing Gametime.
A 2015 e-mail from Mr Wolffe to the licensing authority's secretary, regarding Gametime licence applications for Somerset and St George's, notes that "Michael Smith might be conflicted".
In Mr Smith's 2013 letter, he named the ultimate beneficial owners of Dana Holdings BDA and gave their addresses in the United States.
There is no indication on the file held by the authority that background checks were conducted on those individuals.
The registered office of Dana Holdings BDA is listed as being with St George Corporate Services Ltd.
The corporate services company, owned by former One Bermuda Alliance MP and lawyer Mark Pettingill, was appointed secretary of Dana Holdings BDA in April 2015.
Mr Pettingill, of Chancery law firm, also represents MM&I Holdings and was Attorney-General when the Government entered into a memorandum of understanding with the company.
Bermudian Albert Steede, a former teacher and Bermuda cricket captain, now holds all the shares in Gametime, according to records provided by Smith & Co.
Mr Steede also owns Seahorses, the Queen Street bookmaker, which has been closed for renovation since the end of May 2017.
Mr Steede bought two thirds of the shares in Stonley Ltd, the parent company of Seahorses, in November 2016.
In January 2017, Mr Steede changed the name of Stonley Ltd to Seahorses Ltd as he negotiated purchase of the final third of the shares, which were owned by the Clarien Trust, as trustee of the Plantation Trust.
The Plantation Trust is not registered with the Registrar of Companies, according to that office, and its beneficial owners are not known.
A Clarien Bank spokesman said: "Our policy would not allow us to share any confidential client information."
RoC records show that Paradise Games, on Court Street, is owned by former Progressive Labour Party leader Marc Bean and his wife, lawyer Simone Smith-Bean.
Triple Crown Racing, meanwhile, is owned by businessman Wendall Brown, the chairman of BGA and a former director of Argus insurance company and Butterfield Bank.
Mr Brown is being sued by the Government for allegedly profiting from his position as a trustee of the publicly owned Port Royal Golf Course.
Senior magistrate Juan Wolffe was chairman of the authority in 2016 and still is. He was sitting in the Supreme Court and unavailable for an interview for this article.
Questions sent yesterday to him to be shared with the other three board members — Elizabeth Christopher, Andre Heyliger and Peter Barrett — did not receive a response by press time.
Economic development minister Jamahl Simmons did not respond to requests for comment about foreign ownership and suitability checks in the betting shop industry.
Neither Mr Steede nor Mr Smith could be reached for comment.