Daredevil karters thrill crowds in Hamilton
Updated: Oct 15, 2018 09:24 AM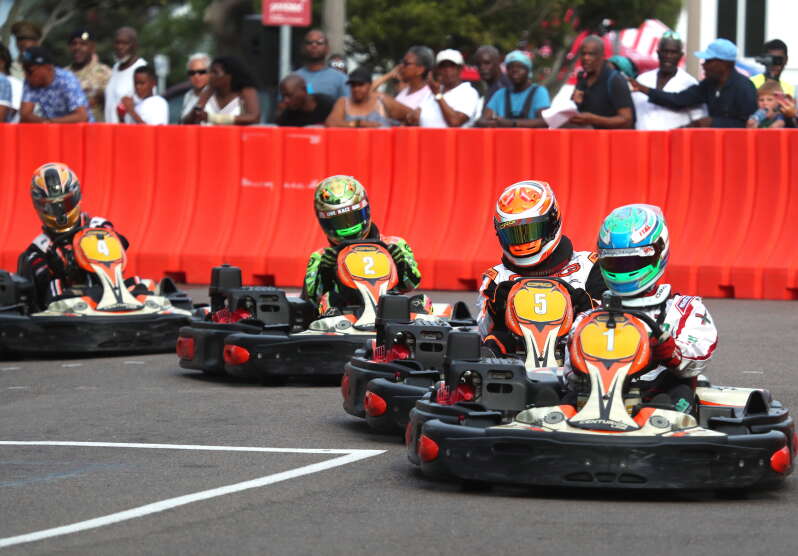 An estimated 1,500 people turned out at the weekend for a karting event designed to promote a sense of community.
Families lined the streets of North Hamilton on Saturday to watch motor-racing veterans and local celebrities compete behind the wheel.
Rick Richardson, head of the organising charity, Bermuda International Football Festival, said the atmosphere was "terrific".
He said: "I didn't know what to expect going into North Hamilton because a lot of events in the area haven't been well supported. To be truthful, crowds have been sparse to say the least. But I think we had a really good combination of things with the go-karting, which is exciting, putting some fun in it and some things for the kids.
"We were looking to see something that would attract the whole family and we got it. The dads were coming through with daughters and sons."
Mr Richardson added the whole island, and particularly the North Hamilton area, was trying to offer activities to appeal to young men and boys.
He said: "We saw the excitement there, older guys, younger guys, little kids because they had these remote controls as well as the top go-kart drivers.
"We saw their excitement and that helped us to meet one of the main objectives — can we engage young boys, can we get them excited to the extent that they will now see there are some alternatives for them and that they can get excited without unruly behaviour."
Scott Barnes and David Barbosa, both veteran kart drivers, won races in the expert class.
Record-setting former Cup Match player Janeiro Tucker won one of the celebrity races and the second finished in a "dead heat" between motocross rider Detroy Bean and Jeff Sousa, the Irie FM DJ Conscious J.
Mr Richardson said: "The racing was amazing and then to top it off Scott Barnes brought out, just for an exhibition, what they call a 'shifter'.
"The other karts are just automatic but with this you can shift gears, this is one of the fastest models of go-kart.
"He didn't race with it but he went on the track and just excited the crowd with speed and spins. It turned out to be quite an event. All told it was fantastic."
Mr Richardson said Saturday's spectacle was a trial run for further events.
He explained: "We wanted to use this almost as a prototype for something we want to do around Labour Day. "I want to commend the Corporation of Hamilton because they helped us meet all the safety criteria.
"I've got a committee together, we will meet next week to go through and do a bit of a post mortem to see what else we can do but I'm really aiming to do something at that time next year.
"The people are clamouring for something more but there are a lot of considerations."