Veteran pays tribute to Royal Marines
Created: Nov 14, 2018 08:00 AM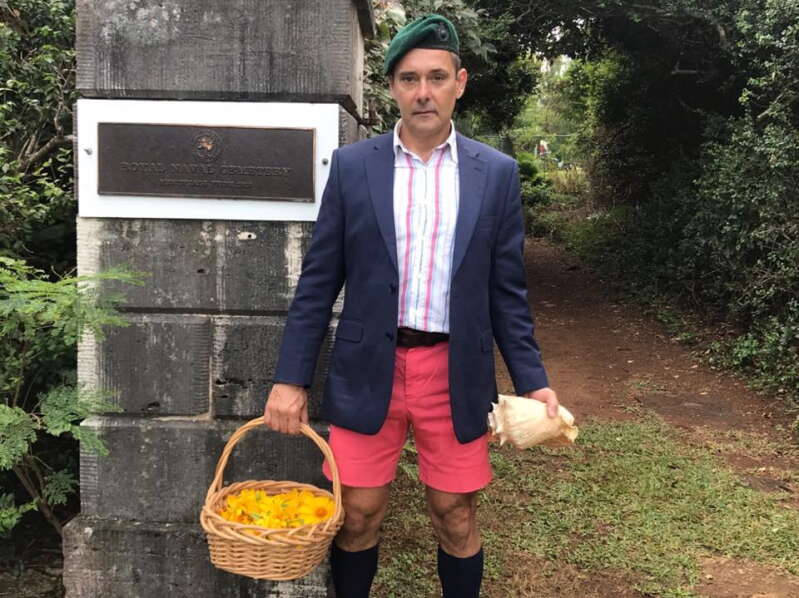 A former Royal Marine and his wife marked Remembrance Day with their own tribute to fallen soldiers at the Royal Naval Cemetery on Ireland Island South.
"It struck a chord with me," said Jonah Jones, who paid respects on November 11 at the graves of service personnel with his partner, Jo Stanton.
While most eyes were on the services at the Cenotaph in Hamilton, the couple brought dozens of African daisies from their garden to the West End graveyard to mark the resting places of each Marine.
Mr Jones knelt at each grave to give thanks for their service.
At 11am, commemorating the Armistice 100 years ago at the end of the First World War, they held a minute's silence and closed with three blows on a conch shell.
He called it "an alternative way of paying respects" on the occasion of the centenary.
Mr Jones added: "I was only in the Marines for five years, but the adage goes 'once a Marine, always a Marine'."
He served in the 45 Commando Royal Marines from 1985 to 1989, dubbed "arctic commandos" for their long posts in northern Norway.
"Although it's a graveyard, it's peaceful and serene and kind of a happy place," Mr Jones said of the historic cemetery. The graveyard is also known as The Glade, it was consecrated in 1812.
Mr Jones said: "A lot of them were very young men. The graves go back 200 years. We all owe them a debt — although it's 100 years it's not that long ago.
"To know what to do in the future, we need to know our history."