John A. Kennedy (1924-2019)
Created: Jun 06, 2019 08:00 AM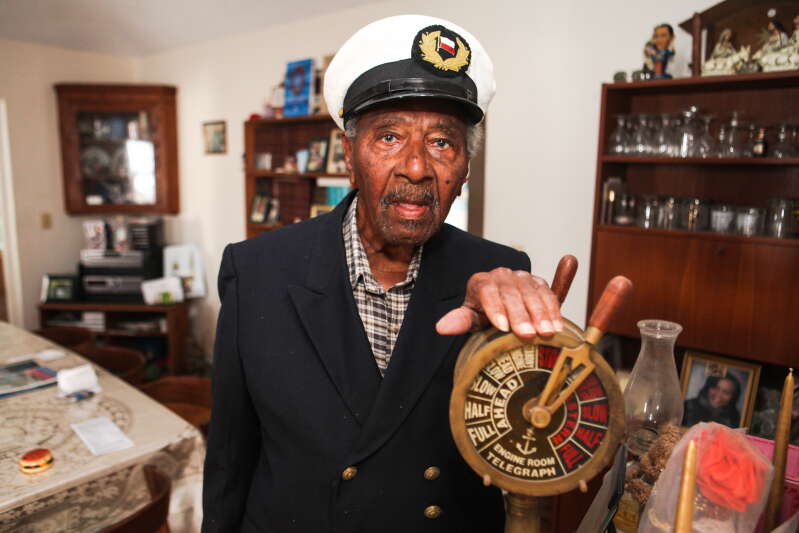 A veteran pilot who steered ships into Hamilton Harbour for decades has died.
John Kennedy, who retired in 1989 at the rank of pilot warden, was 95.
Department of Marine and Ports staff said he was a mentor who left a mark on the Bermuda Branch Pilot Service. One of his sons, Robert Kennedy, said that "the service was his life".
Mr Kennedy grew up fishing with his uncle at Spanish Point, but his career at sea began at the start of the Second World War in 1939.
His son said: "He wanted to avoid getting called up, so he got on a cargo ship at St George's."
Mr Kennedy pretended to be older to get accepted — which led to a lifelong confusion over his year of birth. But the sea was no sanctuary, as convoys of cargo ships became prime targets for German U-boat attacks.
Mr Kennedy told The Royal Gazette in 2014: "You would be down shovelling coal and then you would come up and see that there were one or two ships missing from the convoy. They had been sunk."
Mr Kennedy said he was a keen fisherman with his own boat and that seafaring was "in my blood".
He became an apprentice pilot in 1952 under pilot Walter Darrell and worked his way up the ranks.
His son said he built his house, Hard-a-Port at Tablerock Avenue in Pembroke himself and the view over North Shore allowed him to keep watch on shipping. His son added: "Life for him had to be work, even exercise — he would lift concrete blocks and cut the hedges instead of going to a gym.
"Piloting was literally his life. He always wanted to be on the move. In later years he loved to drive."
A tribute from Marine and Ports said he served "unselfishly and with pride" and trained pilots over a 37-year career.
Mr Kennedy's favourite ship to pilot was said to be the Royal Caribbean Cruise Line's Veendam.
Branch pilots like Mr Kennedy relied on lighthouses and islands as landmarks for navigation before modern navigation technology.
The narrow channel of Two Rock Passage in St George's proved an especially challenging job.
He told the Gazette: "In the early days, you had to climb a rope ladder called a Jacob's ladder to board the vessel, which could be unnerving if the wind and waves were up.
"Other than that, everything was very good."
Mr Kennedy's family and friends were recruited to drive him around after he retired.
He also enjoyed hailing passing ships by radio from his home.
Mr Kennedy had a son, John-Arthur, with his first wife, the late Mildred Musson.
He married the late Barbara-Jean "Niecey" Smith in 1965, and the couple had two children, Jacqueline and Robert.
David Burt, the Premier, offered his condolences to the family in the House of Assembly last Friday.
Mr Burt said: "I do hope that his loved ones find comfort."