Bermudian interns meet British MPs
Created: Sep 04, 2019 06:09 PM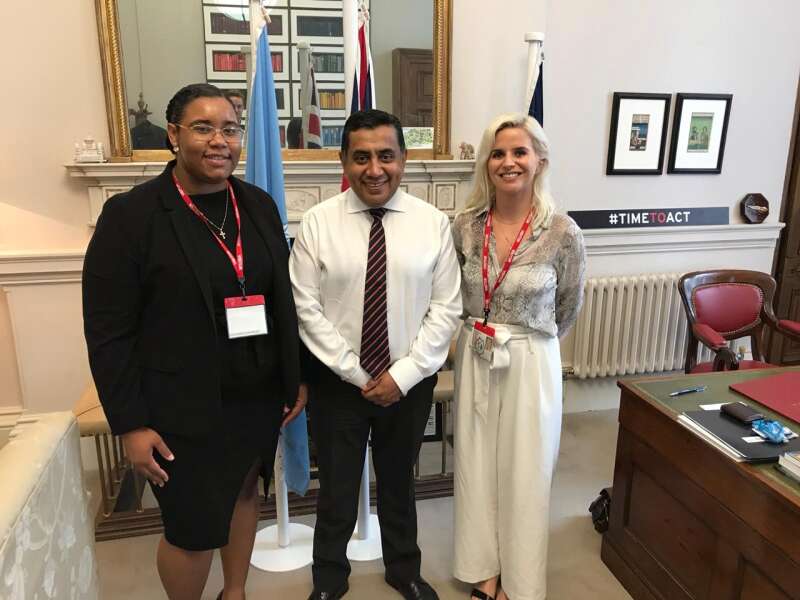 This summer, two Bermudians interned with the London Representative Office in the UK. The interns, Ari Minors and Madeleine Fox, spent thirteen weeks learning about the work of the London Office and gaining an understanding of Bermuda's relationship with the UK, specifically within the UK Government and UK Parliament. The interns had the opportunity to work and attend meetings with the UK Overseas Territory Association (UKOTA) and the Overseas Countries and Territories Association (OCTA) in Brussels. In addition to attending a Commonwealth Parliamentary Association (CPA) meeting with UK MPs, shadowing officials in the Foreign & Commonwealth Office and a working week within a prestigious law firm in the City of London.
Ms Fox is a graduate of the University of Oxford (Lincoln College) with a BA in Jurisprudence with Honours. Following her achievement at Oxford Ms Fox has recently completed the Bar Professional Training Course at the City Law School. Prior to studies in the UK Ms Fox completed her first degree in Psychology with Honours from the University of California, Berkeley in the United States.
Ms Minors has a Bachelor of Arts Business Administration Degree with Distinction from Mount Saint Vincent University in Canada. She is currently completing her Masters of International Business degree at Regent's University London.
Premier the Hon. David Burt, JP, MP said, "I am immensely pleased that this opportunity has benefitted these outstanding, young Bermudian women. The renewal of the internship programme and the addition of placements in our overseas offices creates the kind of international experience that Bermudians need to compete in the global economy. Our hope is that we will be able to do this annually, and for more young Bermudians."
Ms. Kimberley Durrant, Director and UK Representative for the Government of Bermuda, who supervised the interns added, "Ari and Madeleine represent the excellence of Bermuda in their achievements both professionally and in academics. The internship was an opportunity for young Bermudians to be encouraged to develop a career within the public service in the areas of international relations and diplomacy. I am pleased that these young women are encouraged to move forward in this career path."
• Press release from the Bermuda Government