Ten teams to battle it out in Winter League
Updated: Nov 03, 2011 09:39 AM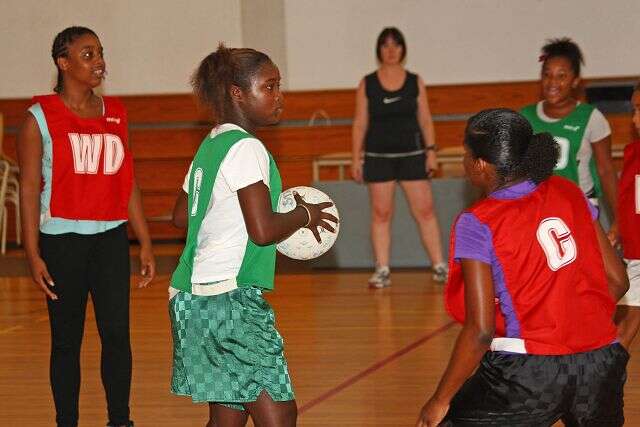 The 2011 Junior Winter Netball League will commence at Bernard Park on Saturday.
As many as ten teams in three divisions will compete for bragging rights during the season-opening Harold (Doc) Dowling Tournament that will feature a round robin format.
Battling for supremacy in the Under 16 age group are IAS Shooters, Netts Signworx, North Village Lady Rams and Young Men's Social Club Lady Bluebirds.
The Under-14 age group consists of Nu-Art SuperStarz, North Village Lady Rams, Data Tech Netts and Young Men's Social Club Blazing Bluebirds.
The Under-12 age group is the largest division and will comprise of Devonshire Cougars Cubs, Young Men's Social Club Junior Bluebirds, Devonshire Colts Warriors, North Village Lady Rams, Netts Whites and Netts Green.
Saturday's proceedings will start at 1.30pm with a dress parade involving the captains of each team.
The draw for the tournament will then be held at 1.50pm and will be immediately followed by a performance by the Victor Scott School Dancers.
A shooting competition will take centre stage at 2pm with the Harold (Doc) Dowling Tournament to get underway at 2.30pm.
The theme of Saturday's event will be fun, fitness and friendship.
"That's pretty much where we want to go with the juniors," commented Bermuda Netball Association (BNA) president Tracey Sharrieff. "We want to encourage them to make better friends, good fitness so as they progress to the senior leagues they are not struggling with their weight and those sorts of things and of course also keeping it fun for them.
"We are not going to be stringent on the rules initially, but we want to let them know that it is important to keep the rules and guidelines in place so that they don't develop bad habits early."
A fun castle, music and food and beverages will be provided during Saturday's event.
"We have gone all out for the opening ceremonies," Sharrieff added. "The girls are excited and I'm also definitely excited."