Decorating contest spreads festive cheer
Created: Dec 24, 2015 08:00 AM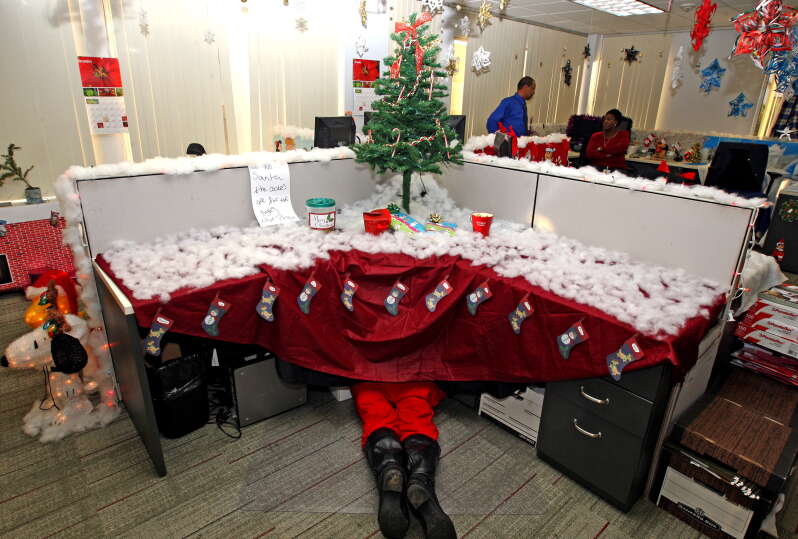 It's tough being at work during the holidays, but that doesn't mean you can't make the most of it.
Health Insurance Department staff transformed their office into a festive Winter Wonderland this year.
Karry Masters was the brainchild behind the office decorating competition. She suggested it as a way to bolster holiday cheer and build more camaraderie during the busy Christmas season.
"The employees came in on weekends and after hours, using their own money and supplies from home to decorate their cubicles," said a company spokeswoman. "From this experience, we found that the team spirit spread throughout the entire department. The team members helped each other, particularly, where some were initially reluctant and felt that they didn't have the artistic ability to participate."
Waynette Smith was the overall winner. She used green poster paper, glitter, ornaments, bows and Christmas lights to create her winning design. Her entire cubbyhole — from her desktop and computer monitor to her filing cabinet — was decorated. "I was at the office until the wee hours in the morning decorating my cubicle," she said. "I brought a few of the items from home and purchased some of the items.
"My philosophy was to be very creative and do something different."
The consulting administrative assistant said it felt "really good" to be recognised for her efforts.
"I wasn't confident that I would win," she said. "I was really surprised, but pleasantly.
"I won a couple of prizes — the prize for best decorated cubicle in my group and then the prize for the overall winner. It was a great feeling and accomplishment. All the hard work paid off."
Christine Debraga won best design in the finance and business analyst area.
She said: "I entered because it was a team competition and I didn't want to let my team down.
"I knew that I wanted a cartoon effect and that it should appeal to children but because I was studying for an exam I had limited time, so it had to be simple.
"During my lunch hours I was able to put it together. Actually, it was last-minute and I only used simple materials like gift wrapping paper, pillow stuffing and bows that I bought on Facebook group Bermuda Mom and Pop Buy and Swap."
She was shocked when she was named one of the winners.
"I didn't expect to win because I put it together at the last minute and others spent a lot more time decorating their areas," she said.
"There were lots of creative and crafty expressions of the theme Winter Wonderland. It was fun to be a part of the competition and it actually changed the atmosphere in the office as the decorations were being hung.
"Christmas is a time of family, fun and bringing joy to people's lives. As a mother-of-four, Christmas is my favourite time of year. The best part of this competition was it helped me and the office get into the Christmas spirit."