Schoolgirl seeks votes in modelling contest
Created: Aug 25, 2016 09:00 AM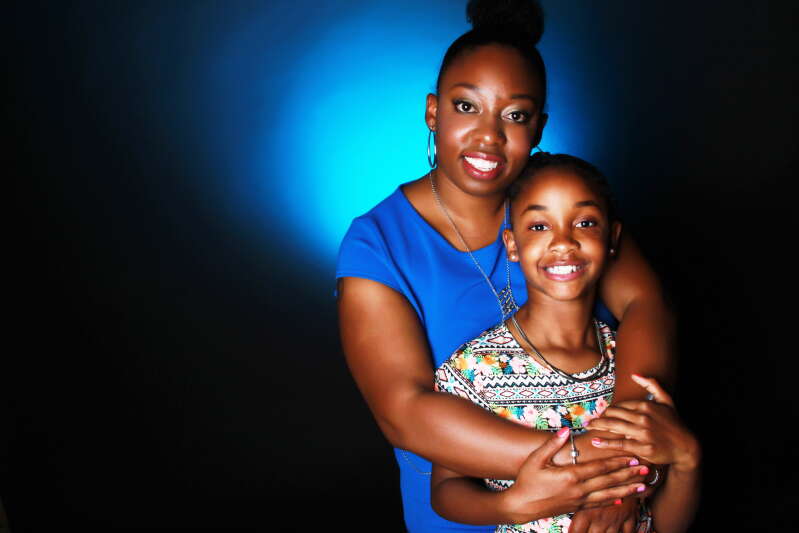 Berne Furbert is not your average stage mother. When the opportunity to enter her daughter Desi-Amor Furbert Mallory in a modelling competition arose, she saw it as a way for her daughter to make friends.
"It's not about winning. I had a talk with her last night, [I said], 'Just go out there and have fun'," Ms Furbert said.
"I just want her to have fun and meet new friends because outside of school she doesn't have any friends in Liverpool."
The pair moved to the city from Bermuda two years ago and have remained "reserved" until now.
Ms Furbert is calling on Bermudian friends and family to vote for the eight-year-old online.
The Liverpool Walk Off consists of four components: a charity round, an "eco" round, the fashion round, and the public voting round.
The charity round will raise funds for the James Bulger Memorial Trust, set up in remembrance of the Liverpool toddler who was abducted and killed in 1993 by two schoolboys.
The "eco"' round requires contestants to create their own outfit that has been customised, recycled or remade.
The mother-daughter team are working together to fashion a bathing suit and cover-up from colourful drinking straws and bubble wrap.
"She's enjoying building the eco outfit, especially," her mother reported. "She likes how it's coming together and she's going to enjoy modelling and showing off."
As promised by organisers, the LMI Group, she hopes the competition will boost her daughter's confidence.
"It was her godmother's idea," Ms Furbert said of her best friend, fellow Bermudian and Liverpool resident Ashley Wall-Coddington, who had entered her son and daughter in the competition in February.
Desi, who has only modelled once before, locally for a children's clothing line, said she was feeling "fine" about the event on Sunday.
"I won't be excited until I actually get to do it," she told Lifestyle.
Her mother, however, is sceptical of her cool demeanour and is certain she "won't be able to keep her still". She added: "It will be an all-day thing. We'll be there from 11am, the show starts at 4.30pm until about 8pm."
Make-up is banned at the event.
Ms Furbert said: "It's really nice that little children have to be natural and be themselves. It's not so much a beauty competition, it's more like a fashion show."
Public voting will close at noon on Sunday.
By yesterday, Desi-Amor had 145 votes, putting her in fourth place.
"We are looking to hopefully do Liverpool's Next Top Model in November depending on how she makes out with this one," Ms Furbert said.
The two of them are it for the long-haul — Ms Furbert wants her daughter, whose favourite subject is maths, to go through schooling and university in the UK.
The 28-year-old is a sales assistant at Sports Direct and will start her studies next year, training to be a physiotherapist.
The trans-Atlantic move was also influenced by her best friend Ms Wall-Coddington and her godchildren, Jahrikco and Xao Wall.
"Ashley was already here, so it was easy to come," she said.
"I'm her children's godmother and she's Desi's godmother. And I am a really big Liverpool fan." She even lives down the road from Anfield stadium, home of Liverpool FC.
She said settling into life in Liverpool was "easy", and the pair have maintained a routined existence.
"We're kind of reserved. We don't really do much beyond going to work and school, the park or playground," she said.
"It's really nice. Sometimes we'll travel to outside cities on the train to Birmingham, Manchester, Sheffield. That's the good part, travelling and going to see other places. You're not cooped up in 21 square miles.
"We've adapted very well and Google maps is like my best friend. I don't mind the weather at all."
She confessed to finding the time difference tougher than the often grey skies.
"For the first couple of weeks we were sleeping all day and up all night," she said.
Desi-Amor also likes her new home.
"I love Liverpool," she added.
• To vote for Desi-Amor visit www.thelmigroup.co.uk and choose Liverpool under LMI Home Cities then Vote Now. She is in the Mini 8-12 category. Votes must be verified through e-mail.