Architect claims Govt paid 'inappropriate' construction expenses against advice
Updated: Feb 06, 2012 09:12 AM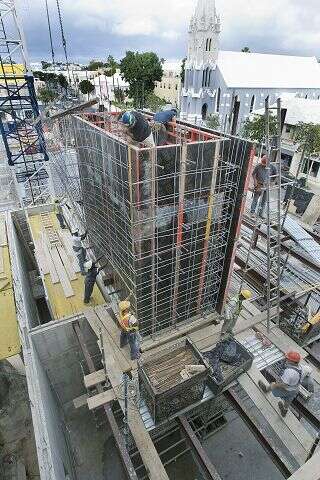 An architect has listed in court documents the problems he encountered with the construction firm working on Bermuda's new police and court building, including what he claims were "inappropriate" expenses.
Sam Spagnuolo oversaw work on the project until his company was dismissed amid allegations of "false cheques", which are now the subject of legal action against him by former Premier Ewart Brown and current Deputy Premier Derrick Burgess (see main story).
In court documents Mr Spagnuolo, who denies any wrongdoing, says he reviewed payments made and expenses incurred by Landmark Lisgar, the contractor that won the project against his advice. He alleges that his decisions on inappropriate payments were often overruled by the Ministry headed by Mr Burgess.
In the court papers relating to the action, which is being pursued against him in Canada, Mr Spagnuolo explained how he reviewed packages of supporting documentation for Landmark Lisgar's payments, known as "draws".
During the construction phase of the project, he determined which payments should be approved for reimbursement, then issued a certificate of payment to the Ministry of Works and Engineering, which was headed by Mr Burgess.
"On a regular basis, Landmark Lisgar would submit inappropriate expenses and charges for reimbursement through the construction project," alleged Mr Spagnuolo in his court papers.
He claimed Landmark Lisgar "frequently" submitted copies of the same documents twice, and he would refuse to certify inappropriate amounts for reimbursement and would "often" confirm a lesser amount was certifiable for payment instead.
However, he said in court documents: "Often throughout the project, CS&P's certificates of payment would be overruled by the Ministry, and the Bermudian Government would proceed with payment to Landmark Lisgar for an amount above that which was certified.
"In addition, often throughout the project, Landmark Lisgar would approach Mr (Derrick) Burgess directly with payment and other requests, without consulting CS&P or otherwise following approved and required processes."
Mr Spagnuolo said in addition to problems encountered with the payments, "problems with Landmark Lisgar's construction of the project began almost at the outset and continued throughout construction".
He said that before construction began, in November 2007, the firm complained that "CS&P was insisting on following usual and customary administrative processes for the project" and also requested an advance of approximately $3 million to $4 million for "mobilisation".
Mr Spagnuolo said he and Government architect Lawrence Brady turned this advance down, but indicated it would be reconsidered if Landmark Lisgar produced a list itemising what would be ordered with the funds. No list was ever provided.
In addition, he alleged: "Landmark Lisgar failed to obtain a performance bond issued in Bermuda, as required under the contract."
In the House of Assembly in November 2008, Mr Burgess responded to questions about the issue of a bond by saying: "There were difficulties associated with the fact that the funds or assets underpinning this bond were located in Canada rather than Bermuda.
"It didn't satisfy the Finance Department, which wanted the assets to be posted in Bermuda. Not that you couldn't be covered, but if you had an issue you would have to go to the Canadian courts to get it which is rather costly."
Mr Burgess said retention funds had been put aside to insure against non-performance or inadequate performance instead, in lieu of a performance bond.
In his court papers, Mr Spagnuolo went on to allege that after construction began, Landmark Lisgar retained a subcontractor for the excavation and backfill of the construction site.
"The price of the subcontractor's contract was well beyond the appropriate market costs for the subcontractor's services," he said.
"In the early phases of the excavation stage of the project, Landmark Lisgar encountered soft soil, the existence of which had been identified in the tender documents. It was nonetheless unable to handle the issue appropriately."
He said Government was short of engineers, so issued a tender for an 'engineer of record' for the project while retaining Entech, a local firm, to supervise the excavation process in the meantime.
Entech concluded that 46 piles, which were part of the foundational and structural design for the project called for in the specifications, were not needed, according to Mr Spagnuolo.
"The piles cost approximately $36,000 each. CS&P and the subcontractor who had developed the structural design for the project disagreed with this assessment, but nonetheless, Entech and Landmark Lisgar begin eliminating the piles," said Mr Spagnuolo.
Entech was replaced by Onsite Engineering once the tendering process had been completed.
"Onsite identified numerous issues with what Entech and Landmark Lisgar had done to date. It was determined that Landmark Lisgar had not performed in accordance with the contract. It directed that the work be removed at Landmark Lisgar's cost," said Mr Spagnuolo.
"Onsite also determined that the elevator core for the project, then one storey high, was not properly founded and also had to be removed. Landmark Lisgar blamed CS&P and its subcontractors for this outcome, which essentially required it to restart the project at its own costs."
Mr Spagnuolo said that in spring 2008, Mr Burgess appointed a construction consultant, Dennis Correia, to assist Landmark Lisgar, since the project was proceeding slowly and experiencing problems.
"Mr Correia was the best man at (then Premier) Dr (Ewart) Brown's wedding," noted Mr Spagnuolo in his court documents.
According to him, Mr Correia directed Landmark Lisgar to build the project in accordance with CS&P's construction documents, but by spring and summer 2008, little progress had been made. However, he said, Landmark Lisgar again approached Mr Burgess directly to request that a requirement to waterproof the outside of the water tank be deleted from the project's specifications "with no compensation or credit to be paid to the Bermudian Government to account for the deletion". He said the company also requested further funds be released "despite little progress and scaling back specifications".
According to Mr Spagnuolo: "CS&P recommended that the requests be denied. Nonetheless, both requests were granted by Mr Burgess without the support or approval of CS&P".
He said that in July 2008, the documents at the centre of the "false cheque" allegations were submitted to him as part of a draw which he refused to certify, although it was subsequently approved for payment by the Government.
Mr Spagnuolo said his firm wrote to Mr Brady in August 2008 saying it had serious concerns regarding Landmark Lisgar's ability to complete the project.
"At that time, Landmark Lisgar's progress was valued at $1,700,000, but it had already been paid $5,300,000," he said.
He said that in December 2008, the Canadian Lisgar portion of Landmark Lisgar was removed from the joint venture and Landmark continued with the project.
He said his own company was also dismissed that month, but Government "confirmed that they were pleased with CS&P's work and the decision to terminate them from the project was driven by political considerations".
The building eventually opened in April 2011.
CS&P is in the process of suing Government for $1.3 million in allegedly unpaid fees in relation to the police and court project. It also claims it has not been paid $119,000 for a separate project to build Government laboratories at Marsh Folly.