Government unveils major plans for Morgan's Point
Created: Feb 18, 2023 10:52 AM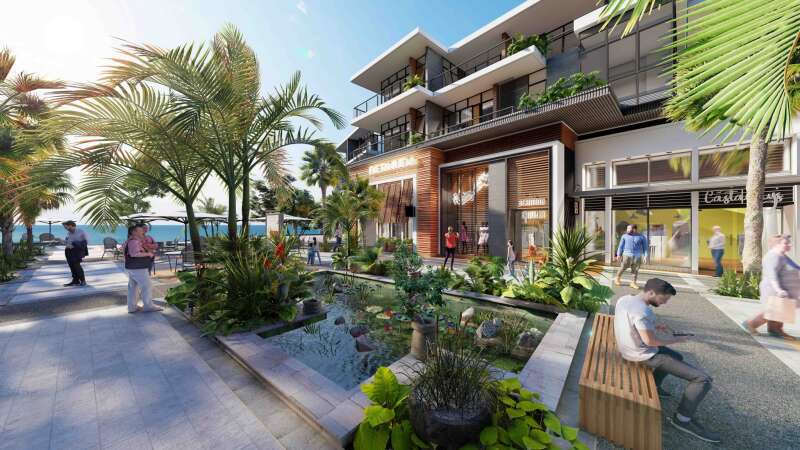 The failed hotel project at Morgan's Point will be converted into a residential development along with a restaurant and retail complex, the Premier revealed during the national Budget yesterday morning.
David Burt, also the finance minister, said the 37-acre site in Southampton would provide opportunities in the hospitality, retail and service sectors with the phase costing an estimated $130 million and will be backed by a government guarantee.
In December, legislation to create a government-owned company to oversee the redevelopment of the failed Morgan's Point hotel property was passed in the House of Assembly.
Mr Burt said in his Budget presentation that the previous concepts for a hotel and condominiums at the site were vetted by government advisers and it was determined that "neither represents the best use of the site at this time".
Twitter
He said: "We have targeted this mixed-use site for the development of a range of residential rental apartments including a component for seniors' housing, with an active and engaging amenities district filled with commercial retail and restaurant opportunities at its centre.
"To be clear, the newly proposed Morgan's Point Project will not be operated as a gated community, and the amenities district will be open to all Bermuda residents.
"The new enterprise will not only put the site into productive use but will also address several longstanding key goals of this Government regarding economic stimulus and increasing housing supply. At the centre of the redevelopment plan is the concept of Live, Work, Play — all on site."
How it will be funded
David Burt said: "Our present assumptions on financing consist of two debt tranches — a combination of a senior debt tranche secured against Morgan's Point land and applicable assets as built and a subordinated debt tranche provided by a local Bermudian bank, backed by a government guarantee.
"Both tranches will be backed either by security of the property or sovereign guarantee, thus minimising interest costs. Importantly, the construction and operation of Phase 1 will increase the value of the remaining land assets under the control of the Government and serve as a land bank for future development."
A management team and independent directors will oversee governance. The Premier said the operation will generate cash returns to "more than cover the costs of construction" so that Bermuda can recoup funds that were paid out for the $165 million guarantee agreed by the One Bermuda Alliance for the previous plan for a hotel at the site.
The assets of the operating company, Georges Bay Ltd, already in place for the former planned hotel comprise almost completed high-end residential buildings and six concrete shells, with one yet to be built.
They will be completed as residences along with six other functionally identical shells and will be reconditioned as ocean-facing residential duplex apartment units. At this time there will be three blocks of 18 units, subject to existing real-estate demand and further units could be constructed.
Mr Burt said the "centrepiece" of the project will be an amenities district.
"It will consist of a diverse series of commercial retail, restaurant and services opportunities at ground level and, built on top of them, two floors consisting of 48 residential units," he said.
Twitter
"These central amenities district apartments will be in an affordable range for most Bermudians and will consist of one, two and three-unit apartments. Further, an additional percentage of these amenity district apartments will be priced at a further discounted range to expand opportunities for young Bermudians …
"A stylish pedestrian and bicycle-friendly integrated boardwalk supporting 19,000 square feet of amenities district rentable area will include unique restaurants and bars, branded and boutique shops, and other stores offering conveniences and necessities.
"Additionally, the repurposing of the existing back-of-house shell for a potential farmers' market/local food hall will provide another 13,000 square feet of rentable concession space for a grand total of 32,000 square feet of active retail, dining and commercial options."
Mr Burt said a boardwalk and future bridge element will also provide integrated outdoor seating and gathering spaces similar to New York City's High Line walkway park. World-class facilities will unlock the value and demand for the 101 residential units proposed in phase one."
In April 2011, three Bermudians swapped land they had purchased in Southlands, Warwick for the Morgan's Point site. They proposed an 80-room boutique hotel with 313 additional residences and a 325-room luxury hotel with 337 additional residences.
However, funds ran out and work on the project ended in 2018.
A $165 million government guarantee was called on the debt and the Government has spent a further $50 million restructuring the project and paying other creditors.