Bermuda insurers face $2b in Q1 catastrophe losses - besides Japan
Updated: Mar 18, 2011 10:32 AM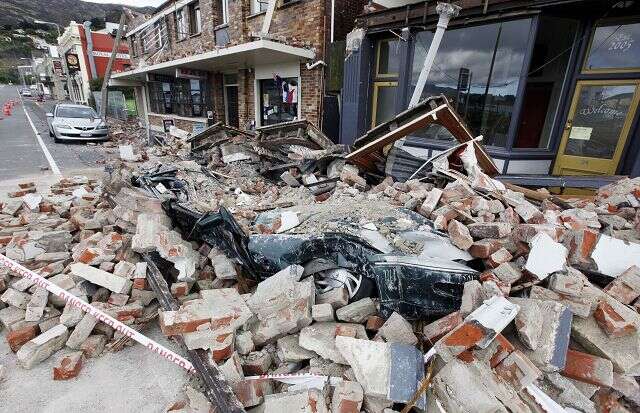 The Bermuda insurance market is already on the hook for close to $2 billion in first-quarter catastrophes - and that's before estimates of the Japan earthquake and tsunami are calculated.
Many companies have put out estimates of their losses from last month's earthquake in Christchurch, New Zealand, and January flooding in Australia over the past few days, as they are starting to work out their exposures to the devastation in northeastern Japan.
With global insurance losses from the Japanese disaster estimated by catastrophe modellers at between $12 billion and $35 billion, the first three months of 2011 are shaping up to be the most expensive first quarter in history for the industry.
The floods in Australia put the city of Brisbane underwater and caused widespread inundation in the states of Queensland and Victoria, and Queensland was also hammered by Cyclone Yasi.
The earthquake in New Zealand caused massive damage and left more than 150 people dead in the country's second largest city of Christchurch, which had been damaged just five months before by a previous earthquake.
Some companies, such as Lancashire, have also revealed exposure to the unrest in Egypt, while Ace is estimating net losses of $15 million from freezing weather in the US.
Working from loss estimates released by 17 Bermuda market companies, it can be seen that the Island's biggest industry is set to pay out between $1.59 billion and $1.93 billion for pre-Japan quake events.
PartnerRe, one of the few companies in the group to write reinsurance only, is facing the biggest bill, after estimating combined losses ranging between $260 million and $350 million.
RenaissanceRe revealed this week that it anticipates losses of around $190 million for the New Zealand quake and $30 million for the Australian events, for a total of $220 million. It also said that losses from the Japan earthquake would be significant.
Yesterday, RenRe's share price fell 0.9 percent to $63.32.
Ace estimated losses of $210 million for non-Japan events and was also the first company in the Bermuda market to make a preliminary estimate on losses in Japan of between $200 million and $250 million.
Analysts believe Ace's huge size means it will be able to handle the losses without too much trouble. Market reaction supports that assessment, with Ace's share price closing yesterday at $60.81, close to its $61.05 closing price on the day before the Japan quake struck.
Big losses will have more impact for smaller reinsurers, such as the Class of 2005 Bermuda start-up Flagstone Re, which had shareholders' equity of $1.2 billion at the end of 2010.
Flagstone has estimated its pre-Japan quake first-quarter catastrophe losses in a range of $120 million to $170 million, with $60 million to $90 million attributable to the New Zealand earthquake and $60 million to $80 million to the Australian events.
Although Flagstone has said it has significant reinsurance coverage to its exposures in Japan, the market reaction has been one of concern and the company's shares have fallen more than 20 percent since last Thursday. Yesterday Flagstone's shares fell 2.9 percent to $8.38.
Others to have suffered significant pre-Japan losses were Catlin Group ($125 million), Montpelier Re ($90 million), Aspen ($90 million) and XL Group ($70 million to $85 million). All four of those companies saw their share prices rise yesterday, most notably Catlin, which jumped 5.9 percent.
The first-quarter rush of claims comes hard on the heels of last year's approximately $4 billion in catastrophe losses for the Bermuda market. The silver lining is that the depletion of industry capital could cause insurance and reinsurance rates to rise.
"The Japanese quake finally exhausts the natural catastrophe budget for 2011 of a majority of reinsurance companies," said Fabrizio Croce, a Zurich-based analyst with Kepler Capital Markets earlier this week. "All the ingredients for market hardening are now perfect."
Other experts are not so sure, however, and expect regional rather than global impact on the market.