Bermuda Under-16 gain experience from Toronto tour
Created: Apr 24, 2013 05:43 PM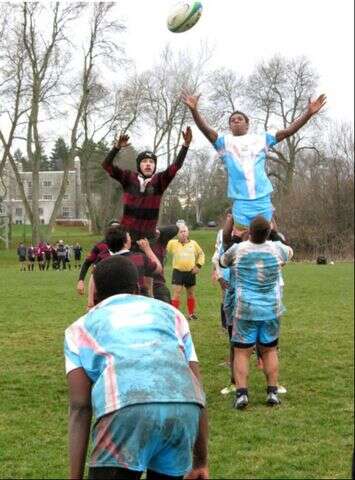 Bermuda Under-16s national rugby team, represented by six local schools, recently completed a tour of Toronto, Canada under the guidance of coaches Patrick Calow and Devrae Noel-Simmons.
During the three-day visit, Bermuda played two fixtures against Trinity College School Under-16s and a combined team from Country Day School/Aurora Barbarians Under-16s.
The opening game, played in icy cold conditions, saw the visitors suffer a 15-5 defeat to Trinity which has long history with Bermuda, with many Islanders having attended or currently studying at the school.
Bermuda started to work their way into the game with some destructive ball carrying from Nick De Costa, Nick Pell helping to inspire the team forward.
The Islanders continued to pressure the home side with impressive handling skills from Rory Crofts and Peter Calow to open up space for Chaokte Wainwright-Basden and Ryan Brown to counter-attack.
However, a silly mistake cost Bermuda when a dropped ball was collected by a Trinity College player to register the first try of the game. The home team successfully converted the try to make it 10-0 at half-time.
As the second half got under way, Bermuda started to dominate at the scrum helping to create a platform for the backs to attack, which Jonathan Alves, Ryan Brown and Nakeno Creighton used to their full advantage.
After sustained pressure the Trinity defence couldn't keep Bermuda out for much longer with Crofts setting up De Costa to score on the far touchline. The conversion was missed to make the score 10-5.
After conceding a try Trinity raised their game and pinned Bermuda back within their own half with several probing kicks. Bermuda found it difficult to clear the ball, enabling Trinity to gain momentum and it was no surprise when the hosts scored again.
Trinity, who missed the ensuing conversion, then had to soak up some Bermuda pressure but held firm for a 15-5 win.
Bermuda's second game against Country Day School/Aurora Barbarians Under-16 ended in a 12-12 tie.
Both teams were finding it difficult to keep possession of ball although Bermuda were the first to strike after a great take in the line-out by Keyanho Bean enabled Calow to release Wainwright-Basden to score. The conversion was successful by Crofts to make it 7-0 to Bermuda.
The harsh weather continued and County Day School started to use the elements in their favour with several deep kicks which Bermuda struggled to cope with. Two quick scores and a conversion saw the hosts open up a 12-7 lead at half-time but Bermuda fought back through a try by Bean soon after the restart.
Unfortunately for the visitors the conversion was missed to leave the score at 12-12 at the final whistle.
Bermuda coach Patrick Callow said: "Not quite the finish Bermuda would have liked but the coaches were extremely proud of how the players played in extremely challenging conditions.
"Overall a fantastic few days for the Bermuda Under-16 squad. With challenges games, exploring a new country and making new friends I'm sure it's an experience the players will not forget.
"A massive thank you to David and Sue Crofts for their support before, during and after the tour and also to the parents and families of the players."