World Rugby Classic gets the green light – as a SafeKey event
Updated: Nov 09, 2021 08:13 AM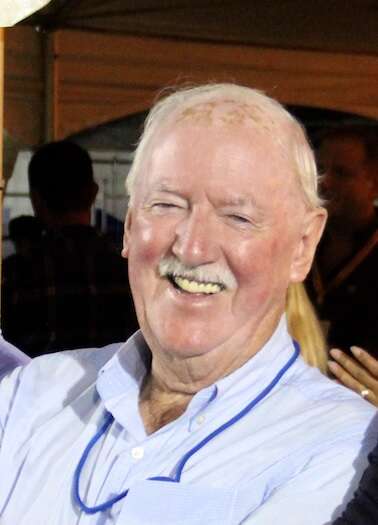 John Kane has quashed doubts over the staging of the World Rugby Classic this year after confirming the ever-popular event will be going ahead in November.
Having been forced to postpone last year's event for the first time since it began 32 years ago, concerns remained about the possibility of being forced into another postponement this year, owing to the significant impact of Covid-19 restrictions on the tournament.
However, Kane, the president of the World Rugby Classic, has said the event will go ahead at the National Sports Centre from November 7 to 13, under public health regulations as a SafeKey event.
"This is the best rugby result we could have received," said Kane, who also confirmed that all players and officials will be immunised and follow the same Covid-19 regulations as any arrival to the island.
"Our overall aim is to provide a safe event for everyone attending the Classic and to protect all the good work which has been done in Bermuda to keep everyone here safe.
"All the players and incoming officials will have been vaccinated, had a pre-arrival test, tested upon arrival, tested on Day 4 and will, while on the Island, follow all the protocols which are in place.
"We have also advised all the overseas corporate guests of these requirements."
This year will see a smaller tournament to previous years, with six teams — Rugby Canada, USA Classic Eagles, Ireland Rugby Legends, Lions Legends, Rugby Italian XV and France Classic Rugby — invited to challenge for the crown left vacant by Argentina's Classic Pumas, the three-times champions.
The Classic Pumas and Classic Springboks have not been invited to compete this year out of precaution, with both Argentina and South Africa on Britain's Covid-19 "red list" for travel restrictions.
Despite the scaled-down event, Kane, who previously admitted that changes to its infrastructure may have to accepted, is adamant the welcome return of the Classic can be a significant boost to the island — not just for rugby fans but also businesses and the Bermuda economy.
"While everyone thinks of Classic Week as a rugby and social event, it is also a very big week for international business, as board meetings, as well as meetings with clients and advisers, are usually scheduled to coincide with the rugby," he added.
"We have received numerous overseas e-mails from investment banks, law firms and others seeking information about this year's Classic. We now expect there will be a sizeable influx of those visitors during Classic Week.
"The business generated for the hotels, restaurants, bars and the taxi industry is sizeable, and will be a welcome relief to those entities during these difficult times.
"Also the many businesses which are involved with the Classic — caterers, event planners, those who provide the infrastructure, security firms and, of course, the National Sports Centre — will all welcome a return to some degree of normality.
"In just over ten weeks, the 33rd Classic will take place and bring some welcome news to those who have endured the past 18 months of Covid restrictions."
• The World Rugby Classic will be strictly a ticket-only event with SafeKey regulations in place for all spectators. Further details will be released at a later date